From Multi-Tasking To The Bathroom: Survey Reveals What People Do During Conference Calls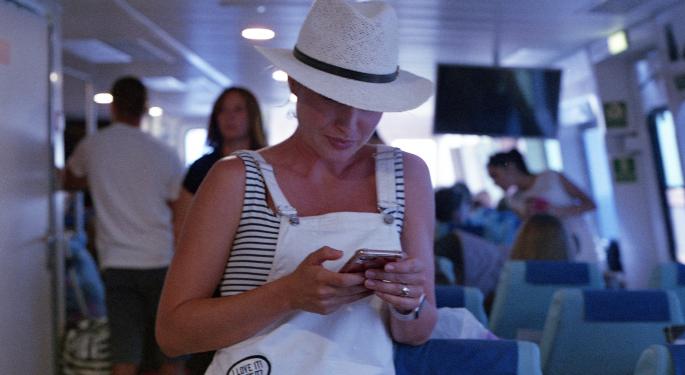 Forty-five percent of workplace meetings in the U.S. are conducted via conference calls, with more than 90 percent of employees taking part in at least one conference call every week, according to a recent survey conducted by Communications-as-a-Service company Voxbone.
Voxbone offers on-demand virtual numbers and SMS services for businesses in more than 60 countries. As part of a rebrand, the firm conducted a study among 300 U.S. based employees to highlight the state of communications in the workplace of the 21st century.
"Traditionally, companies started at one country and had contracts with local carriers. But, a lot of companies today are global from the start," Voxbone CEO Itay Rosenfeld told Benzinga. This makes local providers like Verizon Communications Inc. (NYSE: VZ), AT&T Inc. (NYSE: T) or Telefonica S.A. (ADR) (NYSE: TEF) quite inconvenient, as companies would need dozens of contracts to operate in multiple countries. This is where Voxbone comes in to provide API communications services so that businesses can keep local teams small.
"Telecommunications are consumed today in a very dynamic, very software-oriented way that requires a lot of cloud services and infrastructure in place," the CEO added.
Conferencing Trivia
Voxbone usually deals with corporate customers like Microsoft Corporation (NASDAQ: MSFT)'s Skype and Deutsche Telekom AG (ADR) (OTC: DTEGY), but on this occasion, they wanted to get the end-user's perspective.
Let's take a look at some of the most interesting results from the survey.
More than 30 percent of U.S.-based conference calls include people from other countries.
More than 20 percent of conference calls last over 45 minutes.
More than 33 percent of the respondents regularly connected to conference calls on the go, via mobile devices. However, 25 to 30 percent of users still dial in via phone rather than relying on a web- or app-based service — or even simultaneously, to get better audio quality and video.
More than half of employees mute their conference calls, suggesting that people are multi-tasking, doing other things while talking or listening to a conversation. This also explains why a lot of people don't like to use video when conferencing.
Forty-four percent of respondents said they at least once they thought they were muted when they weren't.
Fifty-eight percent of people declared they would not (or would not be likely to) conduct business with a company that doesn't provide a customer support phone number in their city. This makes sense: Most people don't like the new, complicated mechanisms to reach a company's customer support. Have you ever tried to troubleshoot with a real person at Uber? It's a nightmare! All you get is a chat, or Twitter Inc (NYSE: TWTR) and Facebook Inc (NASDAQ: FB) accounts to post your problems on. But, a direct phone number to call? Forget it.
Finally, more than 25 percent of employees confessed to having taken conference calls from the bathroom.
More From Benzinga:
How To Get A Marijuana Dispensary License: Expert Shares Fundamental Tips
Rodney And Holly Robinson Peete Talk About Hemp Cream For Pain Relief
View Comments and Join the Discussion!
Posted-In: Conference Calling conference callsCrowdsourcing Startups Exclusives Tech Interview General Best of Benzinga