OK, Here's The Plan: Elon Musk Lays Out Strategy For Mars Colony, International Rocket Travel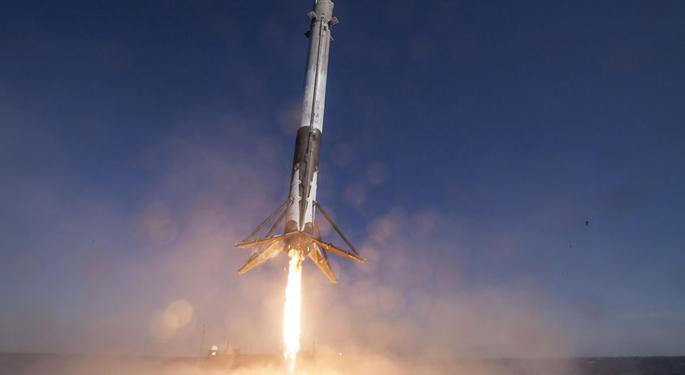 If shooting through The Boring Company's underground tunnels isn't for you, Elon Musk has another proposition: he'll rocket you to your destination.
The transit visionary behind SpaceX, Boring and Tesla Inc (NASDAQ: TSLA) unveiled astronomical goals for international travel and outlined concrete plans for interplanetary inhabitance at Friday's International Astronautical Congress.
"The future is vastly more exciting and interesting if we're a space-ranked civilization and a multi-planetary species than if we're not," Musk said.
The Lofty Dream
Musk laid out an "aspirational" five-year timeline to establish a moon base and complete two cargo missions to Mars to drop off basic life-sustaining infrastructure and find water.
Passengers will follow as soon as 2024 ━ with only enough fuel to get them there. The colonists' return home will depend on their installation of a solar-powered production plant to convert atmospheric carbon dioxide and local ice into propellant.
A full, habitable city will unfold with successive missions, Musk said.
Supporting the creation of a permanent, self-sustaining human presence on Mars. https://t.co/kCtBLPbSg8 pic.twitter.com/ra6hKsrOcG

— SpaceX (@SpaceX) September 29, 2017
The same technology driving such interplanetary travel will also accelerate international travel.
"If we're building this thing to go to the Moon and Mars, then why not go to other places on Earth as well?" he said.
SpaceX intends to rocket passengers to various on-Earth sites in under an hour. The craft would launch from floating pads ━ through Earth's orbit ━ to floating pads for the same cost as an economy plane ticket.
BFR will take you anywhere on Earth in less than 60 mins https://t.co/HWt9BZ1FI9

— Elon Musk (@elonmusk) September 29, 2017
Getting Practical
The goals seem almost dreamlike, but Musk assures they're achievable.
To prove it, he introduced blueprints for "BFR," a single reusable rocket combining the faculties and features of SpaceX's Falcon 9, Falcon Heavy and Dragon. Equipped with 40 cabins, storage units and common areas, the spacecraft will carry 100 people up to 16,777 miles per hour.
SpaceX is already testing an engine and deep cryo liquid oxygen tank and practicing propulsive landing with Falcon 9, and it intends to begin complete BFR construction in the next six to nine months.
The multipurpose technology will pay for itself as it replaces SpaceX's current fleet and completes contract missions, including International Space Station servicing and satellite launching. Its reusability renders it more economical per launch than competing rockets, according to Musk.
Related Links:
Major Players In Billionaire Space Race
Everything That Interests Elon Musk Besides Building Cars
A Falcon 9 rocket. Photo courtesy of SpaceX.
View Comments and Join the Discussion!
Posted-In: Elon Musk Mars Space Travel SpaceXNews Travel Tech General Best of Benzinga