Buzz Aldrin Wants Earthlings To Get Busy And Go To Mars, Joining The Likes Of Jeff Bezos And Elon Musk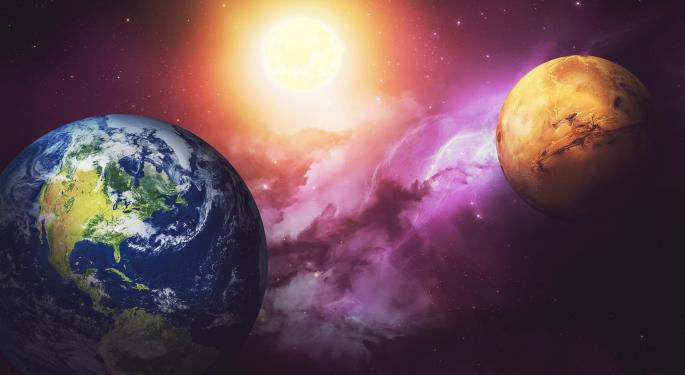 Apollo 11 astronaut Buzz Aldrin, the second man to walk on the moon, has his sights set on Mars. At age 87, he may not be around to see it, but he does believe a human will make it to the Red Planet by 2040.
"I like to think of myself as an innovative futurist," Aldrin told a gathering over the weekend at the Kennedy Space Center in Florida, according to The Associated Press. "The programs we have right now are eating up every piece of the budget and it has to be reduced if we're ever going to get anywhere."
Aldrin marked the upcoming anniversary of the 1969 moon mission at a fundraiser for his ShareSpace Foundation.
"When Buzz says, 'Get your ass to Mars,' it's not just about the physical part of getting to Mars. It's also about that commitment to doing something big and audacious," former NASA astronaut Mae Jemison, the first African-American woman to travel in space, told AP. "What we're doing looking forward is making sure that we use our place at the table."
And NASA isn't the only one seated at the table.
Barring an extinction-level event, here are the five entities most likely to meet or beat Aldrin's timetable for a manned Martian mission.
Related Link: 10 Star-Gazing Startups Seek Galactic Free Trade Zone
NASA
The United States is the only country to have landed a rover on Mars, though it's certain to have company in the coming years. NASA is developing the systems and hardware needed to send humans to an asteroid by 2025 and Mars in the 2030s.
Blue Origin
The brainchild of Amazon.com, Inc. (NASDAQ: AMZN) Jeff Bezos, who chaired the Aldrin event, already has tested reusable rockets and plans to offer trips to space to well-heeled tourists as early as next year. Bezos is engaged in a mano-a-mano competition with Elon Musk. Bezos has been coy about his Mars deadline, preferring to play the tortoise to Musk's hare.
SpaceX
Musk's Space Exploration Technologies Corporation, better known as SpaceX, has, like Blue Origin, hopes to save money by reusing launchers and capsules. Musk has been more vocal about colonizing the stars, at one point last year predicting his company would have a manned mission to Mars as early as 2022. He plans to have a rover there in 2020.
European Space Agency
The ESA hasn't explicitly laid out a time plan for a manned mission to Mars, but it can sit at the table if it wants. It's partnering up with Russia to put a lander and a rover on the planet, like Musk, in 2020. If that mission is successful, anything is possible. It currently has a probe in orbit around the planet.
Chinese National Space Agency
Not since the Soviet-American space race of the 1960s has one nation made so many strides in so short a time. It operated a lunar rover for 31 months and, like everybody else, it seems, plans to launch a Martian rover in 2020.
View Comments and Join the Discussion!
Posted-In: Apollo 11 Blue Origin Buzz AldrinPolitics Psychology Travel Tech General Best of Benzinga