In Space, Nobody Can See You Spy: USAF Mystery Spaceship Preps For First Trip Aboard SpaceX Reusable Rocket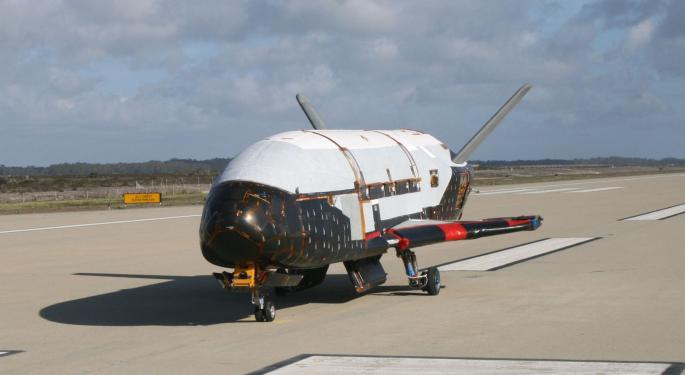 Theories abound but facts are threadbare. The U.S. Air Force's mysterious space plane, which returned from a whopping two-year orbital mission in May, is due to go on another ghostly jaunt into the cosmos.
The unmanned Boeing Co (NYSE: BA) X-37B won't be launched on its usual ride, the Atlas 5 rocket, but on one of Elon Musk's reusable SpaceX Falcon 9 boosters.
SpaceX was certified to launch U.S. military payload in 2015 and will begin launching Air Force satellites next year.
But it's the X-37B that triggers the intrigue. It was scheduled to launch Thursday at Cape Canaveral, Florida, Hurricane Irma permitting, to go somewhere for probably a very long time, and land autonomously at Vandenberg Air Force in California.
"The primary objectives of the X-37B are twofold: reusable spacecraft technologies for America's future in space and operating experiments which can be returned to, and examined, on Earth," the Air Force's fact page on the little spaceship says, failing to mention its exact purpose.
What We Know So Far
This will be the fourth mission since its maiden voyage in 2010.
The craft is about 29 feet long with a wingspan of 14 feet.
Amateur astronomers have spotted it traveling a relatively low orbit.
The durations of its first three missions were 224 days, 469 days and 674 days. Its maneuvering engine runs on hydrazine and nitrogen tetroxide.
When in space, the cargo bay is opened and a solar panel emerges to power the vehicle.
The Future Of Spy Satellites?
Though it started off as a NASA project, the fact that it's an Air Force venture means it probably has a military application, perhaps the spy satellite of tomorrow: Small, maneuverable, with sophisticated sensors.
"I think that's probably what they're not telling you, that there are payloads in there that might be part of the design for future reconnaissance satellites," James Andrew Lewis, director and senior fellow in the Strategic Technologies Program at the Center for Strategic and International Studies, told Air & Space magazine.
The Air Force is "looking to figure out how to transition from big, expensive satellites to smaller but equally capable satellites."
Mystery Propulsion System?
The Internet has been rife with speculation that the spaceplane is testing a new type of propulsion system known as EM Drive, or Electromagnetic Drive.
Instead of using heavy, inefficient rocket fuel, it bounces microwaves back and forth inside a cone-shaped metal cavity to generate thrust.
But that defies Newton's third law, which states that everything must have an equal and opposite reaction. But Newton never had an Internet. Not that we know, anyway.
Related link:
Billionaires Boast Reusable Rockets, Motels In Space
Major Players In Billionaire Space Race
In a testing procedure, the X-37B Orbital Test Vehicle taxis on the flightline in June 2009 at Vandenberg AFB, Calif. (Courtesy photo)
Posted-In: Elon Musk NASAEntrepreneurship Politics Psychology Travel Tech General Best of Benzinga
View Comments and Join the Discussion!