Vicente Fox: Big 3 Automakers 'Will Go Broke' If NAFTA Unravels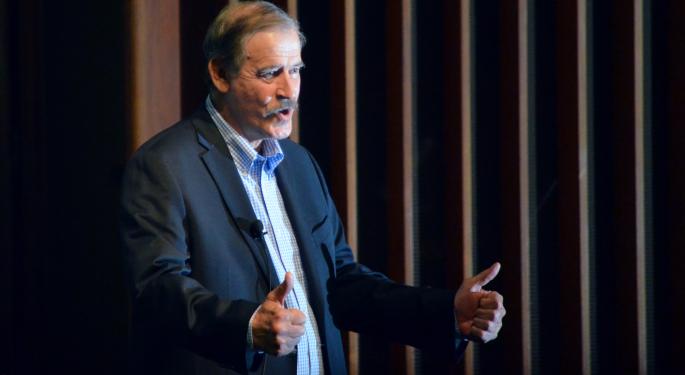 The Big Three's success hinges upon the North American Free Trade Agreement, former Mexican President Vicente Fox said during a Detroit appearance Monday.
General Motors Company (NYSE: GM), Fiat Chrysler Automobiles NV (NYSE: FCAU) and Ford Motor Company (NYSE: F) "will go broke again" if NAFTA is dismantled, Fox told Benzinga. "They will not be able to survive. They will not be competitive."
Fox, 75, who was Mexico's president from 2000-2006, said NAFTA has narrowed the income gap over the Rio Grande.
"The gap was 10-to-1 23 years ago when NAFTA started. Today that gap is 5-1."
Christin Baker, a spokeswoman for Ford, told Benzinga that NAFTA has had a "positive impact" on the auto sector.
"All automakers are deeply interconnected across the NAFTA region."
The Auto Alliance — representing foreign and domestic automakers in the U.S. — and Global Automakers alliance representing foreign automakers in the U.S. have both submitted comments to the government about NAFTA's impact, Baker said.
The GM and Chrysler bankruptcies came not because of NAFTA, Fox said, but because the automakers couldn't compete with foreign challengers.
Forty percent of the parts in cars made by the Big Three in Mexico come from the U.S., and a rollback of NAFTA would also increase new vehicle prices in America, Fox said.
Fox weaved a history of global trade and U.S.-Mexico relations into his remarks, telling the Detroit audience he supports free trade and believes it's a "win-win" for the two countries.
"Who wants a trade war? In an economy, every action has a reaction."
Fox: 'Criminal' To Separate Immigrant Families
A strong, sometimes profane critic of President Donald Trump, Fox spoke at Wayne State University for the 10th anniversary of the Forum on Contemporary Issues in Society's lecture series.
In January, he Tweeted: "Trump, when will you understand that I am not paying for that f----- wall. Be clear with U.S. taxpayers. They will pay for it."
Fox compared the wall on the U.S.-Mexico border to the Berlin Wall and Great Wall of China.
"It has served no purpose," he said Monday, later adding that Trump can build one if he wants to, "but don't ask your neighbors to pay for it."
While Fox said he's not in favor of open borders, he's vehemently opposed to Trump's reversal of former President Barack Obama's Deferred Action for Childhood Arrivals policy, which could affect 800,000 immigrants in the U.S.
DACA applied to immigrants who were under 31 as of June 15, 2012; who came to the U.S. before turning 16; and who had lived in the U.S. since June 15, 2007.
"It's criminal to separate families. It's criminal to send kids back to Mexico," Fox said.
Mexico's Cartel Problem
Almost 23,000 homicides occurred in Mexico in 2016, second only to Syria in the volume of killings, according to the International Institute for Strategic Studies.
The catalyst for many of the murders? The drug trade.
It's a problem that can't be solved by governments alone, Fox said Monday.
"Do we really think the government is going to eradicate drugs from the face of the Earth?" he asked.
He spoke in favor of drug legalization, particularly marijuana: "Nobody has died from using marijuana. And it has some health benefits."
From Mexico's perspective, the country is a pass-through for drugs flowing from South America to the U.S., and Mexico's northern neighbor must either reduce its drug consumption or move to legalize, Fox said.
'Presidents Come And Go'
Fox, who did not appear to use a teleprompter or prepared notes, ended his Motor City visit on an optimistic note, emphasizing the need for education as a means of fighting poverty and adapting to a changing and increasingly automated economy.
"We're going to have an excellent 21st century," he said.
His parting shot to his political nemesis Trump: "Presidents come and go. Four years."
Fox sent a message of reassurance to DACA students. "A solution will prevail," he said. "I'm sure of that."
After Trump's Sept. 5 closure of the program, Congress has six months to take action on DACA. No new requests for DACA status will be accepted, and renewal requests will be processed until Oct. 5, according to U.S. Citizenship and Immigration Services.
Student Perspective
Detroiter Cristian Luz-Gutierrez, 14, a sophomore at Cass Tech High School, was introduced to Fox and his wife Marta at a reception for honor students prior to Monday's speech.
Luz-Gutierrez was awarded a full scholarship to Blackburn College last year after participating in photojournalist Linda Solomon's Pictures of Hope program. It will be paid for and waiting for him when he graduates high school.
The straight-A student said it was "great" to meet the former Mexican president, who he described as "really nice."
Fox's remarks on DACA and a border wall "relate to us," Gutierrez said.
"We should put more attention [to these issues]."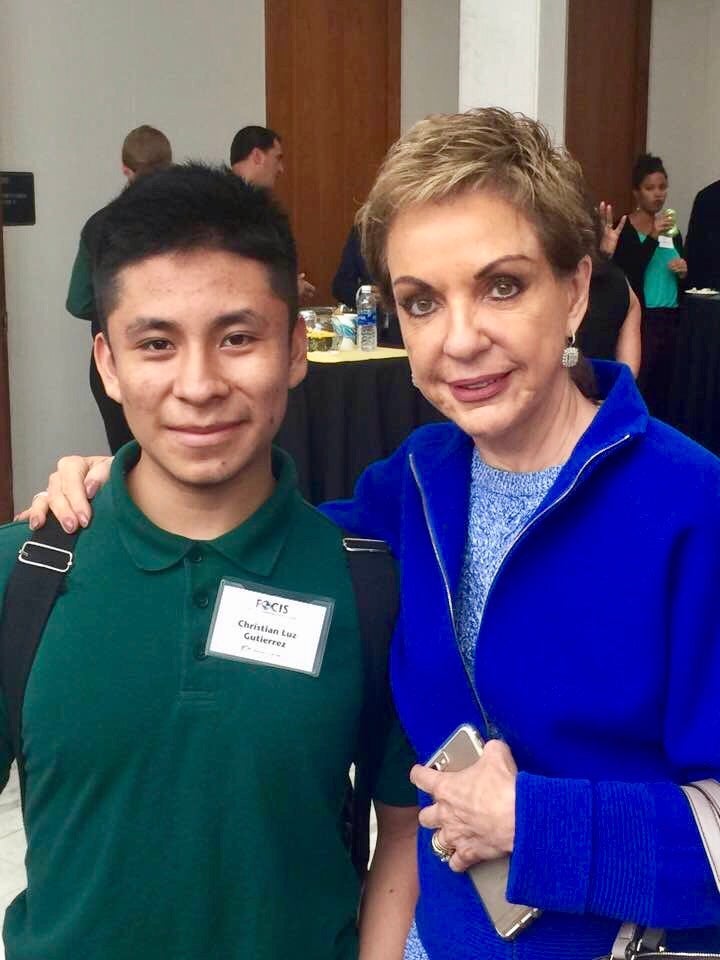 Cristian Luz-Gutierrez, 14, of Detroit, with former Mexican First Lady Marta Sahagún de Fox at Wayne State University on Tuesday. Photo by Linda Solomon.
Taylor Cox contributed to this report.
View Comments and Join the Discussion!
Posted-In: News Emerging Markets Politics Global Top Stories Exclusives Markets General Best of Benzinga