Study: Ending DACA Would Cost Nearly $500 Billion Loss Of GDP; 10 States That Would Bear The Biggest Brunt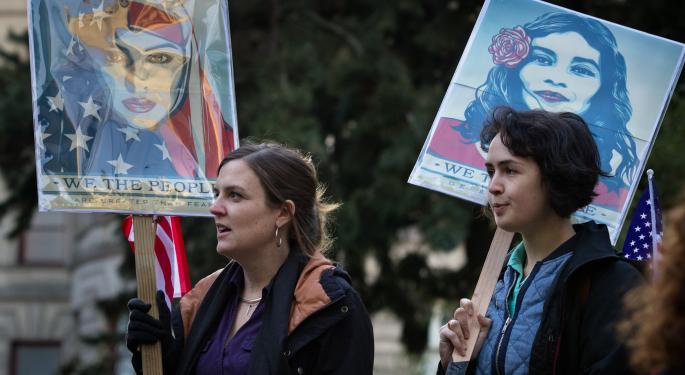 The ousting of more than nearly 800,000 young people who came to the United States illegally as children would cost the country $460 billion in GDP over the next decade, with the California and Texas economies taking the hardest hit, a study shows.
President Donald Trump, making good on a campaign promise, has decided to eliminate the Deferred Action for Childhood Arrivals, which was put in place by President Barack Obama in 2012, Politico reported.
The program is aimed at creating a path to asylum for children who came of age in the United States and, in many cases, have assimilated to the point where they would be foreigners in their native lands.
Trump Order Gives Congress 6 Months To Work Out Details
Because the program allowed hundreds of thousands of young people to go to college, get good jobs and start their own businesses, states stand to lose $460.3 billion from the national GDP over the next decade, according to the Center For American Progress.
Trump's order kicks the program over to Congress, which would have six months to iron out the details of ending the program.
Related Link: Bipartisan Mayors To Trump: Protect DREAMers, Continue DACA
Using stats provided by the center, City Lab put together a map showing which states would be hit hardest by scrapping the program:
California: $11.6 billion
Texas: $6.29 billion
New York: $2.59 billion
Illinois: $2.29 billion
New Jersey: $1.58 billion
Florida: $1.52 billion
Arizona: $1.32 billion
North Carolina: $1.19 billion
Washington: $1.09 billion
Georgia: $1.02 billion
The Center For American Progress, in another study, said:
91 percent of DACA recipients have found gainful employment.
More​ ​than​ ​1,400​ ​DACA recipients​ daily and 30,000 monthly ​would ​lose​ ​their​ ​ability​ ​to​ ​work​ ​and​ ​could​ ​be​ ​let​ ​go​ ​by​ ​American employers.​
In total, if DACA is revoked, nearly 700,000 individuals who are currently employed and contributing as a productive part of the American over the next two years.
It concluded, "Repealing the program without a process for individuals currently protected by it to continue to live and work in the United States will place an extreme hardship on U.S. businesses, on local communities, and on the American economy."
Attorney General Session's Prepared Remarks
Tuesday morning, Benzinga acquired a copy of Attorney General Jeff Sessions' prepared remarks regarding DACA, which began:
Good morning. I am here today to announce that the program known as DACA that was effectuated under the Obama Administration is being rescinded.
The DACA program was implemented in 2012 and essentially provided a legal status for recipients for a renewable two-year term, work authorization and other benefits, including participation in the social security program, to 800,000 mostly-adult illegal aliens.
Further into the speech, Sessions went on to say: "We are a people of compassion and we are a people of law. But there is nothing compassionate about the failure to enforce immigration laws."
Despite what the previously mentioned study demonstrated, Sessions claims, "It will further economically the lives of millions who are struggling. ... But the Department of Justice does not represent any narrow interest or any subset of the American people. We represent all of the American people and protect the integrity of our Constitution. That is our charge."
Related Link: How Trump Has Alienated The World
______
Image Credit: By Joe Frazier - Latinx Rally - Defend DACA!, CC BY 2.0, via Wikimedia Commons
View Comments and Join the Discussion!
Posted-In: News Education Futures Politics Psychology Travel Legal Top Stories Best of Benzinga