Why Did Facebook Make A $600 Million Investment To Stream Indian Cricket?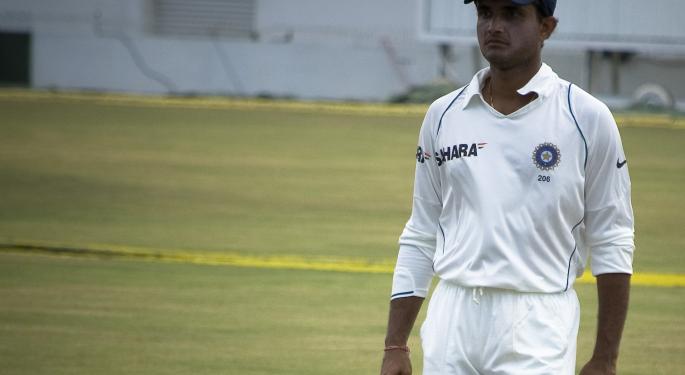 Facebook Inc (NASDAQ: FB) continues to expand its global empire, extending far beyond its core social media platform. In the latest attempt at this type of expansion, the company reportedly presented a bid of $600 million for a five-year deal to stream Indian cricket games, Recode reported.
While Facebook didn't end up winning the contract, it signaled to the world it not only has the necessary capital needed to stream sports content worldwide but it will not hesitate to sign a nine-digit check to do so, Recode suggested.
Facebook's ambitions to broadcast live sports hasn't been a secret but the company has mostly won contracts to show second-tier events like low-profile college football matches. At the same time, Amazon.com, Inc. (NASDAQ: AMZN) won a contract with the National Football League to live stream Thursday night matches, which often feature some of the league's most popular teams.
So if Facebook can't win over the big-league contracts in the U.S., maybe it can do so overseas as Indian cricket is a very big deal — although hard for many American sports fans to understand why.
Finally, investors shouldn't be giving up hope that Facebook can't win over a major contract. The NFL's four-year, $1 billion deal with Verizon Communications Inc. (NYSE: VZ) expires at the end of the current season and the NFL doesn't necessarily need to resign with Verizon or any wireless carrier. Rather, Facebook has the ability to distribute media across all phones on all carriers which might make it a more attractive partner for the NFL.
Related Links:
This Chart Shows How Facebook And Google Are Dominating The App Market
Cramer Isn't Buying Reports Of Facebook's Demise And Snap's Momentum
_______
Image Credit: "Indian Cricket player Sourav Ganguly" By Hash Milhan from London, United Kingdom - Gangooly, CC BY 2.0, via Wikimedia Commons
View Comments and Join the Discussion!
Posted-In: IndiaNews Contracts Sports Top Stories Tech Media General Best of Benzinga