Cramer Isn't Buying Reports Of Facebook's Demise And Snap's Momentum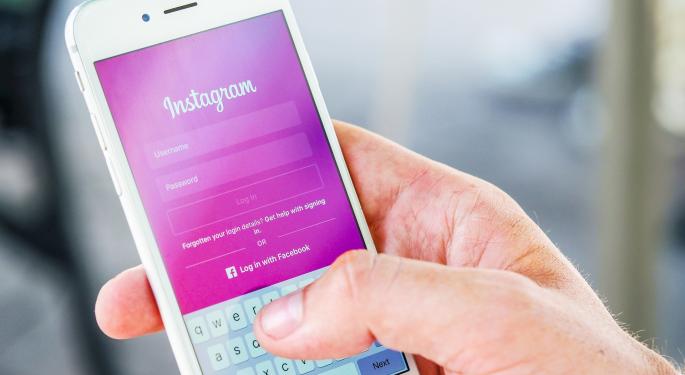 Facebook Inc (NASDAQ: FB) may have reached peak popularity as teens and young adults get their social media fix elsewhere, eMarketer reported. Instead, the demographic group are spending more time on Facebook's Instagram platform and rival Snap Inc (NYSE: SNAP).
In fact, Snap's social media platform, Snapchat, is on track to become the most popular social media platform for both the 12–17 and 18–24 age group for the first time in 2017, eMarketer also said.
Eclipsed Media, Filtered
But not everyone is buying the report, including CNBC's Jim Cramer who exclaimed that Instagram is "killing it." Cramer is thinking that there were more Instagram pictures of Monday's solar eclipse versus all Snapchat's posts from every user since the start of the year.
Instagram's dominance over Snapchat's platform wasn't even supposed to happen, Cramer continued. But that is how the landscape turned out and is the "awakening of giants" like Facebook.
But even if the reports are true that Facebook's core platform is losing popularity no one at Facebook's headquarters is shocked.
"There is no way [Facebook CEO Mark Zuckerberg] didn't see this coming," Cramer said during Tuesday's "Squawk on the Street" segment.
Finally, eMarketer's report will at the end of the day be seen as another report calling for the demise of Facebook's popularity but when Facebook's stock moves higher another report will come out and say its popularity has never been greater.
"It really doesn't work like that," Cramer concluded. "Who thinks it changes that quickly?"
Related Links:
Snap Wins An Upgrade Following Lock-Up Expiration, Q2 Results
View Comments and Join the Discussion!
Posted-In: CNBC Instagram Mark Zuckerberg SNAPPsychology Top Stories Media General Best of Benzinga