August Auto Sales Recover Modestly As Industry Looks To Post-Hurricane Replacement Demand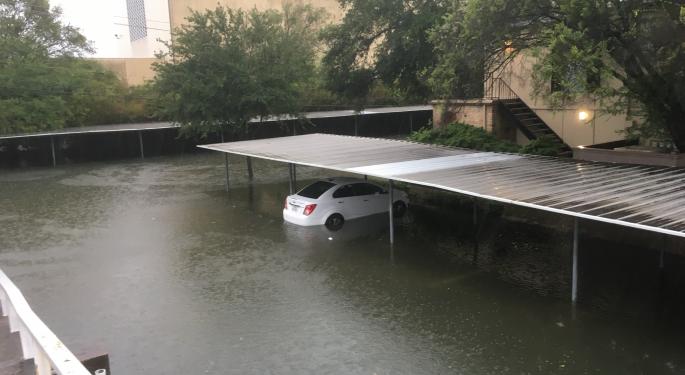 Some semblance of sanity returned to the auto market in August after an extended lean run that spanned seven months. That said, the performance remained lukewarm, as companies continued to work their way through inventories.
August 2017 had one additional selling day compared to the same month in 2016.
Hurricane Harvey hurt results in the last week of August, with the storm-ravaged Houston market accounting for 30-40 percent of the sales in Texas and hence about 9 percent of the total U.S. sales, according to a report in USA Today that cited research from Barclays.
However, there is optimism regarding the outlook for the near-term, as replacement demand triggered by the storm damage is expected to perk up sales.
Researchers Paint Muted Picture
Earlier this month, forecaster Edmunds said it expects a modest comeback in August. Specifically, the firm expected total vehicle sales of 1,526,613 in August, up 8.2 percent month over month and 1.3 percent higher than a year ago.
"While any kind of sales lift after seven months of declines is encouraging, automakers still have a long road ahead to have a strong close to the year. It's a small step in the right direction," said Jessica Caldwell, executive director of industry analysis for Edmunds.
"Inventories are still high, but automakers haven't been afraid to put cash on the hood this year, so we expect dealers will be aggressive with their Labor Day and model-year-end sales events to keep this momentum going," Caldwell said.
Meanwhile, JD Power had estimated new vehicle retail sales to decline for the fifth time this year, with the seasonally adjusted annual rate at 13 million units, down 341,000 from last year. The firm estimated a 1.9 percent drop in August retail sales to 1,284,411 units.
Meanwhile, Buckingham Research had expected the SAAR to be at 16.6 million units.
"We maintain our view of a maturing auto cycle and the risk it poses in terms of pricing and/or production, leading to our cautious stance on OEM stocks," Buckingham Research's Glenn Chin said.
See also: Gene Munster: Traditional Car Manufacturers Face 'Innovator's Dilemma'
Mixed Show By U.S. Automakers
Among the Detroit's Big Three — General Motors Company (NYSE: GM) made a comeback, while Ford Motor Company (NYSE: F) and Fiat Chrysler Automobiles NV (NYSE: FCAU) — continued to post sales declines.
GM Shakes Off Weakness With A Rebound
General Motors said its U.S. sales rose 7.5 percent year over year to 272,552 vehicles in August. This followed a 15 percent plunge in July. Retail sales rose 4 percent, helping the company gain more than one-half point of retail market share. Commercial fleet sales climbed 19 percent.
The company clarified that inventory levels in the U.S. fell 85,000 units from the end of June to 893,000 units. Quoting estimate of J.D. Power, GM said incentive spending as a percent of the Average Transaction Price was 13.9 percent, in line with domestic competitors.
The company did suggest that Hurricane Harvey impacted deliveries in the last week of August, but without quantifying the impact.
GM offered an aid of $1,000 to customers in the affected areas of Louisiana and Texas to buy new vehicles, with the offer running through Oct. 2.
Ford's Lackluster Retail Sales
Ford indicated that its U.S. sales fell 2.1 percent year-over-year to 209,897 vehicles in August, as retail sales slid 2.7 percent to 164,067. Meanwhile, fleet sales were down a more modest 0.2 percent to 45,830.
By type of vehicle, Ford said car and SUV sales moved down 8.6 percent and 11.3 percent, respective, while truck sales climbed 9.3 percent.
Another Down Month For Fiat Chrysler
Fiat Chrysler's total sales fell 11 percent to 176,033 units in August, with retail sales declining 7 percent and accounting for 80 percent of total sales. Fleet sales slumped 23 percent.
How Foreign Automakers Fared?
Toyota Motor Corp (ADR) (NYSE: TM)'s total U.S. vehicles sales climbed 6.8 percent to 227,625 units, with the growth on a daily selling rate basis at 2.8 percent. Toyota brand sales rose 8 percent to 196,824 units compared to a 0.4 percent drop in Lexus brand sales.
Nissan Motor Co Ltd (ADR) (OTC: NSANY) reported a 13.1 percent plunge in total sales to 108,326 units, with the Nissan Division sales, accounting for roughly 90 percent of the sales, sliding 14.8 percent.
Honda Motor Co Ltd (ADR) (NYSE: HMC) reported August sales of 146,015, down 2.4 percent. Honda branded truck and the Acura division experienced weakness, while Honda branded car sales increased.
Focusing on the positives:
Shares of General Motors were surging up 2.7 percent to $37.53.
Ford was rallying 2.81 percent to 2.81 percent.
Fiat Chrysler stock was jumping 5.16 percent to $15.91.
Toyota was seeing a more muted reaction, with a 0.39 percent gain to $113.42.
Honda shares were adding 0.46 percent to $28.23.
Nissan was slipping 0.80 percent to $19.83.
________
Image Credit: By R. Crap Mariner from Houston, USA [CC BY 2.0 (http://creativecommons.org/licenses/by/2.0)], via Wikimedia Commons
View Comments and Join the Discussion!
Posted-In: August August auto salesNews Travel Events Econ #s Trading Ideas General Best of Benzinga