Chargers' Entrance Into LA Market Weighs On Rams' Ticket Prices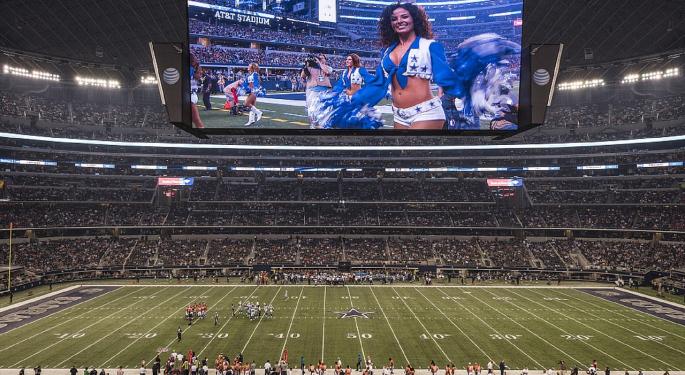 The NFL will kick off the 2017 Season on Sept. 7 , with the most recent Super Bowl champions the New England Patriots taking on the Kansas City Chiefs.
Surprisingly, when it comes to ticket prices, these two teams couldn't be further apart. The Patriots have the most expensive tickets on the secondary market ticketIQ, while the Kansas City Chiefs had the least expensive in 2016, but have moved to the No. 25 spot in 2017 after a solid showing in 2016.
New stadiums and new locales have also had a big impact on this season's ticket prices. The Los Angeles Chargers, who have moved into their temporary home at the Stubhub Center in Carson, California, have seen an 80-percent increase in their 2017 ticket prices. This is largely due to the fact that they will be playing in a 30,000 seat soccer stadium, the smallest capacity venue that the NFL has seen in some time.
Related Link: Should Disney Investors Be Worried About The Latest ESPN Fiasco?
Another team entering the LA market has had quite the effect on Los Angeles Rams' tickets, which are seeing a 30-percent drop in ticket prices on the secondary market.
The team with the highest increase of ticket price growth is the Atlanta Falcons, coming off a stunning loss in the Super Bowl, the team's new Mercedes-Benz Stadium has driven up prices by 160 percent on average on the secondary market.
With the Buffalo Bills cleaning house, the team saw the biggest decrease in pricing, with tickets losing over a third of their value heading into the season.
The Oakland Raiders are in for an awkward couple of seasons. The team will play two more seasons in Oakland before moving to a new stadium in Las Vegas, effectively abandoning their loyal following for (not so) greener pastures. Raiders tickets on average increased 32 percent, although that could be due to the team's significantly improved performance, turning in their first winning season in 14 years in 2016.
The Kansas City Chiefs will take on the New England Patriots in Foxboro on Sept. 7 at 8:30 p.m. Eastern Time.
Posted-In: Los Angeles Charegrs nfl TicketIQNews Sports Top Stories Tech General Best of Benzinga
View Comments and Join the Discussion!