Should Disney Investors Be Worried About The Latest ESPN Fiasco?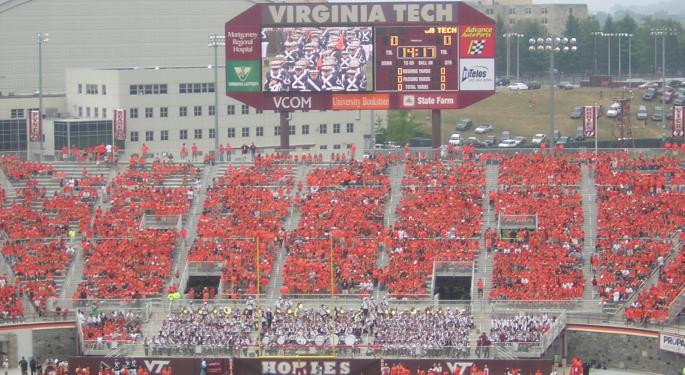 Walt Disney Co (NYSE: DIS)'s ESPN unit made a controversial decision to pull a broadcaster named Robert Lee from its college football Sept. 2 broadcast of the University of Virginia versus the College of William & Mary.
Normally such a move wouldn't merit national headlines, but this isn't a normal time. Lee, an American of Asian descent, happens to share the same name as Robert E. Lee, the leader of the Confederate Army during the Civil War who has statues erected throughout the nation, the removals of which have come under fire lately — and the murder of a 32-year-old woman by a reported neo-Nazi in Charlottesville is still fresh in everyone's memory.
But the bigger question is should Disney's investors be worried? Conservative political commentator and editor-in-chief at the Daily Wire may think so. Sporting events are one of the few refugees everyone can enjoy peacefully regardless of their beliefs but by turning toward "leftist politics," ESPN will continue alienating some of its viewers.
ESPN has transformed itself from a sports network to "MSNBC with footballs," Ben Shapiro commented. However, it has spiraled out of control to the point where the network "won't even have an Asian reporter named Lee report a game at University of Virginia."
Nothing New Here
ESPN has been active over the past few years in embracing many political topics, including Caitlyn Jenner, Shapiro wrote back in April. Regardless of one's own views, it is obvious that Jenner "hasn't been athletically relevant" in decades.
And what does "feminist poetry" have to do with sports — especially if one of the poems is dedicated to a convicted terrorist and murderer who fled to Cuba in 1984, Shapiro highlighted.
Meanwhile, Disney's investors have legitimate reason to worry about ongoing subscriber losses in ESPN so logic might dictate for ESPN to return to its core roots of broadcasting sports and leaving politics out, right?
As it turns out ESPN's own Public Editor Jim Brady admitted himself there is a clear "connection between sports, politics."
"RIP, ESPN," Shapiro concluded. "I'd come to the funeral, but I'll be busy watching actual baseball on an actual baseball network like MLB Network."
Note: Since Shapiro's April commentary, Disney has acquired a majority ownership stake in BAMTech, the interactive media and Internet company of Major League Baseball.
Related Links:
Disney To Launch ESPN Streaming Service, Leave Netflix By 2019
The Athletic's New Model For Local Sports Writing: If You Build It, Will They Buy It?
________
Image Credit: By UserB - Own work, GFDL 1.2, via Wikimedia Commons
View Comments and Join the Discussion!
Posted-In: Ben Shapiro ESPNFutures Politics Sports Markets Media General Best of Benzinga