NAFTA Round One: Gordon Johnson Weighs In On Free Trade's Effects On Steel, Manufacturing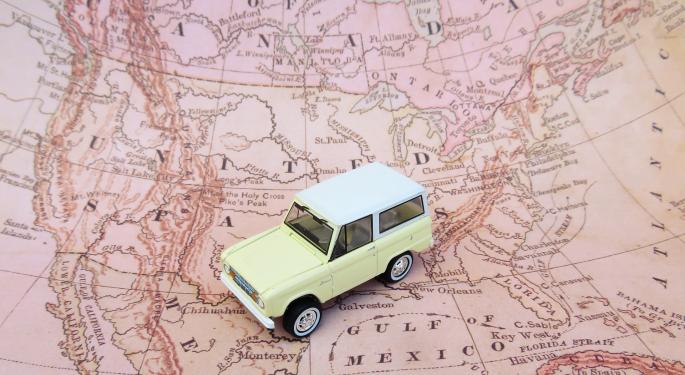 The United States concluded first-round negotiations of the North American Free Trade Agreement with Canada and Mexico Sunday, having laid groundwork to modernize the 23-year-old treaty.
President Donald Trump has been critical of the existing deal and has threatened to exit altogether if the U.S. doesn't reach terms more favorable to American manufacturing.
But some industry experts champion the present arrangement.
"The North American Free Trade Agreement has been great for the steel industry and manufacturing," Axiom Capital Management analyst Gordon Johnson told Benzinga. "Quite frankly, I think opening up borders to trade is a very positive thing because it enables the most efficient prices and products to come to market."
Border-closing, on the other hand, has "quite negative" effects.
"Protectionism doesn't work in the steel industry, we've seen it time and time again, and the most recent of which was George W. Bush's Section 201 tariff in 2001 and 2002 and his clearly nearly immediate subsequent reversal of that tariff," Johnson said.
Although Trump has argued that NAFTA drew hundreds of thousands of American jobs to Mexico, where wages are lower, Johnson "staunchly" disagrees. While single-mindedly safeguarding one industry may boost affiliated labor, collateral damage is incurred.
Related Link: Still A Trump Trade Left In Steel? Citi Upgrades Commercial Metals
"What it seems like the current administration is trying to do is to support steel mills and effectively guarantee their profitability, and that's fine, but there's been numerous studies done that concluded that for each job saved in the steel industry, there would be anywhere from 20 to 30 jobs destroyed downstream," he said. "In fact, when George W. Bush implemented his Section 201 tariff, net more jobs were lost than gained as a result."
This is mostly triggered by artificial boosts in steel prices caused by trade regulation. Rising costs are positive for the steel industry and players like United States Steel Corporation (NYSE: X), AK Steel Holding Corporation (NYSE: AKS) and Reliance Steel & Aluminum Co (NYSE: RS), but they're ultimately injurious to those reliant on steel products ━ manufacturers of canned goods, farm equipment, machinery and appliances.
In fact, Deere & Company (NYSE: DE) attributed quarterly margin weakness to steel costs. Johnson affirmed that prices are presently artificially high amid fears of Trump's 232 tariff investigation, which disincentivizes domestic producers from buying and importing steel, and aggressive stimulus in China.
Potential NAFTA effects may become clearer in the next two weeks as involved parties release "additional texts, comments or alternate proposals," according to a joint statement.
Posted-In: News Education Futures Commodities Politics Events Markets Trading Ideas Best of Benzinga
View Comments and Join the Discussion!