Traders Show Fear As U.S. NAFTA Withdrawal May Be Near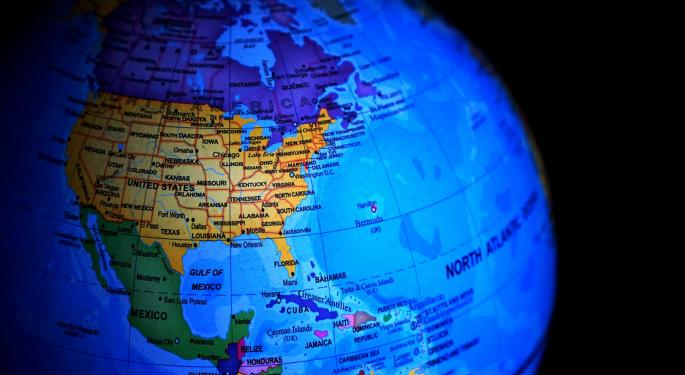 The White House is reviewing a new draft executive order to withdraw the United States from NAFTA, according to a Politico report. S&P 500 futures fell six points after the report hit.
The order, written by political strategist Steve Bannon and National Trade Council Director Peter Navarro, is in its final stages and could be released by the end of the week.
President Donald Trump has long regarded the trade agreement injurious to the American economy, and its renegotiation was a significant point of his campaign platform.
"NAFTA's been very, very bad for our country," Trump said during a speech in Wisconsin last week. "It's been very, very bad for our companies and for our workers, and we're going to make some very big changes, or we are going to get rid of NAFTA once and for all."
Some consider the proposed withdrawal an ultimately benign tactic to pressure Mexico and Canada into more favorable trade terms, much in the same way Trump urged Democrats to negotiate budgetary demands by threatening to withhold cost-sharing reductions from insurance agencies.
Who Could Hurt
News of the Administration's action on NAFTA sent iShares MSCI Mexico Inv. Mt. Idx. (ETF) (NYSE: EWW) falling 2.4 percent.
Rail lines and textile and apparel manufacturers, which have great exposure to Mexico, also plunged on the report, with Gildan Activewear Inc (USA) (NYSE: GIL) and Kansas City Southern (NYSE: KSU) dropping 0.7 percent and 3.4 percent, respectively.
Kansas City Southern has long been sensitive to NAFTA news. A company spokesperson offered Benzinga this statement during the presidential campaign:
"KCS understands this would include a study on what the ramifications of withdrawing from the agreement might be. While NAFTA allows a member nation to withdraw with 180-day notice to the other member countries, if done, it must be done with both of the member countries and not just one or the other; and, initial withdrawal from NAFTA does not, by itself, raise tariff levels. It is unclear that the President could unilaterally set permanent, across the board tariffs without Congressional involvement.
"With all of this considered, KCS remains optimistic about the future of its intra-Mexico and intra-U.S. business which makes up over 70% of its total business; and, regarding the remaining 30% of its business that is cross border, KCS remains optimistic that its premium service between the U.S. and Mexico will continue its long-term growth over time due to the strong, and interconnected nature of the U.S., Canadian, and Mexican, North American economy."
Automakers also have much to lose with a NAFTA fallout, but the likes of General Motors Company (NYSE: GM) remained relatively steady on Wednesday's news.
View Comments and Join the Discussion!
Posted-In: News Rumors Futures Politics Top Stories Markets ETFs General Best of Benzinga