Trump's New NAFTA Negotiating Strategy Seeks Additional Restrictions On Free Trade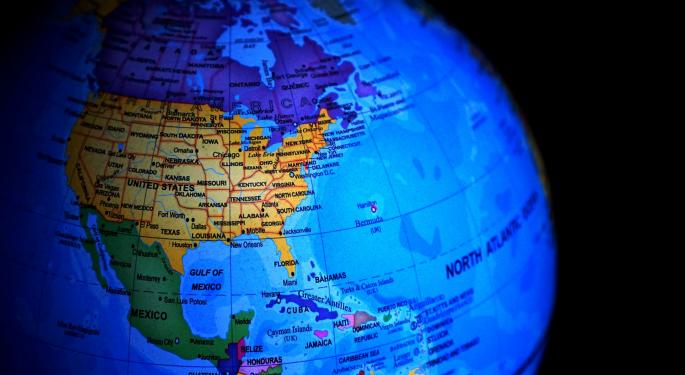 The administration of President Donald Trump has vowed to "seek a much better agreement" when it seeks to renegotiate the North American Free Trade Agreement with Canada and Mexico this August.
Primarily, the administration wants to crack down on subsidized imports and reduce trade deficits, according to the 17-page document of objectives released on Monday.
"Since NAFTA was implemented in 1994, the U.S. bilateral goods trade balance with Mexico has gone from a $1.3 billion surplus to a $64 billion deficit in 2016," U.S. Trade Representative Robert Lighthizer said in a statement on Monday. "Market access issues have arisen in Canada with respect to dairy, wine, grain and other products - barriers that the current agreement is unequipped to address."
Trump, who at one time threatened to scrap NAFTA altogether, instead keeps chunks of it intact. Most of the new goals reflect U.S. interests.
"It is very consistent with the president's stance on liking trade barriers, liking protectionism," Chad Bown, a senior fellow at the Peterson Institute for International Economics, told the New York Times. "This makes NAFTA in many respects less of a free-trade agreement."
Congress must approve any changes in NAFTA. Here are some of Trump's negotiating goals:
Reduce the trade deficit with Canada and Mexico.
Eliminate the dispute resolution system that would allow Canada and Mexico to appeal U.S. duties.
Remove barriers that limit the ability of the United States to impose restrictions on trade.
Expand competitive market opportunities for U.S. agricultural goods in NAFTA countries.
Seek to eliminate non-tariff barriers to U.S. agricultural exports that limit access to markets for U.S. goods, such as subsidization, price discrimination, and price undercutting.
Ensure that the NAFTA countries refrain from imposing measures in the financial services sector that restrict cross-border data flows or that require the use or installation of local computing facilities.
Secure commitments not to impose customs duties on digital products (e.g., software, music, video, e-books).
Establish rules that reduce or eliminate barriers to U.S. investment in all sectors in the NAFTA countries.
Related Link:
View Comments and Join the Discussion!
Posted-In: Canada Donald Trump Mexico NAFTAPolitics Economics Markets General Best of Benzinga