A Cannabis Wonderland? This Company Bought A Whole Town In California To Create A Marijuana Tourism Destination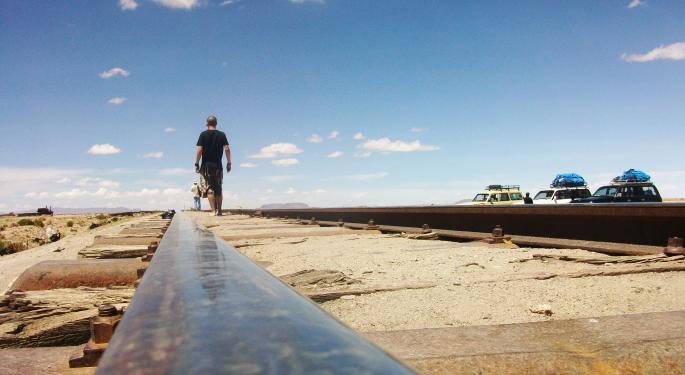 Recreational drug tourism is not a new fad. People have been traveling across the globe for decades in search of the best high. From India's hashish to South America's hallucinogenic cacti, to Amsterdam's famed legal marijuana, high-quality, mind-altering (and often illegal) substances have always motivated soul-searching travelers to move around.
There is, however, a new trend emerging: cannabis tourism beyond the Netherlands. Just like Spain, with its cannabis clubs, some U.S. states have arisen as weed-friendly destinations.
Until recently, most commercial developments around canna-tourism were based in Colorado, Washington and Oregon, the first three states to legalize cannabis use for recreational purposes. But, as more and more states make adult use legal — both medically and recreationally — opportunities continue to appear; and those smart (and funded) enough are capitalizing on this vogue.
One of such companies is American Green Inc (OTC: ERBB), one of the oldest publicly traded cannabis companies in the U.S. Readers might remember the name from a recent Benzinga article where we introduced the firm's new biometric ID system, which allows adults to buy weed, booze and other controlled products from a vending machine.
Well, the AG is at it again, being innovative, as usual. This time, they purchased an entire (small) town in San Bernardino County, California, for $5 million to develop the United States' first energy independent, cannabis-friendly hospitality destination. Yes, that's right, they bought a town — because that's something that can be done in the U.S.
Welcome To Nipton
There's more than tumbleweed in Nipton, a place that has been seemingly forgotten despite its strategic location right on the railway line connecting Los Angeles with Las Vegas, Salt Lake City and beyond. There's a hotel, a restaurant, a general store, a lake an RV park and, of course, the still-operational train tracks. But, there's not much else going on there.
Related Link: This Compostable Cannabis-Infused Coffee Pod Maker Is All About Social Impact
"We selected a location that was basically on ground-zero, with not many other industries going on," American Green consultant Stephen Shearin, who largely orchestrated the transaction, told Benzinga during a recent interview. This is important to really be able to quantify the economic impact of introducing cannabis into the town's economy, he explained.
"This is a for-profit initiative, aimed at benefiting the people of Nipton and American Green shareholders. Notwithstanding, we are still hoping that it inspires people across the country to say, 'Why am I out of a job here, in West Virginia? We can do this,'" he continued.
With roughly 120 acres at its disposal, American Green plans to transform Nipton into a "national hub for cannabis product production and cultivation with a safe and appropriate approach to consumption as well," a press release read.
"This is not designed to be 'Pot Town USA' or something like Burning Man. Nipton will feel like a place where you can come with your family and have a burger in peace, without someone dabbing right next to you, but also like a place where you can set up a camp and exercise your right for adult use cannabis or medicating," Shearin said.
The Business Side
Now, to the business side of things.
For the time being, American Green cannot grow cannabis in Nipton because the territory has not been included in San Bernardino County's list of incorporated cultivation land — yet. So, at first, the town will have to import cannabis from other parts of California, which does not seem like a big problem, given how accessible the train track makes it. However, by creating an adequate commercial development in the municipality, they can quickly get that ruling waived, Shearin explained.
Moreover, "an edible manufacturer of some note out of San Francisco has (also) expressed interest to make Nipton its primary manufacturing location already," the consultant added.
Related Link: Public Marijuana Companies Using Stock To Make Acquisitions: What Does This Trend Mean For Investors?
Another plan that will be set in motion soon is that of creating a set of mineral baths with CBD-infused water. "By hypersuspending CBD in the water, people can actually absorb the compound by just bathing in the water," Shearin said. Of course, all kinds of related products will be sold in the town for people to take home.
On top of the $5 million investment, American Green has earmarked $1.5 million to $2 million to kick off infrastructural development. Most of the money spent so far was already in hands of the company; for future investments, nonetheless, they may have to raise additional funds.
From an operational perspective, American Green will own most of the infrastructure in the town. Nonetheless, it is likely that they license the use to companies with experience in the corresponding field – so, restaurateurs, hospitality professionals, etc. "We have more interested in developing and owning the municipal infrastructure than in running it."
Historic Nipton, California, is expected open its doors as a cannabis destination around mid-October. Make sure to make reservations before it's packed!
________
Image Credit: Javier Hasse
View Comments and Join the Discussion!
Posted-In: Cannabis News Emerging Markets Topics Travel Exclusives Markets Interview Best of Benzinga