One Reason Trump May Not Ban Oil From Brutalized Venezuela? US Gas Prices Would Shoot Up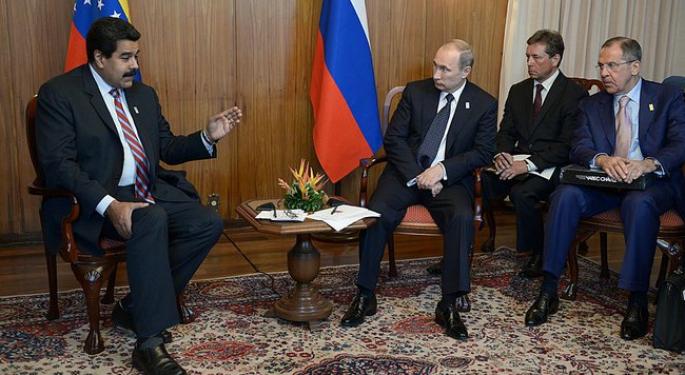 Here's one reason President Donald Trump hasn't hit Venezuelan ruler Nicolas Maduro where it would hurt the most: banning the supplier of 10 percent of America's oil would cause gas prices to skyrocket, further eroding the president's popularity.
Philip Verleger, an energy economist who runs consulting firm PKVerleger LLC, told the Washington Post that oil prices could spike $10 a barrel if Trump completely bans Venezuelan oil.
"Prices would go up like a rocket," said Verleger. "Gas prices in the U.S. would go up 25 or 30 cents a gallon within a couple of weeks."
Instead, Trump on Monday merely froze what assets Maduro has in the United States and prohibited U.S. citizens from doing business with him.
Related link: Will Trump Ban Oil From Violence-Torn Venezuela?
Though he's labeled Maduro a "dictator," Trump's action was tame compared with the pain a total ban on Venezuelan crude would have on Madura's corrupt regime.
Maduro Aims To Rewrite His Country's Democratic Constitution
Secret police on Tuesday arrested two opposition figures, Leopoldo Lopez and Antonio Ledezma, at their homes just two days after a widely boycotted election gave Maduro a new legislature made up entirely of his supporters. Ten people, including a candidate, were killed in riots accompanying the vote. Scores have died in recent months.
Key U.S. refiners of Venezuelan oil include Valero Energy Corporation (NYSE: VLO), Chevron Corporation (NYSE: CVX) and Phillips 66 (NYSE: PSX).
Boycott Option Still On Table?
U.S. Treasury Secretary Steven Mnuchin, when asked about oil sanctions against Venezuela, said the U.S. would consider all options, keeping the possibility of trade flow disruptions alive, Reuters reported.
A ban on Venezuelan oil would go against Trump's campaign promise to lower gas prices, and his boast about it when pump prices hit a 10-year-low on the July 4 holiday.
"Somebody in White House probably recognizes the last thing this president needs right now is to anger people who live paycheck to paycheck and voted him in," Tom Kloza, global head of energy analysis at Oil Price Information Service, told the Post.
Sen. John McCain of Arizona and Sen. Marco Rubio of Florida are among the Republicans who have urged Trump to get tougher on Madura.
Tens of thousands of people have fled the Venezuela to neighboring countries seeking safety, food and medical care, Human Rights Watch reported. One out of every five refugees seeking asylum in the United States come from that country.
________
Image Credit: Nicolas Maduro Kremlin.ru [CC BY 3.0 (http://creativecommons.org/licenses/by/3.0) or CC BY 4.0 (http://creativecommons.org/licenses/by/4.0)], via Wikimedia Commons
Posted-In: News Emerging Markets Futures Commodities Politics Events Global Markets Best of Benzinga
View Comments and Join the Discussion!