Will Trump Ban Oil From Violence-Torn Venezuela? President Faces Tough Foreign Test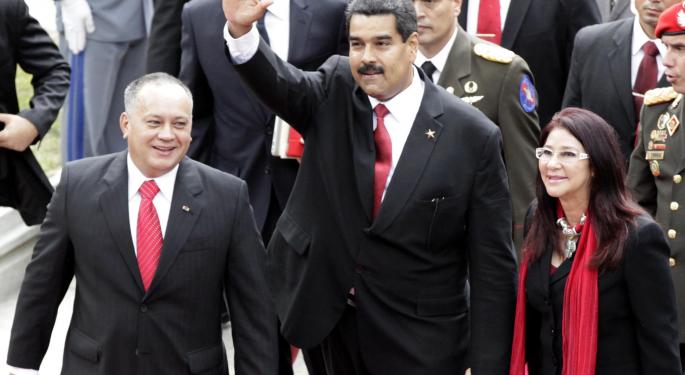 President Donald Trump is expected to announce whether the United States will limit or ban oil from its third-biggest exporter, Venezuela, a country of 31 million people that has descended into dictatorship and disorder.
News agencies reported widely out of Washington that Trump would make an announcement Monday, but the issue was apparently overshadowed by the latest shakeup in his scandal-plagued administration.
In Venezuela, meanwhile, secret police arrested two top opposition figures, Leopoldo Lopez and Antonio Ledezma, at their homes Tuesday, just two days after a widely boycotted election gave President Nicolas Maduro a new legislature made up entirely of his supporters. Nine people, including a candidate, were killed in riots accompanying the vote.
Here's a guide to the main players and the issues in the country.
President Nicolas Maduro
The former bus driver who became a trade union leader who subsequently rose through the ranks of the government of leftist President Hugo Chavez. He assumed the role of president upon Chavez's death in 2013 and narrowly won a special election later that year.
He rules by decree and presides over a kleptocracy that has crippled the economy and led to huge spikes in crime, inflation, poverty and hunger. Protests and riots are almost daily occurrences and an undetermined number of people have been killed, tortured or imprisoned.
Related link: Avianca Suspends Flights To Venezuela
U.S. Sanctions
After Sunday's election sham, the United States announced it was freezing whatever assets Madura might have in this country. The Trump administration might not want to cripple the country's economy further by banning oil exports, but could block sales of lighter U.S. crude that Venezuela mixes with its heavy crude and then exports, U.S. officials told Reuters.
An Exotix Capital analyst said Stuart Culverhouse in a note that sanctions are not likely to work, at least not quickly. "If anything, at least in the near term, we think it will embolden the regime against the perceived aggressor in the country's domestic affairs," he wrote.
Refiners include Valero Energy Corporation (NYSE: VLO), Chevron Corporation (NYSE: CVX) and Phillips 66 (NYSE: PSX).
Madura has indeed used the conflict with the United States to fan his eroding base of support.
"The emperor Donald Trump took decisions against me that show his desperation and hate," Maduro said in a televised speech on Monday. "Sanction me as you wish, but the Venezuelan people have decided to be free and I am the independent president of a free nation."
The Opposition
Lopez, a descendent of South American liberator Simon Bolivar, who played a key role in the revolts against the Spanish empire in the 19th Century, is a longtime critic of the regime and has been frequently jailed.
His wife posted video on social media early Tuesday of Lopez being hustled into a car and driven away by intelligence agents.
Ledezma, the former mayor of Caracas, was also seized at his home by the secret police, his family said.
Humanitarian Crisis
Tens of thousands of people have fled the country — mostly to Brazil, Colombia, Peru and Aruba — seeking safety, food and medical care, Human Rights Watch reported. Venezuelan asylum-seekers have jumped 160 percent to the United States, where one out of every five refugees come from Venezuela.
_______
Image Credit: By Cancillería del Ecuador - https://www.flickr.com/photos/dgcomsoc/8664378668/, CC BY-SA 2.0, via Wikimedia Commons
View Comments and Join the Discussion!
Posted-In: News Emerging Markets Futures Commodities Politics Events Global Markets Best of Benzinga