President Trump's 'Made In America' Week Is Already Facing Backlash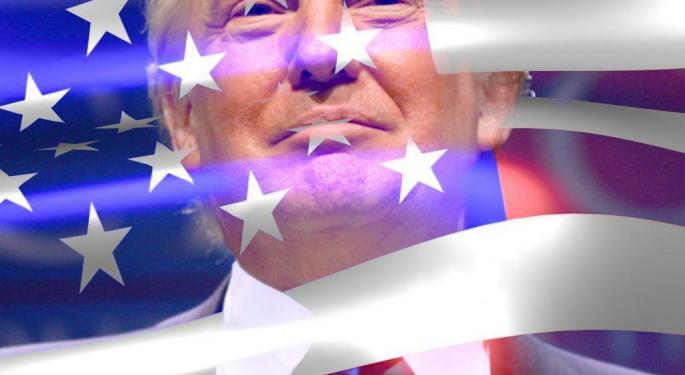 Buckle your seatbelts and hold on tight, because President Donald Trump's "America First" theme weeks are back.
But if "Made In America Week" goes the way of "Energy Week" and "Workforce Development Week," many Americans may not even realize it's happening.
Even the most high-profile week yet, dedicated to infrastructure, saw negligible results. "Infrastructure Week" was widely seen as an attempt to distract from former-FBI Director James Comey's testimony before the Senate.
The White House's Plans
Theme weeks are Trump aides' way of trying to bring order to the White House, appealing to the president's nationalism and core voter base.
On Monday, the White House held a showcase featuring products made from all 50 states.
Trump will make a declaration Wednesday regarding American-made products and urging companies against moving production overseas.
On Saturday, Trump will participate in the commissioning of the USS Gerald R. Ford in Norfolk, Virginia. The ship is the first of the Navy's newest nuclear-powered aircraft carriers.
After "Made In America Week," the White House begin "American Heroes Week," followed by "American Dream Week." The events to be held during these weeks have not been disclosed.
What's Actually In Store
Trump and his daughter Ivanka will, and have already, face harsh criticism over their hypocrisy.
Both Trumps manufacture their clothing brands outside of the United States in countries like China, Bangladesh and Indonesia. Ivanka's self-named fashion brand is entirely produced by low-wage foreign workers.
The response on Twitter was swift and harsh, beginning Sunday night with posts showing Trump-branded items with labels showing what non-U.S. country they were made in.
Too bad they can't show any products made by the Trump family https://t.co/gftAClST2B

— Dan Pfeiffer (@danpfeiffer) July 16, 2017
Apparently the White House announced this 'Made in America' week. Must be because of all the home-grown fabrication they do. #GrabYourWallet pic.twitter.com/QgR5N5oYEM

— Shannon Coulter (@shannoncoulter) July 17, 2017
How about Trump, Inc? pic.twitter.com/x4qHhPM8Pg

— Shawn-Z (@ShawnSRocks) July 17, 2017
Adding fuel the fire was White house spokesperson Helen Ferre, who was asked on Sunday if Trump would urge their products to be made in the United States.
"We'll get back to you on that," she told reporters.
"Made In America Week" will have to contend with the lasting effects of Donald Trump Jr.'s emails with Russian sources.
We could receive news from Congress this week regarding hearings with Donald Jr., especially since the Republican health care bill is stalled.
Sen. John McCain had surgery on Friday to remove a blood clot above his left eye, and Senate Majority Leader Mitch McConnell is delaying a vote on the bill until McCain recovers.
Experts say the surgery he underwent can takes weeks to recover from, meaning more time for the bill's opposition to organize and for developments in the Russia investigation.
The biggest thing to come out of the week though is a decision on how the White House will restrict steel imports, potentially throwing the U.S. into a trade war with China.
Related Links:
5 Sectors Millennials Prefer To Consumer Goods, And The Stocks That Prove It
For Growth Stocks, Valuation Doesn't Matter... Until It Does
View Comments and Join the Discussion!
Posted-In: Donald Trump Ivanka TrumpNews Futures Politics Events Markets General Best of Benzinga