Comey Demolishes Infrastructure Week, Calls Trump A Liar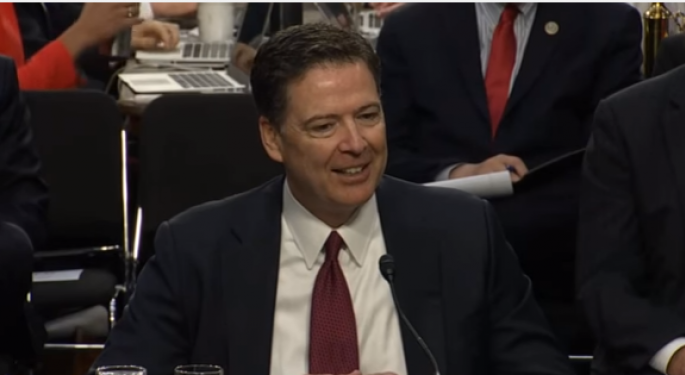 So much for "infrastructure week."
Former FBI Director James Comey took a wrecking ball to President Donald Trump's policy diversion from the monumental problem plaguing the administration: Russian collusion with the 2016 election.
Members of the Senate Intelligence Committee peppered Comey with questions stemming largely from the prepared, seven-page remarks released Wednesday, which recounted nine private, exceedingly awkward conversations over which Trump asked Comey for his loyalty and his hopes to make "the cloud" of the Russian probe go away.
Among other revelations: Comey said he intentionally leaked details about his meetings with Trump in the hope it would lead to the appointment of a special prosecutor. Former FBI Director Robert Mueller was indeed appointed to take over the probe.
The panel broke to move into a closed session to discuss more confidential matters and, if history is any guide, that session will be springing leaks shortly afterward.
Trump's personal lawyer Marc Kasowitz, in a statement, said Comey's testimony exonerated Trump's assertion that he was not a target himself of the investigation into his campaign, and denied that the president ever demanded a loyalty oath. He also excoriated Comey for leaking to the press.
See Also: Politics Here And Abroad: Muted Market Volume Amid Comey's Testimony And UK's Election
Comey: Trump Lied
Comey was composed and portrayed himself as a civil servant forced to interact personally with a president, who is normally buffered by the attorney general. And he bristled at Trump's characterization of the FBI as being "poorly led" under Comey.
He inferred heavily that Trump wanted the Russian investigation to disappear, then "chose to defame me, and more importantly the FBI" when Comey was fired in May.
"Those were lies, plain and simple. And I'm so sorry that the FBI workforce had to hear them," he said.
The former prosecutor chose his words carefully, refusing the utter the magic "obstruction of justice" phrase.
He said it wasn't his place to say. Asked whether he believed Trump was trying to stop the investigation, he said: "Not to my understanding, no." But he reiterated that Trump told him the probe was "a cloud" hindering his ability to govern.
Other Takeaways
1. Why Russian Investigation Is A "Big Deal"
"Nobody tells us what to think, what to fight about, what to vote for except other Americans," Comey said. "We're talking about a foreign government using technical intrusions and a lot of methods to try to shape the way we think, we vote and we act."
He said he believed Trump fired him because of the Russia investigation.
2. Why He Took Such Copious Notes
In part, he said "the nature of the person. I was worried he would lie about the meeting."
When he read the Trump tweet saying that Comey had better hope there were no tapes of the meetings, Comey told the committee he really hoped there were tapes.
3. On Their Jan. 27 Dinner
Trump told NBC that Comey had requested the dinner to save his job, which Comey categorically denied. He said he was under the impression Trump was angling for loyalty and job leverage in exchange for an unspecified favor.
He said he had to break a dinner date with his wife for a meeting he said was tense and awkward.
Comey Demolishes Infrastructure Week
The Trump team had promised this week would be devoted to Trump's $1 trillion infrastructure improvement plan, and it kicked off with an announcement Monday that the administration proposed to privatize the nation's air traffic control system.
He then flew to Cincinnati on Wednesday, where Trump invoked major projects of the past — including the Panama Canal, Transcontinental Railroad and Interstate Highway System — and said that overseas spending has hampered large-scale infrastructure improvements.
"We don't do that anymore. We really don't," he said. "We don't even fix them anymore. We're going to get them going again like never before."
________
Image Credit: Screenshot from "Comey Breaks Down Why Russian Investigation Is Critically Important."
View Comments and Join the Discussion!
Posted-In: Donald TrumpNews Futures Politics Events Markets Media General Best of Benzinga