How Bad Has The Blue Apron IPO Been? Some Perspective On High-Profile IPO Opens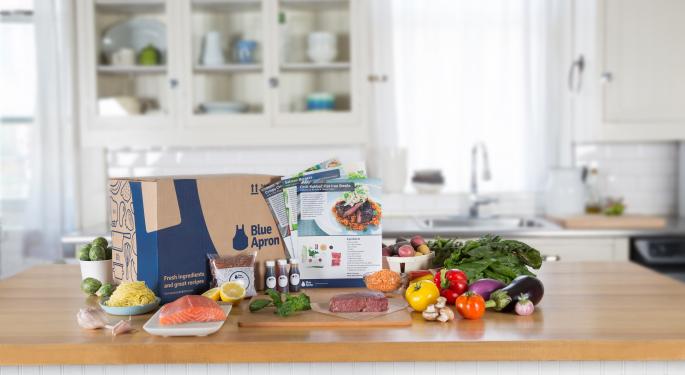 It goes without saying that IPO investors never want to find themselves down roughly 25 percent within two weeks of a stock's first day of trading. But that's exactly the unfortunate situation that Blue Apron Holdings Inc (NYSE: APRN) IPO investors find themselves after Amazon.com, Inc. (NASDAQ: AMZN)'s purchase of Whole Foods Market, Inc. (NASDAQ: WFM) let all of the air out of the highly-anticipated Blue Apron IPO.
Recently IPO'd Stocks Don't Always Charge The Gate
Early struggles are nothing new for these types of IPOs, but Benzinga took a look back at a few more recent big-name tech debuts to put Blue Apron's slow start in perspective.
Related Link: Snap Once Again Atop The Shot Seller Favorites List
Facebook Inc (NASDAQ: FB) may forever be the poster child for why IPO investors shouldn't panic if their stocks get off to a slow start. After initially plummeting after its debut in 2012, Facebook has since quadrupled in price.
How bad were things for Facebook IPO investors after two weeks? Facebook finished its first two weeks of trading down 27.0 percent from its IPO price, providing some encouragement for Blue Apron investors.
But other examples of such horrendous starts coupled with subsequent major rebounds are hard to find.
Alibaba Group Holding Ltd (NYSE: BABA) struggled in its first year of trading, but shares were up 29.6 percent after its first two weeks of trading in 2014.
Facebook rival Twitter Inc (NYSE: TWTR) was initially warmly received by the market before cratering in the years that followed. Twitter finished its first two weeks on the market up 61.7 percent from its 2013 IPO price.
More recently, two of the hottest IPOs of 2016 got off to roaring starts in the public market. After two weeks, Twilio Inc (NYSE: TWLO) shares were up 143.4 percent from their IPO price.
Nutanix Inc (NASDAQ: NTNX) shares also jumped 107.1 percent from their IPO price in the stock's first two weeks of trading in 2016.
Even big-name 2017 IPO Snap Inc (NYSE: SNAP), which has recently dipped significantly below its $17 IPO price, at least got off to a strong start. After its first two weeks of trading, Snap shares were 17 percent higher than their IPO price.
Some new public companies get off to better starts than others, so Blue Apron's stumble out of the gate isn't necessarily the nail in the coffin for the stock's long-term future. However, if the company wants to follow in Facebook's footsteps, it will need to find a way to deliver the type of long-term growth that Facebook has delivered and do it in the face of major competition from Amazon and others.
___________
Image Credit: By Louise.ward (Own work) [CC BY-SA 4.0 (http://creativecommons.org/licenses/by-sa/4.0)], via Wikimedia Commons
View Comments and Join the Discussion!
Posted-In: News Education IPOs General Best of Benzinga