Warren Buffett Talks Taxes, Health Care Reform: This Is The 'Relief For The Rich Act'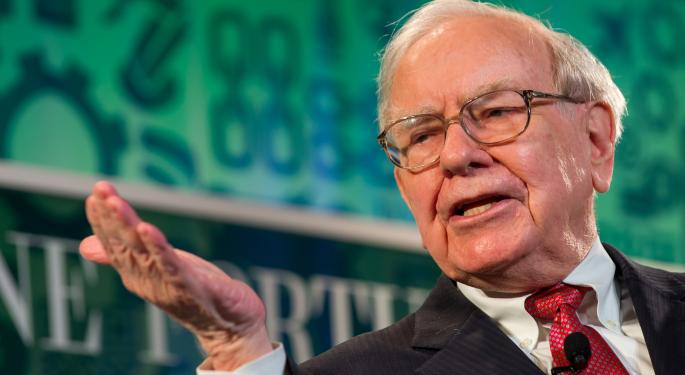 Berkshire Hathaway Inc. (NYSE: BRK-A) (NYSE: BRK-B) CEO Warren Buffett appeared on PBS NewsHour this week, where he spoke on, among other things, tax and health care reform.
Single-Payer Health Care Is The 'Best System'
During his interview, Buffett criticized the belief in government that corporate taxes have a greater effect on businesses and American competitiveness than rising medical costs.
He noted that health cares' proportion of GDP has gone up from 5 percent to 17 percent since 1960, while corporate taxes have only gone down from 4 percent to 2 percent.
Buffett was careful to acknowledge his "limited knowledge" on the health care, but when asked about how legislators should go about fixing Obamacare, he said "I think that [single-payer] is the best system."
A single-payer system, health insurance would no longer be tied to a person's job and would be provided for everyone by a single entity, cutting out the middlemen including insurance providers and pharmaceutical companies.
With only one provider on the market, drug companies and hospitals would be forced to negotiate lower prices or run the risk of losing all their business.
The United States is one of only a few developed countries that doesn't have some form of this system, which has resulted in largely lower costs for those that do.
"The way the [current] ecosystem works, there is no incentive to bring down costs," said Buffett. "We are such a rich country. In a sense, we can afford to do it."
Related Link: CBO On Senate Health Plan: 22 Million Lose Medical Care
The 'Relief For The Rich Act'
Buffett also said that the Republican health care bill, titled the Better Care Reconciliation Act in the Senate, could have been retitled the "Relief for the Rich Act."
"If the bill that passed the House with 217 votes had been in effect this year, I would have saved $679,999," said Buffett. That number amounts to a 17 percent tax cut for the second-wealthiest man in the world.
He added that for many of his wealthy friends, the bill would have saved them over $10 million.
The famed "Oracle of Omaha" also threw some shade at lawmakers. Members of Congress are paid a base salary of$174,000 a year, but "if you look at the disclosures, they have substantial other income."
Those whose total incomes are above $250,000 for a married couple, or $200,00 for a single person, would have given themselves a sizeable tax break.
Taxing Impact
Buffett has been very open with his own taxes, bringing to the show his returns from last year as well as his very first one.
Woodruff pointed out that the returns show Buffett, who earned around $19.5 million last year, paid the same effective tax rate as an average couple with an income of $136,000, at 16.3 percent.
"It's even worse than you say, Judy, because you're looking at what that couple would pay in federal income tax. But they are also paying payroll taxes, in overwhelming cases," replied Buffett.
"They want to cut my tax 17 percent. They [GOP lawmakers] saw those figures and were shocked that I was paying that much, apparently," Buffett joked.
The legendary investor also criticized the bill's repeal of the estate tax, in particular in comparison to conservative criticisms of welfare ruining people's incentive to work.
"If a kid comes out of the right womb in this country, they have got food stamps for their rest of their life. They just call them stocks and bonds," said Buffett.
On Wednesday, Senate majority leader Mitch McConnell announced that the vote on the health care bill, which was planned to take place this week, will be delayed until after the July 4 recess.
Image credit: Fortune Live Media, Flickr
Posted-In: AHCA health care Mitch McConnell Warrenn BuffettHealth Care Movers & Shakers Politics General Best of Benzinga
View Comments and Join the Discussion!