For-Profit Education Stocks Could Be Back In Play As Trump May Scrap Obama-Era Rules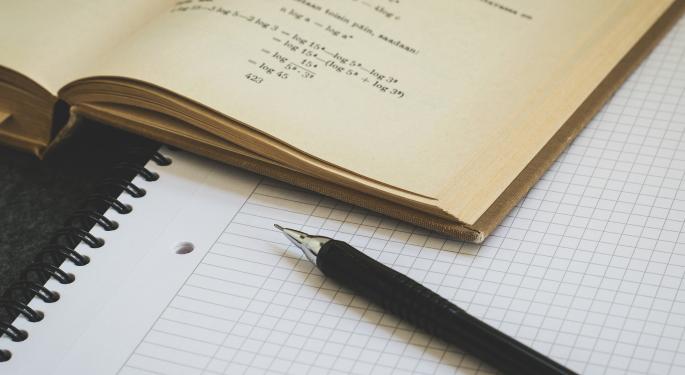 The Trump administration is set to eliminate Obama-era rules targeting for-profit schools that left students with high amounts of debt, according to Dow Jones.
The first rule in question, known as Gainful Employment, was meant to ensure students enrolled in for-profit schools and non-degree programs at community colleges are prepared for "gainful employment in a recognized occupation."
It stipulates that student debt repayment from these programs cannot exceed 8 percent of annual earnings or 20 percent of discretionary income, or else they risk losing eligibility for federal student aid programs.
Of the 800 failing programs identified by the Department of Education before Trump took office, 98 percent were at for-profit colleges.
The second rule, Borrower Defense to Repayment, eliminates federal loans if a school illegally or deceptively persuaded students to borrow money.
The rule was created in response to the downfall of Corinthian Colleges and ITT Technical Institute, charged with fraud and predatory lending, which left thousands of students to navigate an overly complex federal debt relief program.
Borrower Defense to Repayment is already in effect, but Gainful Employment's effective date was delayed by the Trump administration to July 1.
The Trump Administration
Education Secretary Betsy DeVos has championed private schools and supports vocational training in higher education.
Education department spokespeople have expressed DeVos' commitment to protect students, but DeVos indicated early on that she was unlikely to enforce the rules.
"I will review that rule and see that it is actually achieving what the intentions are. The last thing any of us want is to unnecessarily close down important programs," DeVos said during her confirmation hearing.
Trump himself ran a for-profit college, Trump University, which was involved in a lengthy lawsuit by students claiming they'd been defrauded. Trump refused to admit any wrongdoing, but did agree to a $25 million settlement.
Education Stocks Move
Education stocks jumped on the news before pulling back.
Career Education Corp. (NASDAQ: CECO) saw the sharpest move. Shares went up 10.3 percent in 5 minutes before dropping back to the high-$9 range.
Other companies that moved include:
Investors should continue to expect volatility in for-profit education stocks as Trump and the Department of Education unveil details.
Related Links:
Trump Turns 71: Here Are 17 Of His Strangest Business 'Ventures'
Think Politics Is A Factor In Today's Market? Analyst Says Think Again
Posted-In: News Education Movers General Best of Benzinga
View Comments and Join the Discussion!