Trump Turns 71: Here Are 17 Of His Strangest Business 'Ventures'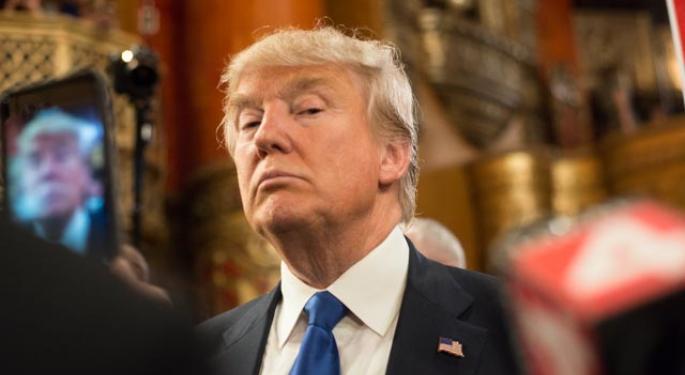 President Donald Trump, the oldest American president in history, turned 71 today.
In celebration of the president's big day, Benzinga looked back at 17 of Trump's strangest (real) business ventures throughout his career.
1. Trump Energy Drink - Unlock the pure energy of a 71-year-old politician.
2. Trump Home - Nothing impresses houseguests quite like sitting on a Trump brand barstool.
3. Trump Eyeglasses - Most of the frames are surprisingly ordinary-looking.
4. Trump Chocolate Bars - The candy bars packaged as gold, silver or copper bullion bars are much more Trump's style.
5. Trump Golf Tips - A billionaire businessman who was elected president certainly has plenty of interesting stories to tell. But if you'd prefer to read his golf tips, he's got a book for that, too.
6. The Tour de Trump - If you love the cycling of the Tour de France without all of the obnoxious landscape of the French countryside, maybe 1989's Tour de Trump, an 837-mile bicycle race that ran through New Jersey, is more your speed.
Related Link: Trump's Treasury Department's First Crack At Banking Reform Looks Pretty Positive, If You're A Bank
7. GoTrump.com - The online travel site could have been the next Expedia or Priceline, but…it wasn't.
8. Trump Cologne - What American wouldn't want to smell like the president?
9. Donald Trump's Real Estate Tycoon - The Trump video game didn't quite take off in the same way SimCity did.
10. Trump University - Trump's venture into "education" has gotten a lot of publicity after a $25 million fraud settlement earlier this year.
11. Trump the Game - The board game's actual slogan was "It's not whether you win or lose, it's whether you win!" Powerful stuff.
12. Trump Ice - Why settle for middle-class spring water when you could chug the bottled water of the 1 percent?
13. Trump Vodka - Who could possibly offer a better vodka than Trump, someone who doesn't actually drink alcohol? His opinion is completely objective.
14. Trump Bar - Nothing says top-echelon atmosphere, service and cocktails like a 3.5-star Yelp rating.
15. Trump Shuttle - Back in the 1980s Trump operated the Trump Shuttle regional luxury airline in the Northeast. Trump Shuttle was never profitable and the assets were eventually turned over to a group of creditor banks.
16. Trump Steaks - "The world's greatest steaks." Period.
17. Miss Universe Pageant, Miss USA Pageant and Miss Teen USA Pageant- "I'll tell you the funniest is that I'll go backstage before a show and everyone's getting dressed," Trump told Howard Stern in 2005.
"No men are anywhere, and I'm allowed to go in, because I'm the owner of the pageant and therefore I'm inspecting it... 'Is everyone OK?' You know, they're standing there with no clothes. 'Is everybody OK?' And you see these incredible-looking women, and so I sort of get away with things like that."
Posted-In: Donald TrumpEducation Movers & Shakers Politics Be Your Own Boss General Best of Benzinga
View Comments and Join the Discussion!