Another Cavaliers Vs. Warriors NBA Finals: With Their Payrolls, Should We Even Be Surprised?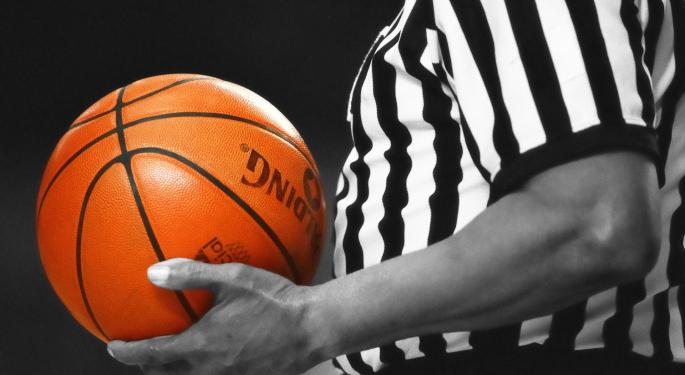 The NBA Finals are back.
After a string of blowout playoff games, the stage is finally set for the Cleveland Cavaliers and Golden State Warriors rematch. In honor of the Finals opener, Benzinga is taking a quick look at the business behind NBA champions.
You Have To Pay More To Win More
The Warriors and Cavs both have payrolls much higher than the $94 million league-mandated salary cap.
Specifically, the Cavaliers boast a payroll just shy of $130 million, while the Warriors pay a modest $108 million — even superstar Stephen Curry only receives $12 million.
The Cavs will reportedly pay $65 million in luxury tax this season, and once the Warriors have to re-sign Curry and Kevin Durant this summer, they will be heading towards paying the luxury tax, too.
"Golden State could wind up paying more in tax penalties than salary for the 2019/20 and 2020/21 seasons, and the total could be more than $600 million over the two years," highlighted.
'We're All-In'
Dan Gilbert, the Cavaliers' majority owner, described the move to NBC Sports: "We're committed; we're all-in … When you invest in something like a sports franchise and you're in for so much … if you at the margins start pulling back, I think that may be foolish on a lot of fronts. We're investing for the future as well as the current."
Winning is likely the number one incentive for Gilbert and Warriors owner, Joe Lacob. However, there are financial motives that inspire them to go over the salary cap.
Owning A Sports Franchise Is An Investment
Gilbert, who has operated the Cavs with over $40 million in losses, sees the Cavs as a major investment. Gilbert owns many buildings around Quicken Loans Arena, like the Jack Casino in Cleveland. With a stronger team, games will attract more fans to the city of Cleveland, creating more revenue for the city and in his investments.
Currently, Cleveland's valuation has shot up over 100 percent since Lebron James' return in 2014, and they are now the 12th most valuable NBA franchise. The Cavaliers also posted the second-highest attendance in the NBA this past season. Gilbert bought the Cavs for $375 million in 2005, and the franchise is now worth over $1.2 billion dollars; this makes the operating loss seem like a worthwhile investment.
Meanwhile, the Warriors are valued at $2.6 billion dollars, according to Forbes, and the team saw its valuation jump $700 million since the addition of Durant.
A Cavs-Warriors Monopoly?
Given that the NBA Finals have seen the same matchup three years in a row, some are wondering if the modern NBA has structural problems based around salary cap rules.
Both fans and sports analysts have noted the only way fans are ever going to see a competitive NBA again is if the league implements a hard salary cap. This move would prevent teams from going over the cap and just paying a luxury tax.
SF Examiner sports writer Paul Ladewski stated, "there are too many high rollers who will spend whatever it takes to be successful, luxury tax be damned. That leaves the have-nots to fight over leftovers. If commissioner Adam Silver wants to fix the problem — if it is a problem — then he has to convince the players and team owners to adopt a strict salary cap that's better for all."
But, for now, let's get ready for what should be an incredible NBA Finals series starting Thursday at 9 p.m. ET on ABC (parent company,
Walt Disney Co (NYSE: DIS)).
Who do you think is going to win this year's NBA Finals: Cavs or Warriors? Let us know in the comments!
Related Links:
Can Lonzo Ball Make NBA History By Creating An Independent Shoe Brand?
View Comments and Join the Discussion!
Posted-In: Cavs Dan GilbertNews Previews Sports Events Trading Ideas General Best of Benzinga