Can Lonzo Ball Make NBA History By Creating An Independent Shoe Brand?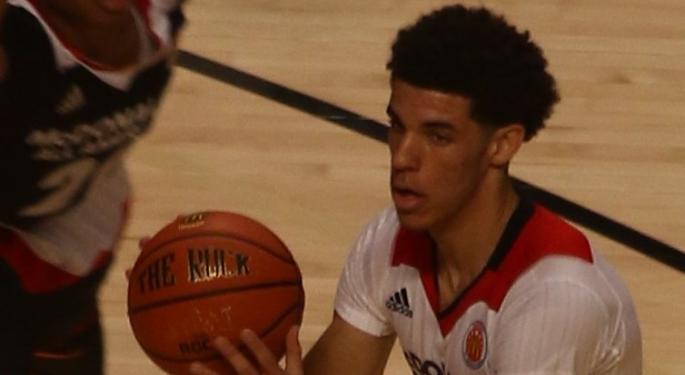 Through a simple process of elimination, it was easy to tell none of the major footwear companies would be signing projected top-five pick, Lonzo Ball, to an endorsement deal ahead of the upcoming NBA draft.
The Ball Family
Ball and his father LaVar, managed to alienate adidas AG(ADR) (OTC: ADDYY), Nike Inc (NYSE: NKE), Under Armour Inc (NYSE: UAA) and several of their star endorsers throughout their media run, including Steph Curry, Michael Jordan and LeBron James, among several others. Lonzo's father has been deemed too risky to get involved with by the shoe giants and instead will forge his own path, licensing out his Big Baller Brand and likely getting investor backing.
Nike executive, George Raveling, called LaVar Ball "the worst thing to happen to basketball in 100 years," to which Ball fired back and said, "Nike Executive George Raveling's recent remarks about me being the worst thing to happen to Basketball in 100 years, is a direct reflection of how Nike views athlete's, and their families, when they can't have their way to exploit them. Nike, do your history of where we were 100 years ago."
Who's gonna sign Lonzo Ball to an endorsement deal?

— Brett Hershman (@Brett_Hershman) March 13, 2017
Risky, But Possibly Lucrative
It is an incredibly risky move, but this could be the start of a trend for athletes, who now through social media can build a substantial following and brand long before they even make it to college. In an age of entrepreneurialism where it's never been easier to start and promote one's own brand, this could be just the beginning of a trend for future athletes.
While the major players have passed on Ball, there has been speculation that Ball could partner with the one of the Chinese shoe companies that currently have notable NBA endorsers like, Li-Ning Co. Ltd. (HKG: 2331), Peak Sports or Anta Sports Products Ltd (HKG: 2020), which currently have deals with Dwyane Wade, Dwight Howard and Klay Thompson respectively. One thing is clear, though, they are looking for a co-branding deal.
"My understanding is that they are looking overseas now, to China, they really [want] to hit an Asian demographic. We haven't seen any Asian shoe brands make any strides in NBA — certainly for an Asian shoe company it is a no brainer," said sports lawyer Darren Heitner. "I think it's interesting because it will finally test the Ball family to see whether they have a strong strategy in place that took into consideration the possibility of this occurrence. This will be an early indication as to whether the Ball family is able to support the heavy rhetoric with real substance, at least as it relates to business off the court," added Heitner.
Probability Of Success
What is unclear is how well this plan has been thought out by the Balls; a popular basketball shoe is incredibly difficult to make. Just ask Under Armour Inc, a $10 billion company that is seeing significant struggles in the early stages of its basketball footwear business. A big problem for Under Armour is the bashing each subsequent shoe release they put out received on social media, and since this news broke, we are seeing the same thing happen with Ball.
LaVar Ball taking Lonzo Ball into the Crocs shoe deal meeting pic.twitter.com/g0a21f9dmB

— kazual (@LeBresus) April 28, 2017
Lonzo Ball officially licensed gear pic.twitter.com/loT0bjJARN

— Started Tweeting (@StartedTweeting) April 28, 2017
Lonzo Ball gon be hoopin in these pic.twitter.com/0DFrBBrhaM

— Henny Club Captain (@BlackIce392) April 28, 2017
There is no doubt that the Ball family will find some investor to back the Big Baller Brand, but several questions remain: Will he perform in the pros? Can they make the brand cool?
Whether this experiment works out or not, it is advancing several important conversations that have been coming to a head for years. Can NCAA players capitalize on their own brands during their time in college, and can superstar athletes with significant leverage bypass the corporations and create their own brands? Only time will tell how this story plays out.
Related Links:
The Curious Case Of LaVar, Lonzo, LiAngelo, and LaMelo Ball
Why Under Armour Needs To Stop Trying To Compete With Nike
___________
Image Credit: By TonyTheTiger (Own work) [CC BY-SA 4.0 (http://creativecommons.org/licenses/by-sa/4.0)], via Wikimedia Commons
View Comments and Join the Discussion!
Posted-In: Anta Big Baller Brand Dwight Howard Dwyane WadeSports Top Stories Exclusives General Best of Benzinga