The Curious Case Of Lavar, Lonzo, LiAngelo And LaMelo Ball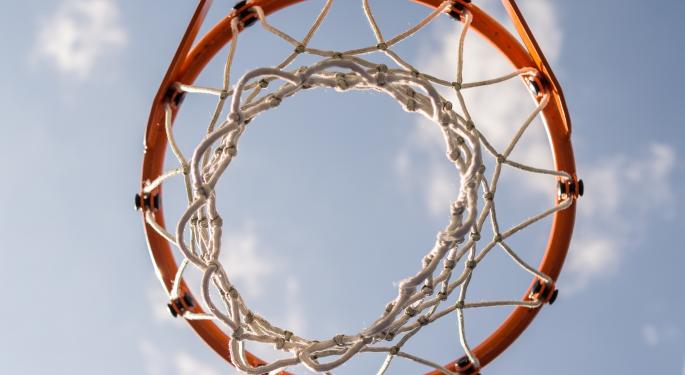 Charles Barkley may have some competition.
Over the past year, Lavar Ball has emerged as the most outspoken figure in basketball... before any of his three sons have even entered the NBA. The hype surrounding America's first basketball family continues to flourish as we near the NCAA tournament.
Who Is The Ball Family?
The Ball family has taken basketball world by storm and have become media darlings at the same time. Walt Disney Co's (NYSE: DIS) ESPN is starting to give the brothers significant coverage, with its latest feature on the family, "Ball or Fall," airing this weekend.
Lonzo Ball, a star freshman that has led UCLA to its best regular season in nearly a decade, is a rumored top five pick in the upcoming NBA Draft. Youngest son LaMelo Ball took over the internet earlier this year after he scored 92 points in a high school game, while his older brother LiAngelo Ball was out of action.
Despite his sons remarkable achievements, the greatest showman may just be the eldest Ball, Lavar, who's outlandish claims position him as the Floyd Mayweather of the sport, a promoter positioning his sons as the next big thing basketball.
Ball Vs. Jordan
Lavar's latest interview with USA today's Josh Peter has gone viral, where he claimed he would kill Michael Jordan in a one-on-one matchup in his heyday. Earlier in the year, he said Lonzo was already better than Under Armour Inc's (NYSE: UAA) star endorser and NBA MVP Steph Curry.
"Intentionally or not, he kept me laughing throughout the three-hour interview. I've never met anybody as quotable as Lavar Ball," USA Today's Josh Peter told Benzinga. "All kidding aside, he is a very likeable guy and comes across as a very devoted father. I think he cares a lot about his kids."
Given how valuable a transcendent basketball endorser is to the athletic apparel companies, a future sponsorship deal can be a game changer.
Ball said he's looking for an unprecedented $1 billion package endorsement deal for his sons who will all undoubtedly enter the league after their time at UCLA.
While the astronomical figure seems unlikely, a big deal will be in the works, with basketball enthusiasts speculating what brand will get a chance to endorse the Ball family. Wherever the kids do end up, it's certain Lavar Ball will want to create a sub brand within the brand, much like Jordan did with Nike Inc (NYSE: NKE) decades ago.
Who's gonna sign Lonzo Ball to an endorsement deal?

— Brett Hershman (@Brett_Hershman) March 13, 2017
Who Will Sign The Ball Brothers?
Adidas AG(ADR) (OTC: ADDYY) has been making aggressive sponsorship moves in basketball after they choose to let their NBA apparel deal lapse in favor of individual player endorsements, signing four of the top ten picks in the NBA Draft. The company appears to be the clear favorite of the major brands.
Under Armour is a possibility, as they're spread thin in basketball endorsements, although the company has been overextended in endorsement money with its current athletes. Given Lavar's recent comments about Curry, it appears unlikely they will go after Ball in the upcoming draft. The brand does stand to benefit from the exposure the family is providing for UCLA basketball, however, when its massive deal goes into effect next year.
Carving Their Own Path
There is of course the possibility the family goes independent, as it has done throughout the grassroots ranks, choosing not to play with any sponsored teams, instead starting their own team and brand. It's likely if the Balls do remain independent, their brand will garner significant backing.
"If there is anyone that could turn down shoe deals to do his own thing it would be Lavar Ball," Jarrell Strong of Indihoops said. "He has been very consistent; playing independently, not choosing to engage in events or situations where it's not in his favor (Mayweather). At some point people will understand that through social media its getting easier to compete with the big brands and Lavar 100 percent aware. The disruption point could be here, its going to get interesting. Regardless, he will not go the conventional route."
Lavar Ball is certainly an excellent promoter, but the question remains; Is the Ball family the real deal or a gimmick when it comes to competing at the highest level of basketball? So far, he hasn't been proven wrong.
Related Links:
Adidas Making Aggressive Moves In NBA Endorsements With Upcoming Draft Class
Warren Buffett Talks $1 Million March Madness Challenge And His Jump Ball With LeBron James
View Comments and Join the Discussion!
Posted-In: Ball Family Josh Peter Lamelo BallEntrepreneurship Sports Top Stories Exclusives General Best of Benzinga