Kansas City Southern Isn't Worried About A Donald Trump Presidency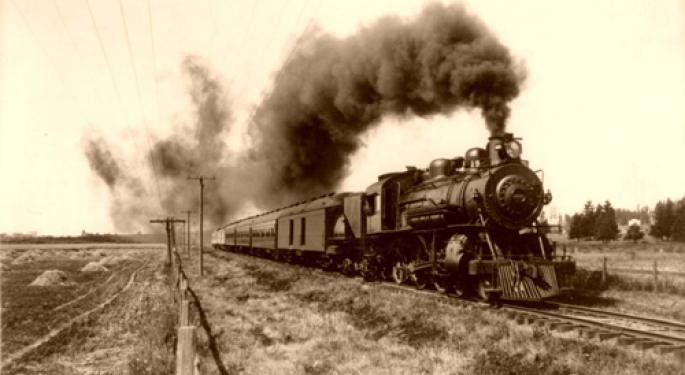 Donald Trump's election hasn't gone down well with Kansas City Southern (NYSE: KSU) investors. The company's exposure to Mexico seems to be the problem and there have been reports of Trump orchestrating an exit out of the NAFTA.
Downgrades by sell-side analysts following the election results are also weighing on the stock.
Benzinga reached out to the company to hear what it had to say about rail sector concerns as well as the NAFTA issue.
Below is what the company said in a statement:
As we transition from one U.S. administration to a new one, Kansas City Southern (KCS) is optimistic that the new administration's policies will promote economic growth and regulatory relief important to the U.S. rail industry and broader economy. The President-elect's campaign positions for lower business taxes; allowing repatriation of corporate profits held offshore; encouraging domestic oil and gas production; reconsidering regulations impacting coal while increasing the use of clean coal; and implementing a national infrastructure program should bring new growth to the U.S. economy. Likewise, his appointees are likely to be more pro-growth/pro-job creation. And, pending U.S. Surface Transportation Board proceedings harmful to rail sector investment and future capacity, and, pending Federal Railroad Administration proceedings on crew size and ECP braking might be reconsidered, shifting regulatory focus toward needed capacity, growth, cooperation and productivity.
Moreover, KCS believes that the North America Free Trade Agreement (NAFTA) has been good for the U.S. and for job creation. NAFTA supports about 14 million U.S. jobs, and, export-driven, higher skill jobs pay wages that are typically 18% higher than other jobs. There has been a net increase in jobs in the U.S., with U.S. private sector employment having risen by 30% since NAFTA implementation. U.S. manufacturing output has risen by about 80% in the last 25 years and the U.S. remains the world's largest manufacturer. U.S. agricultural exports to Mexico and Canada grew 330% since 1993 and exports to Mexico alone have grown by 390%. Trade agreements have resulted in automakers investing about $52 billion in U.S. facilities and U.S. auto production is expected to grow by about 5% by 2020.
The President-elect's team has indicated that there will be a process for any reshaping of America's trade policies which could include reforming NAFTA. KCS understands this would include a study on what the ramifications of withdrawing from the agreement might be. While NAFTA allows a member nation to withdraw with 180-day notice to the other member countries, if done, it must be done with both of the member countries and not just one or the other; and, initial withdrawal from NAFTA does not, by itself, raise tariff levels. It is unclear that the President could unilaterally set permanent, across the board tariffs without Congressional involvement.
With all of this considered, KCS remains optimistic about the future of its intra-Mexico and intra-U.S. business which makes up over 70% of its total business; and, regarding the remaining 30% of its business that is cross border, KCS remains optimistic that its premium service between the U.S. and Mexico will continue its long-term growth over time due to the strong, and interconnected nature of the U.S., Canadian, and Mexican, North American economy. As demand for products continues to grow across the North American continent, the need to move them between the three countries will continue to grow and KCS is well positioned to service that growth.
Posted-In: Donald TrumpNews Politics Legal Market-Moving Exclusives Exclusives General Best of Benzinga
View Comments and Join the Discussion!