Why Has Kansas City Southern Been Left Out Of The Trump Rally?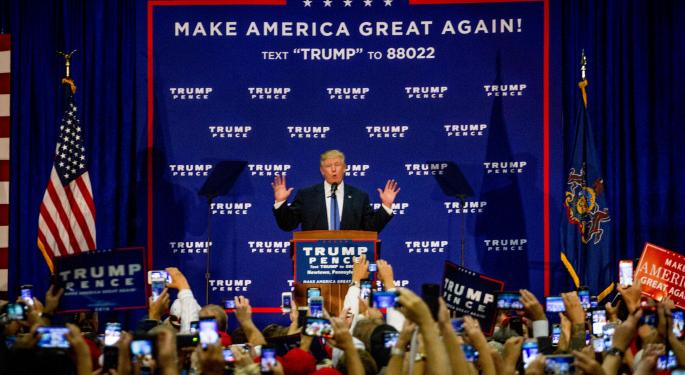 Kansas City Southern (NYSE: KSU) has been a standout, though not in a positive sense. Railroad stocks such as CSX Corporation (NASDAQ: CSX), Union Pacific Corporation (NYSE: UNP) and Norfolk Southern Corp. (NYSE: NSC) have been on a roll since the November 8 U.S. presidential election even as Kansas City Southern is languishing.
Percentage Gain/Loss Since November 8
CSX: +8.45 percent.
Kansas City Southern: (-8.05) percent.
Norfolk Southern: +8.3 percent.
Union Pacific: +9.75 percent.
Dow Jones Transportation Average (INDEX: DJT): +5.25 percent.
S&P 500 INDEX (INDEX: SPX): +1.15 percent.
Why is Kansas City Lagging?
The Trump election has not gone down well with Kansas City Southern investors. The company's exposure to Mexico seems to be the problem. There have been reports of Trump orchestrating an exit out of the NAFTA.
Downgrades by sell side analysts following the Trump election are also weighing on the stock.
Offshoots Of Potential NAFTA Exit
Loop Capital Markets noted that in the eventuality of a decision to exit the NAFTA, following a six-month written notice to Canada and Mexico, the U.S. tariffs will stay at zero or revert to 1993 pre-NAFTA levels. When Congress takes it up for setting new tariff rates, the firm noted that there will be intense pressure from the energy industry to keep these low so that they can take part in Mexican energy deregulation in 2018.
Additionally, the firm noted that the agricultural industry seeking to export grains to Mexico and automotive industry that may want to continue reaping the benefit of low labor costs may clamor for low tariff rates. Even if there has been divergence between the stance of Trump and Congress, the firm sees a "zombie" free-trade zone where tariffs remains at zero but a free-trade treaty doesn't technically exist.
Peso Worries
The firm also noted that the Mexican peso has taken a beating since the November 8 elections. With a notable portion of Kansas City Southern's Mexican revenues denominated in the U.S. dollar, Loop Capital's Rick Paterson noted that the company's products get more expensive than peso-denominated domestic truckers, leading to market share losses for the company.
Buying Opportunity Or Stay Away?
That said, Loop Capital sees the weakness as a buying opportunity, as it believes the selloff is overdone. Another rationale is the firm's view that, even without cross-border growth, the company is two highly viable domestic networks.
Loop Capital has a Buy rating and a $98 price target for Kansas City Southern.
At Time Of Writing
CSX was slipping 2 percent to $34.08.
Kansas City Southern was down 1.13 percent at $84.14.
Norfolk Southern was down 0.45 percent at $103.52.
Union Pacific shares were losing 1.29 percent to $98.17.
Image Credit: By Michael Candelori from Philadelphia (Donald Trump Rally 10/21/16) [CC BY 2.0], via Wikimedia Commons
Posted-In: Analyst Color News Emerging Markets Politics Travel Markets Analyst Ratings Movers Best of Benzinga
View Comments and Join the Discussion!