How United Airlines Can Repair Its Reputation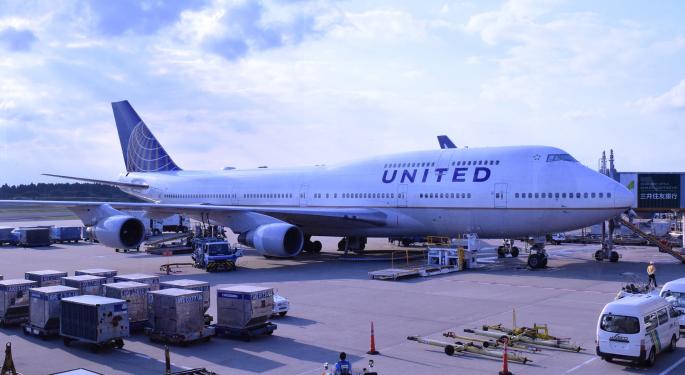 United Continental Holdings Inc (NYSE: UAL) has been on a roll recently with several PR disasters.
United is under fire this week after a screaming and bloodied physician was dragged off an overbooked flight. This latest mishap is its worst yet and leaves investors and the public wondering if the company can recover from the significant reputational damage the brand has experienced.
Many might have been surprised to see United's stock actually rose Monday, although shares fell Tuesday.
"Equity investors are bad predictors of the net outcome of reputational events," said Dr. Nir Kossovsky, CEO of Steel City Re "They are as likely to overreact as underreact, and they tend not to be good predictors of the magnitude of these reputational risks."
Steel City Re analyzes the reputational strength and resilience of public companies. Benzinga spoke with Kossovsky on Tuesday afternoon, shortly before United CEO Oscar Munoz released a statement apologizing for this latest incident.
See Also: United CEO Apologizes To Violently Bumped Passanger After Blaming Him For Disturbance
According to Kossovsky, when reputational events are quite severe, the price of a stock generally doesn't drop more than 5 percent initially, but after 20 weeks the price drop on average is nearly 25 percent. It generally takes 20 weeks to recognize the magnitude of these events.
When looking at over three years of data and 6,000 reputational events, the data shows that at the outset of the event the magnitude and severity is almost underestimated. United's reputation has been trending negatively for the past six months.
"The classic problem with reputational risk is once you begin to slip up, everything you do is further evident that there is a fundamental problem," Kossovsky told Benzinga. "You switch from tolerant to disappointment, and from that point you can do nothing right. From a stakeholder perspective, every small mistake is absorbed, recognized and noted, experienced and remembered."
Given that United has experienced several mishaps in a short amount of time, there may be a fundamental flaw in the culture of the organization stemming from the top.
"My expectation is that this event will be more significant than investors thought initially." Kossovsky said. "It attacks the stakeholder viscerally. This is not merely an isolated one-off event. United right now is not a good risk. It's evident that they have a systemic problem that easily traces to the top of the organization."
Classic Steps For Reputation Restoration
Acknowledge that a process failed.
Acknowledge that the company knows what the mechanism is that caused the failure.
Explain how you're going to fix things having identified what went wrong so it won't happen again, and indicate how the company will share insight with other members of the industry so that none of them will make a similar mistake.
Having fixed the process for the benefit of the company and the industry, let stakeholders know that the fix is credible and authentic.
"This crisis is an opportunity for the board of directors to step forward and demonstrate that they understand that there is a cultural problem," Kossovsky said. "That United is determined to repair it, that they are committed to sharing their learning with the industry, and that they will communicate all of the preceding unambiguously, credibly and authoritatively with all their stakeholders."
Posted-In: BZTVEducation Psychology Travel Top Stories Exclusives Interview General Best of Benzinga
View Comments and Join the Discussion!