Teens Find 100-Year-Old Converse To Be Cooler Than Under Armour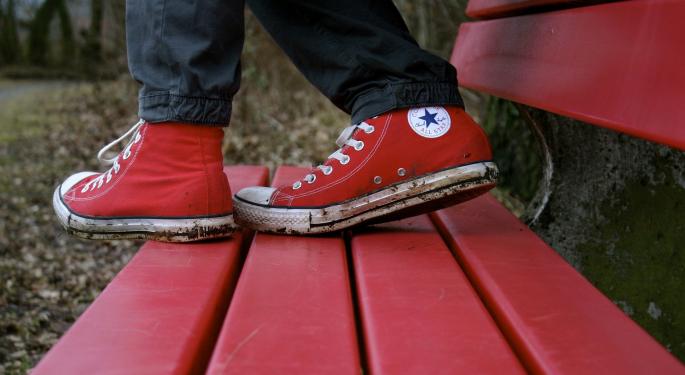 The current fashion cycle is favoring retro styles; companies with long, storied histories are bringing back and refreshing old classics.
This bodes well for adidas AG (ADR) (OTC: ADDYY), Puma and Nike Inc (NYSE: NKE)'s Converse and poses a problem for Under Armour Inc (NYSE: UAA)'s fairly recent entrance into the shoe market.
A recent study by Google on Generation Z suggests that Converse, a 100-year-old brand owned by Nike, is more popular with teens than Under Armour, a brand that has aggressively marketed to younger consumers.
'Teens Are Obsessed With Shoes'
Generation Z consists of those born between the mid-1990s and early-2000s and their tastes differ from the Millennial generation. This generation of roughly 60 million has never known life without the Internet. Gen. Z has $44 billion in purchasing power in the U.S., but that figure could be closer to $200 billion when incorporating their influence on parental or household purchases.
The study from Google indicated shoes are the currency of cool for Gen Z, but Under Armour failed to make the list — despite the brand's top endorser, Steph Curry, being listed as one of the generation's most-mentioned celebrities. The company also failed to make the list of top 10 coolest companies, while competitor Nike came in at No. 9.
"Teens are obsessed with shoes. Within the clothes/fashion/beauty category, almost 30 percent of the responses of what is cool were 'shoes.' To Gen Z, the top three coolest shoe brands are Jordan, Converse and Vans," the report said.
Under Armour knows it needs to go after the next generation of athletes and stars to help shape the mind of future consumers. The company stepped up its game in basketball shoes. While it made a splash initially, the basketball shoe market as a whole has struggled, and Under Armour has no retro styles to capitalize on.
Shoes have been a big part of Under Armour's push to compete with Nike, but right now Adidas has stepped into the spotlight and is winning the battle.
Related Links:
Adidas Mark King Talks About The Company's Comeback, James Harden, Turning The Corner In North America
View Comments and Join the Discussion!
Posted-In: Adidas Alphabet basketball Generation Z GooglePsychology Sports General Best of Benzinga