U.S. Rep. Chaffetz Says Americans Should Buy Healthcare Rather Than iPhones; We Compared The Costs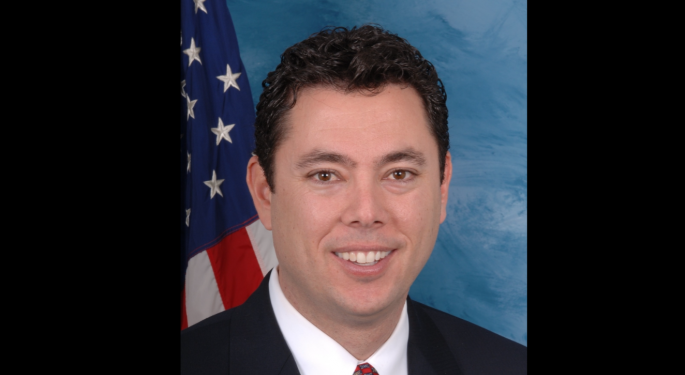 Utah Congressman Jason Chaffetz believes he has identified the key problem with the U.S. healthcare system: the Apple Inc. (NASDAQ: AAPL) iPhone. Chaffetz isn't blaming Apple for the rising cost of healthcare. Instead, he is blaming poor people for buying iPhones instead of health insurance.
"Americans have choices and they've got to make a choice and so maybe rather than getting that new iPhone that thay just love and they want to go spend hundreds of dollars on that, maybe they should invest it in their own healthcare," Chaffetz told CNN Tuesday.
His statements come in response to the elimination of income-based heathcare subsidies proposed in the new Republican heathcare replacement bill unveiled this week. Republicans want to replace the income-based subsidy with an age-based tax credit.
For Americans wondering if all their healthcare problems could be solved by resisting the temptation of the iPhone 7, it turns out the answer is no.
The Department of Health and Human Services estimates that the Average American spent $10,345 per person on healthcare costs in 2016.
The iPhone 7 models range in cost from $649 for the standard 32 GB model to $969 for the 256GB iPhone 7 Plus model.
For any American who owns at least 11 iPhone 7 devices, Congressman Chaffetz has a plan to help you make sure your full healthcare costs are covered. For everyone else, the Chaffetz iPhone healthcare proposal may come up a bit short, even taking into account monthly phone bills.
Related Link: Affordable Care Act Replacement Bill Leaked
Related Link: The 2 Sides Of The Affordable Care Act Debate, Explained
_____
Image Credit: By United States Congress. - Congressman Jason Chaffetz., Public Domain, via Wikimedia Commons
Posted-In: News Education Health Care Politics Legal Events Tech Media Best of Benzinga
View Comments and Join the Discussion!