Affordable Care Act Replacement Bill Leaked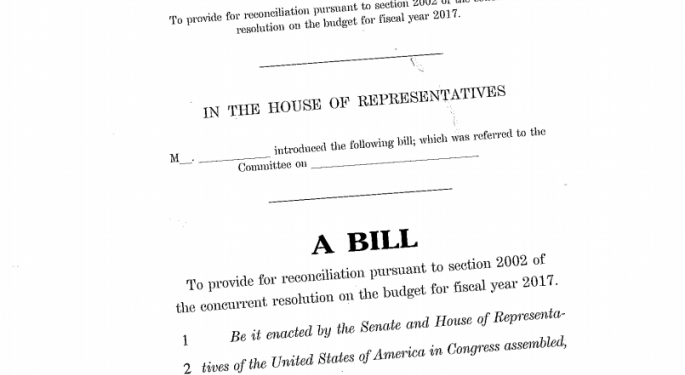 One of the hottest topics in Washington these days is healthcare. Americans are watching closely to see how much the Republican-controlled Congress will change the current system.
On Friday, Politico reported on a new leaked draft of a House Republican bill that reveals some of the specific changes the party will be seeking to implement.
What's In The Leaked Draft?
According to Politico, the bill would eliminate the individual mandate, income-based premium subsidies and all taxes associated with the Affordable Care Act. In addition, the bill would decrease overall Medicaid spending and fund state-run pools for certain people with pre-existing conditions.
Instead of the current income-based subsidies, the Republican bill would institute age-based subsidies. The subsidies would range from $2,000 for Americans under 30 to $4,000 for Americans over 60 years of age.
Republicans are proposing to pay for the new tax credits by capping the current employee sponsored insurance tax exemption at the 90th percentile of current premiums.
While some of the proposed modifications would be instituted as soon as the bill is passed, other changes would happen in 2020.
Related Link: 5 Things Republicans Want To Change About ObamaCare But Might Not Be Able To
The proposed bill also takes a free-market approach to solving some of the problems that have plagued ObamaCare. The bill would allow insurance companies to charge older customers premiums that are up to five times higher than those of younger customers. They are currently limited to charging older customers only three times as much.
Instead of the current individual mandate penalty, the Republican plan would require those who re-enroll in the system to pay 30 percent more for their first year of coverage than others with the same plan. The re-enrollment rule is designed to discourage people from only paying for insurance at times when they are already sick.
Market's Early Reactions
Health insurance investors certainly don't seem impressed by the proposals in the bill. Shares of Humana Inc (NYSE: HUM), Aetna Inc (NYSE: AET) and Anthem Inc (NYSE: ANTM) are all down slightly in Friday's session. Bloomberg has reported that a source familiar with the matter says representatives from major health insurers will be meeting with President Donald Trump on Monday to discuss the ObamaCare replacement plan.
Despite the landslide Republican victory in November, a pair of recent polls show that the popularity of ObamaCare is currently at its highest levels since the law was passed back in 2010. A Kaiser Family Foundation poll revealed that 48 percent of Americans view Obamacare favorably, while a Pew Research Center poll found that 54 percent of Americans approve of the current system.
Image Credit: http://www.politico.com/f/?id=0000015a-70de-d2c6-a7db-78ff707e0000
View Comments and Join the Discussion!
Posted-In: Affordable Care Act obamacareNews Health Care Politics General Best of Benzinga