Money Is Energy: A Profile Of Family Office And Silk Legend Thomas Gütermann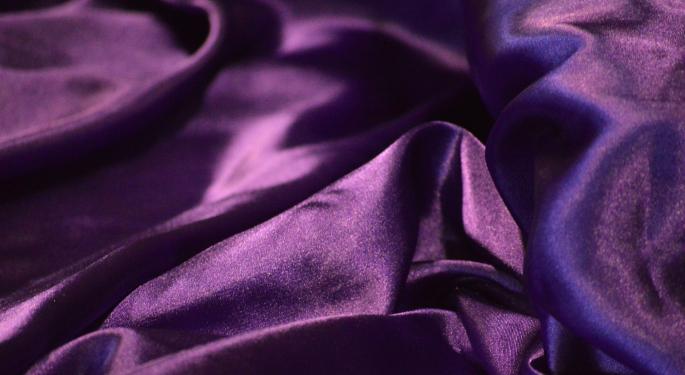 "Money is not bad, money is a sign of energy. Where there is a lot of money, there is a lot of energy. The money for itself is only energy, we trade only energy. The people, what they are doing with that… That's the important thing." —Thomas Gütermann.
Last Friday, Benzinga shared a glimpse at one of the most Howard Hughes-ish characters of the investment world today: Thomas Gütermann. This mysterious businessman comes from an ultra-wealthy family that held the monopoly of silk production in Europe over most of the twentieth century, and is now one of the most respected individuals in the family offices1world.
Last week, Gütermann was in New York for a few days to attend SCN Corporate Connect's Family Office & Life Science Symposium at the NASDAQ2 and agreed to meet me for some drinks at his hotel; he would talk to the media for the first time ever.
In the first part of this article, we went into the Gütermann family history, Mr. Gütermann's investment philosophy, his new Direct Market Access Fund focused on pre-IPO unicorns, and non-U.S. markets he's looking at. In this second piece, we'll explore some more personal aspects of Thomas Gütermann's life.
Money As Energy
Javier Hasse: So, when you say the important thing about money is what people do with it… What do you do with your money?
Thomas Gütermann: I have a hobby, which is music. We create sound, because we love sound. Like money, sound brings energy and emotion to people. If people hear very good music, they lift up their soul, they get energy back, and they get good emotion.
We created a new Sound....never heard before pic.twitter.com/UVYVNqfx5e

— Thomas Gütermann (@TGuetermann) January 6, 2017
If I may make a comparison... You go, on an early summer morning, into a forest. The sun is shining above the trees, and you feel 100 percent good.
That is what we want to sell in the future with this sound. Selling emotion and bringing the people to lift up their soul.
Technology & The Future
Javier: You're certainly a serial entrepreneur so… What is it you want to do next?
Thomas: I represent a lot of technology companies. However, I also think that technology hurts people. So, I want to find, in the future, ways to, for example, prevent radiation from mobile phones from hurting people. We have some ideas, but I cannot speak about them right now.
This is really the challenge, though, to make radiation and electro-smog a little bit less harmful because they are really hurting us.
Please, do not misinterpret me: high tech is really good because it makes life easier, but we should also be aware of nature, our bodies and our health. I hope that we can find a solution for radiation and electro-smog so that we can continue to have strong connections, but these don't hurt us.
Thomas' Favorites
Javier: Which are your favorite companies and why? You don't have to necessarily own stakes in them... just like them.
Thomas: I love Amazon.com, Inc. (NASDAQ: AMZN), because I bought the stock for $13.00, and it now trades above $800.00. Amazon is living proof of what high tech can do. In addition, I think the services they deliver at home help old people – who are not able to go into the city, to still get what they want and need.
This company is amazing; it started with a small bookshop about 20 years ago... Nowadays, it's a behemoth.
I also like all the companies that we need for a better life [...] Their intention is to earn money, but they still help people. This is the ideal combination to me.
Javier: Who is an investor you admire?
Thomas: There aren't really any investors that I admire, whom I really love, because what they are often doing is not my world. My world is bringing new, innovative things with a limited risk exposure to the world. It's not sitting on an old, traditional financial desk, focused on bonds, stocks, cash management, hedge funds...
Traditional investments are boring to me, and the private equity scene in Europe is relatively week because it's hard to sell startup companies or mid-cap companies in Europe.
In the U.S., it's a little bit better; they are more open minded. This is the strength of America: they are more innovative than Europe. After two World Wars, Europe is more cautiously optimistic, while America is a young nation that's constantly changing. That is both an advantage and a disadvantage.
So, to answer your question, there are no investors I admire or want to follow. I want to do my own thing, to create my own ideas and not copy them from anyone else.
Javier: Who is a non-investor you admire for business strategies?
Thomas: Virgin America Inc (NASDAQ: VA) (NYSE: ALK)'s Richard Branson is the only person I really admire. With Virgin Galactic, and his record label [Virgin Records], which made great LPs. From that time, I've watched him and I like him very much.
So, I admire him because he's got it all, he's a modern-day man. He sometimes does very risky investments… And he always comes back... He's a fighter...
Branson understands that money is energy. He's lost a lot of money in his life, and does not have a problem with that. He just stands back up immediately.
Javier: Finally, who is someone you admire, in general?
Thomas: I think our first chancellor in Germany, Konrad Adenauer... What he did, with the U.S.' help – and the Marshall Plan, to rebuild the country after the Second World War, was gigantic.
After losing the Second World War, Germany was a disaster; every last stone had been destroyed.
In addition, Mr. Adenauer was a simple man, he was not arrogant. So, that is someone I look up to.
__________
1 Family offices are private wealth management firms set up to invest for very high net worth families. Since they are not accountable to outside investors, they do not have to justify their investments. This means they can often generate market-beating returns.
For instance, the Christmann-Gutermann Family Officehas made early investments in Peter Thiel's Founders Fund, Pinterest, Twitter Inc (NYSE: TWTR), Uber, LinkedIn Corp (NYSE: LNKD) and Facebook Inc (NASDAQ: FB), among many other Silicon Valley companies, taking bigger risks and reaping greater returns.
2 The Family Office & Life Science Symposium was held on Tuesday at the Nasdaq Marketsite, sponsored by T-Mobile US Inc (NASDAQ: TMUS). Among the companies presenting there were AcelRx Pharmaceuticals Inc (NASDAQ: ACRX), Amyris Inc (NASDAQ: AMRS), Cellular Biomedicine Group Inc (NASDAQ: CBMG), Dicerna Pharmaceuticals Inc (NASDAQ: DRNA) and Hemispherx BioPharma, Inc (NYSEMKT:HEB). Attendees included Andrew Schneider (Family Office Networks), Tom McKenzie (Cavendish Global), Arthur Andrew Bavelas (Family Office Insights), Steven Christmann (Christmann-Guttermann Family Office), the Gorlin Family Office, the Gonzalez Family Office, the Murray Capital Group, the Lexington Family Office, Morgan Stanley (NYSE: MS), Wells Fargo & Co (NYSE: WFC), and many others.
View Comments and Join the Discussion!
Posted-In: News Topics Success Stories Startups Tech Personal Finance Trading Ideas Interview Best of Benzinga