Why Most African Companies Are Not Listed On The NYSE Or Nasdaq: It's All About Valuations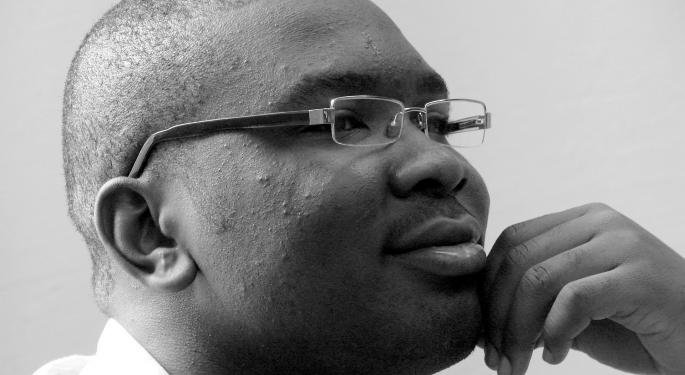 Africa is a very diverse continent, and so are its countries' economies. However, they have one thing in common: growth is still ahead of them.
Another interesting thing to notice is that companies there serve millions of customers, largely due to the fact that penetration of U.S.-based companies is not as extensive as in other areas of the world. However, just a very small portion of these corporations trade on major stock exchanges like the NYSE or the Nasdaq.
Besides a few South African, Nigerian and Zambian stocks, there isn't much African presence in Wall Street. There's Sasol Limited (ADR) (NYSE: SSL), AngloGold Ashanti Limited (ADR) (NYSE: AU), Gold Fields Limited (ADR) (NYSE: GFI), Sibanye Gold Ltd (ADR) (NYSE: SBGL), Net 1 UEPS Technologies Inc (NASDAQ: UEPS) and about 35 more companies. So, quite few considering that that there are 54 countries and more than 1.2 billion people in Africa.
Intrigued by this absence of African companies on Wall Street, Benzinga reached out to one of Morocco's top businessmen, Saâd Bendidi. Benidi is the general manager at the Saham Group, one of the largest companies in Africa, present in 57 percent of the countries there, with more than 14,000 employees and over $1.2 billion in annual revenue.
Related Link: Expert Talks Business And Natural Resources In Morocco, Africa: 'Growth Is Still Ahead Of Us'
An Informed Opinion
Benzinga: We were looking into Forbes' Top 100 Companies in The Arab World 2016 list and noticed that a few Moroccan companies (BMCE Bank, Banque Centrale Populaire and Attijariwafa Bank) were included. However, none of these mid-caps are listed on major stock exchanges. Why is that?
Bendidi: Let me take an example I know, the Saham Group. Saham is not a traded company; we have sustained our development by our own resources or with some partners, so we don't need any money from the market for the time being. Maybe one day we will need it to sustain our growth, but for the time being [...] we have access to all the money we need in a very smooth way, so we didn't even list our companies in the domestic markets. This is the case for Saham, but it might also be the case for others.
The second thing is that, if we wanted to go to a major market, these markets would need to assess the risk the same way that we assess it. I can tell you, for example, if we invest in Nigeria, some people would argue it's an awful move — you have a lot of constraints, very low oil prices, devaluation of the currency, and so on. So, the Saham Group would trade at a discount.
However, our risk assessment is different. We are focused on spreading across Africa; diversification is a strength. In addition, we have a lot of money and we are dealing in a lot of money, so we try to mitigate the risk on that.
So, if you look at this with the eyes of Wall Street, [our investments would look] quite small and very complicated. So, people would apply a discount to our stock. Nonetheless, investors that have the right analysis, and that are close to the continent and to the businesses, are evaluating our business differently. So, we do prefer to work (and we have worked) with some large private equity funds that are knowledgeable about the region or the businesses, so that we can reach harmony on the evaluations, on what is the value of the business, the value creation, and the risk assessment.
Basically, this is the difference of perspective that we may have with the markets where people are looking at things from a top-down perspective rather than making a bottom-up analysis that is more complicated.
More African Companies
Other publicly traded African companies are:
Anglo American Platinum Ltd(ADR) (OTC: ANGPY)
ASPEN PHARMACARE UNSP ADR EACH REP 1 ORD (OTC: APNHY)
Barclays Africa Group Ltd (ADR) (OTC: AGRPY)
Barloworld Limited (ADR) (OTC: BRRAY)
Bidvest Group Ltd (ADR) (OTC: BDVSY)
Clicks Group Ltd (OTC: CLCGY)
DRDGOLD Ltd. (ADR) (NYSE: DRD)
Exxaro Resources Limited (ADR) (OTC: EXXAY)
Harmony Gold Mining Co. (ADR) (NYSE: HMY)
Impala Platinum Holdings Limited (ADR) (OTC: IMPUY)
Imperial Holdings Limited (ADR) (OTC: IHLDY)
Kumba Iron Ore Ltd (ADR) (OTC: KIROY)
MASSMART HOLDINGS UNSP ADS EA REPR 2 ORD (OTC: MMRTY)
MEDICLINIC INTL UNSP ADR EA REPR 5 ORD SHS (OTC: MCFFY)
MiX Telematics Ltd – ADR (NYSE: MIXT)
Mr Price Group Ltd. (OTC: MRPLY)
MTN Group Ltd (ADR) (OTC: MTNOY)
MURRAY & ROBERTS SPON ADR EA REPR 1 ORD (OTC: MURZY)
Nampak Ltd (ADR) (OTC: NPKLY)
Naspers Limited (ADR) (OTC: NPSNY)
Nedbank Group Ltd. (ADR) (OTC: NDBKY)
SANLAM ADR EACH REPR 2 SHS (OTC: SLLDY)
Sappi Limited (ADR) (OTC: SPPJY)
SHOPRITE HLDGS LTD ADR EACH REPR 1 ORD (OTC: SRGHY)
STANDARD BK GR LTD SPON ADR EA REPR 1 ORD (OTC: SGBLY)
Telkom SA SOC Ltd (ADR) (OTC: TLKGY)
Tiger Brands Ltd (ADR) (OTC: TBLMY)
VODACOM GROUP LIMI SPON ADR EA REPR 1 ORD (OTC: VDMCY)
WOOLWORTHS HLDGS SPONS GDR EACH REP 1 ORD (OTC: WLWHY)
Africa-focused ETFs include:
View Comments and Join the Discussion!
Posted-In: News Emerging Markets Emerging Market ETFs Topics Global Markets Trading Ideas Interview Best of Benzinga