Expert Talks Business And Natural Resources In Morocco, Africa: 'Growth Is Still Ahead Of Us'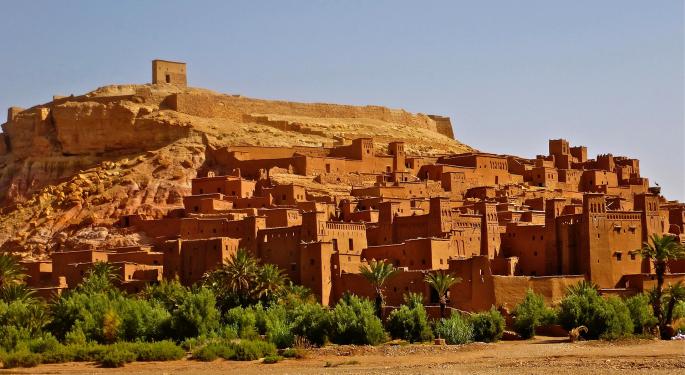 Benzinga recently had a conversation with one of Morocco's top businessmen, Saâd Bendidi. The entrepreneur walked us through the country's return to the African Union after more than three decades of absence, some of the opportunities for economic expansion ahead and even about the relationship between the United States and Morocco.
Below is a look into some of Bendidi's comments in relation to business, finance and corporate culture in the African country.
Given that Bendidi is on the board of directors of several leading companies in Morocco, Benzinga asked him about growth prospects and interesting companies.
Growth Drivers
"In Morocco, in particular, and in the [African] continent, in general, the growth is still ahead of us," he commenced, providing a few reasons to believe this.
1. Demographics
"The continent is expected to more than double its population. By 2040, the third largest populated country will be in Africa; it will be Nigeria, [with] 450 million people."
2. Middle Classes
"The second thing is that the improvement of the standard of living is creating more and more middle classes. So, all the sectors that are related to housing, construction, financial inclusion, protection, and so on, have a great expectancy of growth, not only in the next five years, but we can project this growth to be sustained over the next 25 years."
"Nevertheless, we cannot say, 'You just have to invest and you'll make money.' There are tremendous challenges to overcome in Africa and our region. We are still behind in the level of infrastructure, on the level of the affordability of certain essential needs."
3. Natural Resources
"Of course, the natural resources will remain [another] field of growth. For example, mining: you have ups and downs in the sector, but Africa is still very rich when it comes to natural resources. You have many international players coming for mining, for oil, for gas application, for large infrastructure."
4. Consumer Goods
"Finally, all the fast-growing consumer goods have great prospects. Of course, you cannot only import and sell; you also need to have some manufacturing on-site in order to adapt the product and to make it quite competitive to penetrate in these markets."
Related Link: Top Moroccan Businessman Talks Return To African Union, Opportunities For Economic Expansion
The Winners
"So, the winners — I would say — are mining, oil, consumer products, the financial sector, and energy, especially renewable energies. That is realistic, especially for housing. These are, for me, the main areas where the expansion is," Bendidi concluded.
The Energy Sector
Since the businessman mentioned the energy sector, we inquired about its potential.
"In the medium-term, Morocco is not yet, I would say, an oil producing country or a gas producing country [...] Morocco tried to balance that by having a very aggressive quality in renewable energy, both in developing eolic energy, and also solar energy, where you have one of the largest bases in the world in this field."
"By the year 2020, we will have more than 45 percent of the energy consumption that will be produced from renewable energy," Bendidi ended.
View Comments and Join the Discussion!
Posted-In: News Emerging Markets Emerging Market ETFs Commodities Politics Topics Events Global Best of Benzinga