The Mind Of Munger: Berkshire's Vice Chairman Speaks On Wells Fargo, Trump And More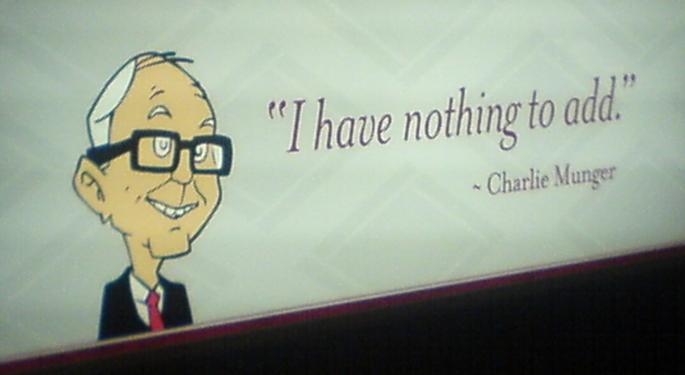 Charlie Munger -- investor, philanthropist and vice chairman of Warren Buffett's Berkshire Hathaway (NYSE: BRK-A) -- is noted for not only his business acumen, but his penchant for candor.
Speaking today at the annual meeting of The Daily Journal Corporation - a publishing company he chairs - Munger didn't disappoint fans of his characteristically dry, common-sense commentary. Below are summaries of a few of his notable remarks.
On Wells Fargo
Munger said the account opening scandal at Wells Fargo & Co (NYSE: WFC) doesn't impair the bank's future, but the bank made a "mistake" by not reacting to the news fast enough.
On Trump
Reminded of a statement made a year ago that Donald Trump isn't morally qualified to be the U.S. president, Munger said "I've gotten more mellow," adding that some of Trump's ideas may prove to be constructive and "he's not wrong on everything." Buffett has similarly expressed his feeling that Trump's election win isn't the end of the world.
Questioning American Express?
Shares of American Express Company (NYSE: AXP) took a hit when Munger said he's "confused" about the company's future. As Seeking Alpha noted in 2015, Munger's qualms about the company surfaced at the Daily Journal meeting that year, when he suggested AmEx's "moat" had become less than it once was.
Berkshire's Unexpected Investments Recently
Fans of Berkshire and Buffett have wondered about the recent investments the holding company made in airline stocks, given Buffett's legendary disdain for the sector, and tech stocks like Sirius XM Holdings Inc (NASDAQ: SIRI). Munger said although he and Buffett once considered the airline industry a "joke," he now feels the industry has improved.
Another unexpected move was Berkshire's stake in Apple Inc. (NASDAQ: AAPL), initiated in early 2016 and recently disclosed to have been substantially increased in the final quarter of last year. Munger doesn't think he and Buffett have "gone crazy" in buying shares of Apple and the airlines, but are instead "adapting."
On Passive Vs. Active Investing
Of the investing philosophy debate dujour, Munger said index funds cause "absolute agony" for financial professionals because the performance of the vast majority of them lags that of said funds over time.
"Most people handle that with denial," he added.
Image: TEDizen, Flickr
View Comments and Join the Discussion!
Posted-In: Charlie Munger Warren BuffettNews Movers & Shakers Politics Events General Best of Benzinga