Upset: Adelson Pulls Las Vegas Raiders Funding; Goldman Sachs May Follow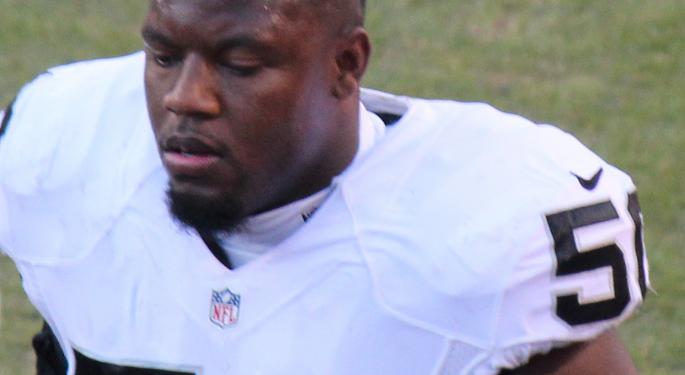 The Las Vegas NFL experiment is up in the air after potential partner of the proposed Las Vegas stadium, Las Vegas Sands Corp. (NYSE: LVS) CEO and chairman Sheldon Adelson pulled out of the project.
Adelson was expected to contribute $650 million to the $1.9 billion stadium project, but was not offered any equity in the team. The casino magnate was apparently upset about being excluded from the lease document presented to the Clark County Stadium Authority.
Important to remember Sheldon Adelson's strongly-worded statement about the Raiders last night. He wasn't happy. pic.twitter.com/fqEyydb5bc

— Nathan Fenno (@nathanfenno) January 31, 2017
According to an ESPN report, Adelson said of the deal: "We were not only excluded from the proposed agreement [...] we weren't even aware of its existence."
When the Raiders applied to relocate to Las Vegas, they used a financing plan centered around Goldman Sachs -- and didn't include Adelson.

— Nathan Fenno (@nathanfenno) January 31, 2017
As the Las Vegas Sands chairman was a key catalyst in the deal moving forward, Goldman Sachs' potential backing in the project is now also questionable, after sources cited that without Adelson, the deal won't move forward.
Source: Goldman Sachs deal to finance Raiders stadium contingent on Sheldon Adelson involvement. Without Adelson, there isn't a deal.

— Nathan Fenno (@nathanfenno) January 31, 2017
Goldman Sachs has a longstanding business relationship with Adelson and likely does not want to upset the billionaire by moving forward with the project.
SOURCE: Goldman Sachs WILL NOT finance @RAIDERS stadium in Las Vegas, now that Sheldon Adelson is out. https://t.co/gBfJCoQbZZ @YahooFinance

— Daniel Roberts (@readDanwrite) January 31, 2017
Nevada's Gov. Brian Sandoval said the proposal is now up to the Raiders to invest $1.15 billion and accept operating responsibilities.
Nevada Gov. Brian Sandoval's office says proposal now is for #Raiders to invest $1.15 billion & accept operating responsibilities, per @AP

— Vic Tafur (@VicTafur) January 31, 2017
That commitment is also on top of an NFL induced $500 million relocation fee that the San Diego Chargers just agreed to after moving the team to Los Angeles. Speculation that San Diego could be an appealing market for the Raiders has emerged, with its built in Southern California Raider fan-base and vacant stadium.
As @sdutkevinacee writes, San Diego could get back in NFL game if nomadic Raiders can't make it work in Las Vegas: https://t.co/Xh7PRcI3O3

— The Union-Tribune (@sdut) January 31, 2017
The San Diego City Councilman office told Benzinga that the city is open to talk to the Raiders management about a possible relocation if the deal in Las Vegas deal falls through.
Image Credit: By Jeffrey Beall - Own work, CC BY 3.0, via Wikimedia Commons
View Comments and Join the Discussion!
Posted-In: Clark County Stadium AuthorityNews Contracts Sports Events Media General Real Estate Best of Benzinga