The Stock Market Under Trump – And The Real Test Ahead: TDA's Chief Strategist Shares His Outlook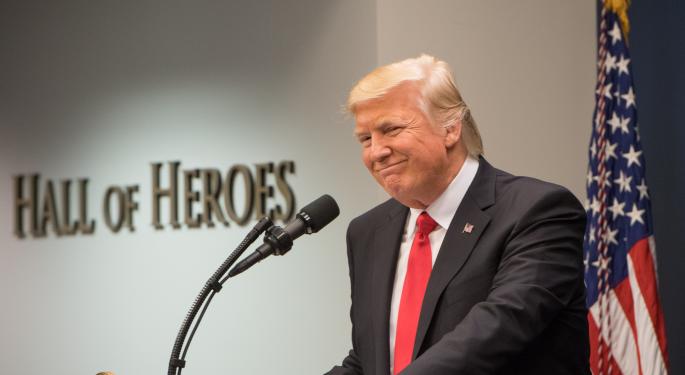 After spiking last week, all major U.S. stock indexes, the Dow Jones Industrial Average 2 Minute (DJI), the S&P 500 (INX), the NASDAQ Composite (IXIC), and the Russell 2000 (RUT), all tumbled this week. So, what should investors expect going forward? How will the President Donald Trump administration impact the stock market?
In order to shed light on these issues, Benzinga reached out to TD Ameritrade Holding Corp. (NASDAQ: AMTD)'s chief market strategist, JJ Kinahan, who shared his outlook for the year.
"I think that we just hit highs on three of the major indexes — with the Russell being the fourth," he voiced, adding that people were too concerned on Monday, when the indexes were off their highs. "We're still less than 1 percent from our all time highs," he commented.
"In healthy market, you should see some sell offs. It would concern me more if we just kept going straight up," the strategist continued.
Trump's Real Test
Moving on to the remainder of 2017, Kinahan pointed out: "I think the concern for me for 2017 is whether you like or dislike President Trump's policies. The one thing I think you have to give him credit for is, so far he has done exactly what he said he was going to do. Everything he has done he said in the campaign."
"But the true test for the market — in my opinion — is going to be— he [Trump] talked about repatriation and lowering tax rates for corporations. Those are going to be the true test for him, if he can get that done," the expert noted. "I think this whole rally has been built on the fact that he is going to get a lot of that done. Yes, there is the regulation end of it, and I think the Keystone Pipeline sent that message. Now, he has to get the tax reform done and the ability of these companies that hold so much cash overseas to get it back to the U.S. That is really the test."
"The other interesting thing to me is the Fed, [which] has been story 1A for two years. They are now 1B. Policy and what's going to happen on Capitol Hill is now 1A," Kinahan concluded.
The Border Tax
Benzinga moved on to ask about the border tax.
Benzinga: There is a case being made that while the tax would increase the costs of imported goods, it would be offset of by a steadily rising dollar. Is that something reasonable to assume? Will it work in the long term?
Kinahan: I think that on the surface if we just say that, yes, that may be a reasonable assumption—; But that is going to be in the details, what rates, etc. So, I think it's a little early to say that that's definitely the case. It certainly has the potential to be, but without any details I think that would be [...] silly to say that is definitely going to be the case. I think this has the potential to be okay, but part of politics is negotiation. We will see where these negotiations lead so that we can see if that is actually going to be the case. That is the true test for Trump is getting that stuff through.
Benzinga: Do you think these border taxes would work long-term to support a large-scale government project?
Kinahan: That depends what we're talking about. If we're talking about rebuilding infrastructure, yes. Again, there is going to have to be two sides to that. There may be increased border taxes and, again, who is to say at what level, etc.
What does it pay for? What is it actually doing? Is it going to be coordinated with better infrastructure, which we all know we need— But, how is it going to get paid for?
I think at this point, that is all speculation until we see some actual details, and that's why I think we have part of the rally in the last couple of weeks until today [...] The pipeline was the first take: here's how it's going to work. It wasn't just campaign promises anymore, so that's what we need to see more of. Here's how things are going to work and I think the border taxes and the tax breaks are going to be the two biggest things we need to see details on.
Image Credit: By James Mattis (170127-D-GY869-016) [Public domain], via Wikimedia Commons
View Comments and Join the Discussion!
Posted-In: News Politics Events Global Econ #s Economics Federal Reserve Markets Best of Benzinga