PG1: Nike Curbs Competitor Momentum With Paul George Signature Shoe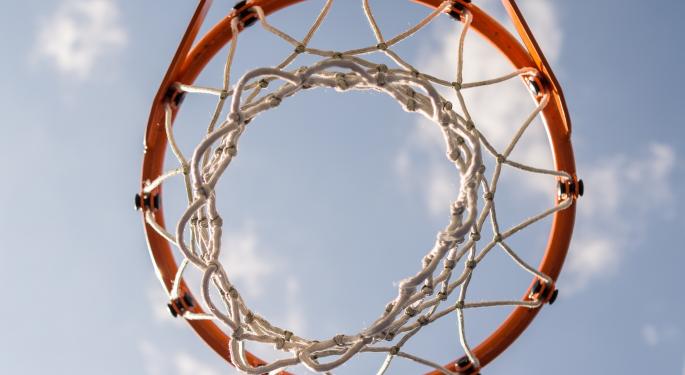 Nike Inc (NYSE: NKE) has announced its latest signature basketball shoe for Indiana Pacer superstar Paul George, appropriately named the PG1. George is having a solid year and has a compelling comeback story after suffering a devastating leg injury in a Team USA game in 2014.
Nike coordinated the announcement of the shoe ahead of George taking to an international stage -- Indiana is set to play Denver in London on Thursday.
George serves as the fourth active athlete to have a signature shoe from Nike. Nike is positioning itself to counter every move its competitors are making. At $110, the shoe costs less than any signature release adidas AG (OTC: ADDYY) or Under Armour Inc (NYSE: UAA) has currently.
"Nike is extremely smart, what they are doing is offsetting the competition. Kyrie Irving's shoe offset Under Armour's Curry shoe, and the latest Paul George release is coming alongside James Harden's recent Adidas release," said Chris Burns, founder of Arch-USA.com, a sneaker network that regularly covers the marketing and business of footwear.
While the release may not move the needle as its basketball segment has been slowing, Nike is positioning itself to counter every move its competitors are making.
The company has been leveraging its power to offset momentum competitors have been experiencing. At one point, there was speculation that the brand was involved in sending Kevin Durant to Golden State to curb Steph Curry's strength with Under Armour.
Shares of Under Armour are down 24 percent since Durant signed with the Warriors in July.
"George has the perfect narrative, he was overlooked in the draft class, it's a great story, he had a major injury in the Olympics, he is having an all star year and an MVP-like year. Nike is being very smart about how they are approaching their signature releases," added Burns.
There has been no official release date announced for the PG1.
Posted-In: NBA Paul George PG1Sports General
View Comments and Join the Discussion!