Callaway CFO: Media's Portrayal That Golf Is Dying Is 'Way Overplayed'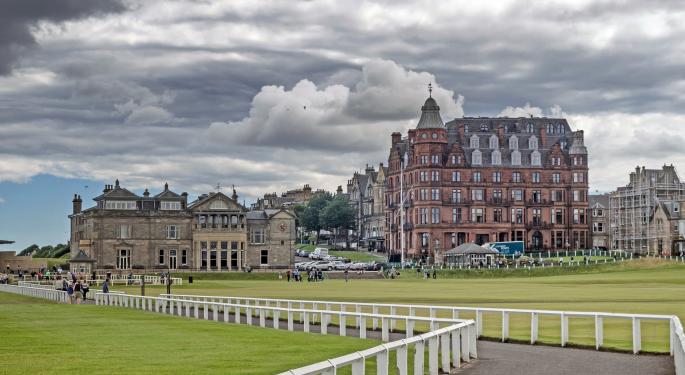 Despite the media's portrayal of the "demise" of golf, golf-related stocks have performed quite well in 2016.
Shares of Callaway Golf Co (NYSE: ELY) are up 23 percent year-to-date, and recent golf IPO Acushnet Holdings Corp (NYSE: GOLF) blew analysts' estimates out of the water hazard on its first-earnings release as a public company, sending shares up 14 percent.
Golf is certainly in an interesting time, as it is in a notable state of flux, but the industry remains healthy. Rounds have increased in 2015 and 2016, and golf's biggest catalyst, Tiger Woods, demonstrated an encouraging comeback in the Bahamas, providing hope for sustained interest in the game at a mainstream level for years to come.
Industry Consolidation
The golf industry has seen its fair share of consolidation from the manufacturer and retailer sides in the past year.
With Nike Inc (NYSE: NKE) exiting the equipment business, adidas AG(ADR) (OTC: ADDYY) shopping its golf segment and bankruptcies from Sports Authority and Golfsmith, consolidation may actually paint a clearer picture of the trajectory of the industry moving forward.
The big four manufacturers — Callaway, Titleist, TaylorMade and Ping — have nearly 80 percent of the U.S.-dollar market share currently. While the media has angled this consolidation and Nike's exit from the business as the beginning of golf's decline, Callaway is seeing it as a positive sign for the industry.
"I think it's a healthy dynamic, its good for retail. For example, Nike exiting the business: I think that's probably a correct decision for them," said Callaway's chief financial officer Robert Julian, in an exclusive interview with Benzinga.
When Nike announced that they were no longer going to make golf equipment, Callaway received an immediate bump as analysts speculated which companies would take Nike's approximately $155 million equipment business.
"The thing about Nike, because it's such a well-known and iconic brand, everybody assumes that they had relevant market share in golf. Even at the peak of Tiger Woods, they never had more than single-digit market share," said Julian.
Callaway's Q3 Results
Callaway shares are up 17 percent since release its third-quarter earnings in early November.
"We did much better this year that we did last year, quarter-over-quarter. We have done a nice job of growing the business and growing share and improving profitability. We have a nice run of meeting or exceeding the expectations of Wall Street relative to our financial results, and Q3 was consistent with that," said Julian.
"We beat our previous guidance, so it was very positive. There were some elements of our Q3 results that spoke to our broader strategy about growing the business or M&A activity that we've been focused on. So, our Q3 results did include the results of the joint venture we did in Japan for apparel," Julian added.
Julian was very optimistic about Callaway's joint venture apparel deal with TSI Groove and Sport, a major apparel company in Japan. Japan has been a key market for Callaway over the years, and apparel is particularly appealing in this market.
"The trend in the U.S., there is a lot of leisure sort of apparel that people wear within a specialty. In Japan, it's about golf apparel. You will see plenty of people wearing golf apparel away from the golf course," he said.
Dick's Sporting Goods Leading Retail
While bankruptcies from major sporting goods retailers Golfsmith and the Sports Authority may have put some short-term pressure on manufacturers, Dicks Sporting Goods Inc (NYSE: DKS) has emerged as the key player in the industry. Dick's, owner of golf retailer Golf Galaxy, emerged as the winner at auction to take over 30 Golfsmith stores.
"[Dick's] probably was the smartest and came out as the big winners both when the Sports Authority and Golfsmith filed for bankruptcy. Those guys are opportunistically making intelligent moves in this space. They're obviously committed to golf," said Julian.
TopGolf
Beyond the equipment side, Callaway's 15 percent stake in TopGolf has been a key catalyst for the company to diversify its business. TopGolf has been performing well and gaining visibility after opening its flagship location on the Vegas Strip earlier this year.
The company has aggressive expansion plans, looking to open 10 new locations per year to hit a target of 100 locations worldwide.
Callaway's 15 percent stake in the company is currently worth $207 million–$215 million, but this figure should rise considerably as TopGolf executes its expansion strategy.
Titleist IPO
With Acushnet's recent IPO in October, there are now two pure golf plays in the market. With golf's biggest manufacturer now a public company, the industry now has more transparency, and investors are able to better gauge trends within the sport.
"It's good to have another pure-play golf company in the public domain, because I think you get additional reinforcement — somebody else speaking to the industry and customers in product and trends," added Julian.
"The idea that golf is dead or dying, I believe, is way overplayed."
View Comments and Join the Discussion!
Posted-In: Golf Galaxy Golfsmith Las Vegas sports authoritySports Top Stories Interview General Best of Benzinga