What SoftBank's $50 Billion Investment Means For Sprint, Twitter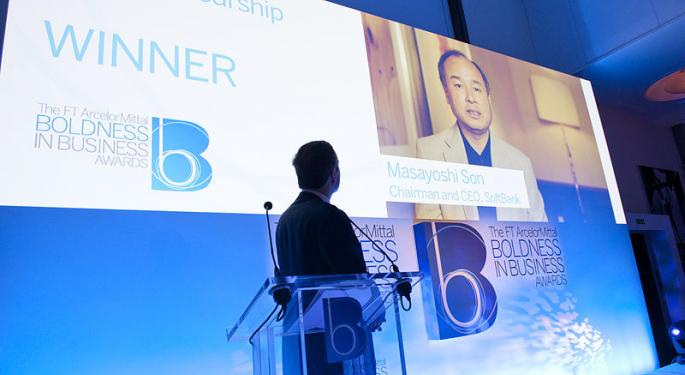 The announcement from the man himself could be music to the ears of at least Sprint Corp (NYSE: S), Twitter Inc (NYSE: TWTR) and their shareholders. Following his meeting with SoftBank Group Corp (OTC: SFTBF) (OTC: SFTBY) CEO Masayoshi Son at the Trump Tower in New York, President-elect Donald Trump announced that the company has agreed to invest $50 billion in the United States.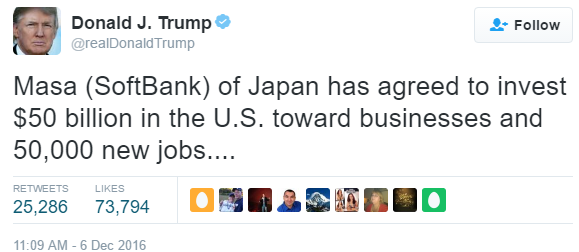 This investment, according to Trump, would generate 50,000 new jobs. Trump also did some chest-thumbing, as he revealed through another tweet this investment might not have come through if he had not be elected.

A Dow Jones report, however, clarified that the $50 billion is set to come from a $100 billion international investment fund set up in collaboration with Saudi Arabia.
What It Means For Sprint, Twitter
Despite the potential employment figures thrown around, arguably, it is Sprint and Twitter that stand to gain the most from this investment.
SoftBank currently owns 83 percent of Sprint. In a tweet, BTIG analyst Walt Piecyk said, "Softbank bought Sprint in 2013. Its headcount has subsequently been reduced by 9,000 and its annual capital investment was cut by 70%."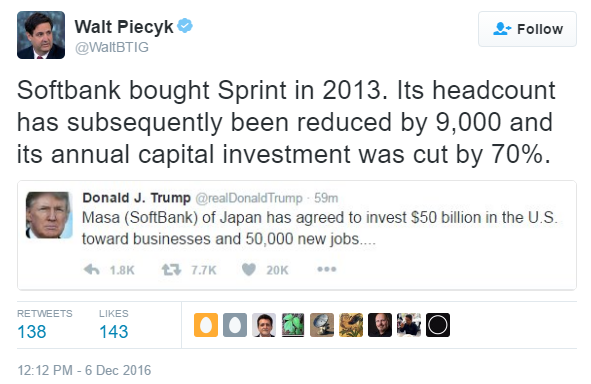 Life has come a full circle for Sprint, and it could be investment time yet again.
Twitter, which has been in the news over much of this year as it has attempted to sell itself, could also benefit from SoftBank's investment commitment. Several companies, including Alphabet Inc (NASDAQ: GOOG) (NASDAQ: GOOGL), salesforce.com, inc. (NYSE: CRM), Microsoft Corporation (NASDAQ: MSFT) and Walt Disney Co (NYSE: DIS) were once in the fray for acquiring the 140-character social networking company. However, their interests waned along way as Twitter's fundamentals began to suffer from sagging active user growth statistics.
A Forbes article by contributor Marc Prosser lists three reason why a Japanese marriage is in the cards for Twitter:
Twitter holds sway in Japan, outperforming bigger brother Facebook Inc (NASDAQ: FB), which has dominating presence elsewhere across the globe, except Russia and China. As opposed to 35 million monthly active users for Twitter in Japan, Facebook has only 25 million. Thus, dominance in SoftBank's home market could be one reason as to why SoftBank could be interested in Twitter.
The 140-character restriction, which is a pitfall for Twitter elsewhere, may not be a problem for Twitter in Japan, as the Kanji alphabet of Japan can represent a word using a single character. This would mean that a Tweet can hold more data and information. SoftBank can use this incremental data and information opportunity to get insights into user behavior and shopping preference, etc., which is part of business intelligence.
With the mountain of cash SoftBank is sitting on, it is imperative that it invests it in a promising opportunity. Given that Social media is an alien sector for the company thus far, it may well be worth the effort if SoftBank plunges headlong into the space with its abounding bounty.
Image Credit: By Financial Times (Masayoshi Son (via video)) [CC BY 2.0], via Wikimedia Commons
Posted-In: News Wall Street Journal Financing Politics Global Media Trading Ideas General Best of Benzinga
View Comments and Join the Discussion!