Money Makes Medals: Spitz Vs. Phelps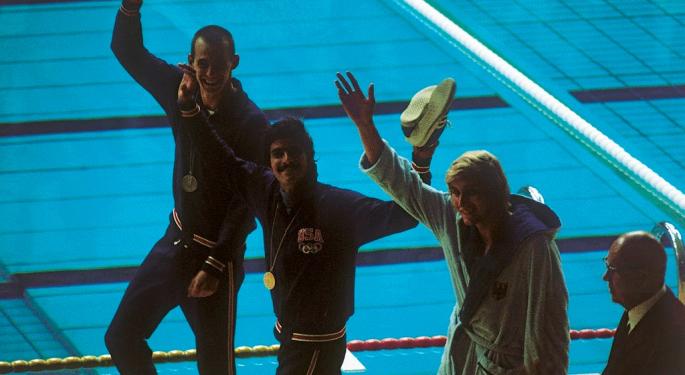 Benzinga recently issued a poll asking who was the greatest Olympian of all time, Michael Phelps or Usain Bolt. Phelps was the runaway winner, garnering 63 percent of the vote to Bolt's 25 percent. "Other" received 12 percent of respondents' votes.
But, considering the current athletic environment, is Phelps really the greatest Olympian ever?
What about Mark Spitz, arguably the greatest swimmer of all time? Spitz visited the podium four times in the 1968 Mexico City Olympics and is best known for his seven gold medals in the 1972 Olympics in Munich.
Now, before this statement incites a whirlwind of admonishing comments, take a few things into consideration. Specifically, remember the athletic environment in which Spitz achieved his success: Swimming was an amateur sport.
Furthermore, it is important to recognize that the title of "Olympian" has since its inception in Ancient Greece implied far more than simply athletic prowess, as Olympians represented the ideal human specimen.
What Makes An Olympian?
You can't blame Phelps for the current environment of pay-for-play, but how can anyone fairly compare the two respective feats?
Phelps' net worth is estimated at $55 million, although he lacks a completed college education and will likely never get one. On the other hand, in order to get the best possible training available, Spitz had to enroll at Indiana University after the 1968 Olympics to train under the legendary James "Doc" Counsilman.
Not only did he have to earn acceptance to school, he had to stay in school in order to continue to train with Counsilman. That required attending classes and studying, in addition to the numerous hours spent training both in and out of the pool. To his credit, Spitz pursued a pre-dental school curriculum and was accepted to dental school for the spring of 1972.
Related Link: Are The Olympics Profitable?
Contrast that with Phelps' college experience at the University of Michigan. Although he attended classes, he was never formally enrolled as a student and wasn't required to adhere to normal athletic academic standards. Phelps was already on the receiving end of some lucrative endorsements. Athletes of Spitz's era were not allowed to benefit from endorsements. Phelps came to Michigan for one reason: to train with his long-time coach, Bob Bowman, who had taken over the head coaching job at Michigan in 2005.
Taking it one step further, after the 1972 Olympics, Spitz had to get a job and work for a living. After bypassing dental school, he parlayed his athletic accomplishments into lucrative endorsements, television appearances, motivational speaker appearances and a successful real-estate company.
It wasn't even a consideration for him to participate in the 1976 games at age 26, much less in subsequent competitions. Instead, Spitz did attempt a comeback for the 1992 Olympics. Nearly 20 years passed his prime, he matched or improved his winning times in Munich, but came up shy of the qualifying time for the trials.
It's certainly difficult to compare athletic feats that took place over a 40-year span, even if they are in the same sport. And, there is no way to factor in all the inevitable changes. If one gauges by the medal count, it's hard to argue against Phelps being the greatest Olympian of all time. However, the time it took for Spitz's feats to be matched or surpassed should be a testament to his legacy as the greatest Olympian of all time.
View Comments and Join the Discussion!
Posted-In: Bob Bowman Doc Counsilman James Counsilman Mark SpitzCrowdsourcing Sports Opinion General Best of Benzinga