4 Other Industries Augmented Reality Could Disrupt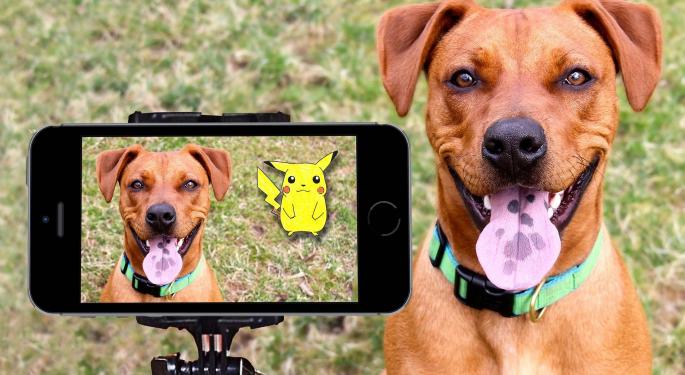 Augmented reality has undoubtedly changed the world in a very short period of time. The potential applications of this revolutionary technology are virtually endless and could influence many different industries beyond gaming in the future.
Pokémon GO (Nintendo Co., Ltd (ADR) (OTC: NTDOY) has shined such a big light on augmented reality, that nearly everyone has heard about it due to the immense media coverage this game-changing app has already had on everyday life. The app is changing how users are living and interacting with others.
By simply holding one's phone up while the camera is in use, animate objects, landscapes and other information appear in the user's real-life surroundings on their phone screen.
Mobile gaming has changed literally overnight as other potential players such as Walt Disney Co (NYSE: DIS) and Time Warner Inc (NYSE: TWX) could enter the augmented reality gaming space due to their beloved franchises and arsenals of likable characters.
Related Link: Disney, Time Warner Likely To Capitalize On Augmented Reality; Pokémon GO Prompts Other Game Proposals
Looking forward, the possibilities of integrating augmented reality into other industries are seemingly endless. Below are just a few industries that this technology could potentially disrupt in the future.
Dating
Pokémon GO has already seen success linking up other users for dating purposes, as the game has gotten people out of their houses and driven them to public places like parks and beaches. Users already share common interests, as evidenced by the game, and the platform makes for an easy opening connection.
Pokémon GO has more downloads than Match Group Inc (NASDAQ: MTCH)'s Tinder accumulated in its four years of existence. The platform organically lends itself to becoming somewhat of a Tinder 3D, and if a chat feature were to be added, enabling users to communicate with players, that would certainly boost its value in this area.
It is possible that users would be more successful in dating forays through an AR game than other, less dimensional dating platforms.
Real Estate
The act of holding up a phone and having an augmented reality appear on the screen could ultimately play an important role in several different industries. The potential applications augmented reality could have in real estate is not to be discredited. By holding up a phone to any house and retrieving important details about the property — i.e., home values, bedrooms, and square footage, etc. — would change the landscape of obtaining valuable real estate information.
Big time players like Zillow Group, Inc. (NASDAQ: Z) (NASDAQ: ZG) and Trulia Inc (NYSE: TRLA) could certainly capitalize on this technology.
Retail
Augmented reality could have a significant impact on the retail industry — holding up your phone to stores to see what deals they currently have, highlighting new products or seeing a menu from a restaurant you may want to vet out before entering.
Exercise
It's no secret that Pokémon Go has done the unthinkable: encouraged and incentivized users to go outside and exercise. Pokémon GO players can only find Pokémon or "level up" when walking.
Other exercise apps could easily capitalize on this "gamification" of life and give users incentives to get up and explore their neighborhoods.
The potential is virtually endless. What other industries could you see augmented reality disrupt?
Did you like this article? Could it have been improved? Please email feedback@benzinga.com with the story link to let us know!
Posted-In: Augmented Reality TinderTop Stories Tech General Best of Benzinga
View Comments and Join the Discussion!