6 Sure Signs The Holiday Shopping Season Is Already Here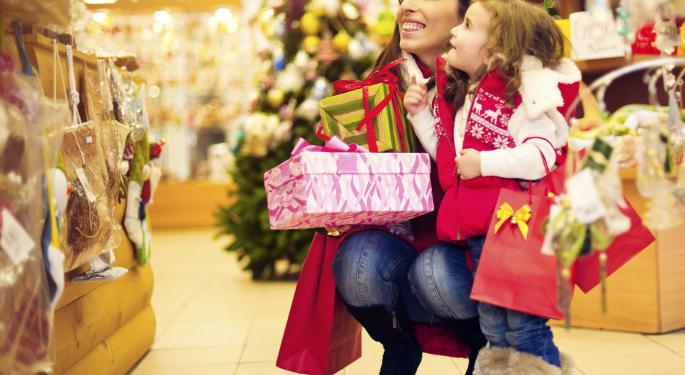 Autumn officially arrived at 10:29 p.m. ET September 22. Just ahead of that, the 2014 holiday shopping season began.
For those who missed the signs, here are six sure indicators, along with the retailers that introduced them, offering proof positive that the holidays have arrived.
1. Advertising
Earlier in September, Sears Holdings Corporation's (NASDAQ: SHLD) Kmart stores began airing its first holiday commercial. Cleverly, the spot began with an announcement that "This is not a Christmas commercial."
According to USA Today, both JoAnn and Costco Wholesale Corporation (NASDAQ: COST) stores were less subtle. Even before the end of summer, images of Santa Claus were seen in those stores' retail outlets.
As retailers continued to push the holiday timetable envelope, for the first time, Wal-Mart Stores, Inc. (NYSE: WMT) invited editors for a number of gift guides in June to an event highlighting the company's top holiday offerings.
Related Link: Can Wal-Mart Stores, Inc. Compete With Other Health Care Clinics?
2. Toys
Discount retailer, Kohl's Corporation (NYSE: KSS), known more for clothing than hard goods, launched its holiday shopping effort by announcing it was stocking stores with large numbers of new and classic toys, including Barbie, Teenage Mutant Ninja Turtles and the Playskool line.
Wal-Mart also recently revealed its late season toy lineup, listing "Chosen by Kids Top 20 Toys List."
Not wanting to be left out of the fun, Toys R Us announced its 2014 Holiday Hot Toy List September 16.
3. Campaigns & Programs
Nothing says "holidays" like a giving campaign or new store program.
Target Corporation (NYSE: TGT) has teamed with nonprofit, Friends of Toms and maker of TOMS shoes, for a holiday campaign featuring limited-edition footwear and other items.
When a Target customer purchases one of the 50 items in the collection, a donation is made providing meals, blankets and shoes to the needy.
On the campaign front, Toys R Us launched a new loyalty program called Rewards R Us, clearly designed to appeal to holiday shoppers.
The company also said its "C'mon, Let's Play" campaign, which it introduced back in August, would continue throughout the holiday shopping season.
4. Expanded Hours
Expanded shopping hours have long been part of the holiday buying season. More and more retailers are expanding hours early.
Target has already expanded hours at about half its stores, according to USA Today. Some stores were set to stay open until midnight and the extended hours were expected to remain in place through the end of the holidays.
The nation's largest retailer, Wal-Mart already announced it would keep all checkout lanes open during peak hours on weekends beginning the Saturday after Thanksgiving.
5. Layaway
Another recent return to the holiday shopping lineup, layaway, is available at Kmart and parent, Sears.
Other retailers offering layaway service ahead of the holidays include Best Buy, Burlington Stores, Toys R Us and Wal-Mart.
Related Link: Kohl's Department Stores to Hire More than 67,000 Associates This Holiday Season
6. Hiring
Finally, a sure sign the holiday shopping season has arrived: The appearance of new faces behind registers as retailers hire part-time employees to handle the crowds during peak holiday hours.
Already this year a number of companies have announced their hiring plans. These include Wal-Mart, Kohl's and Target.
In addition, shipper United Parcel Service, Inc. said it planned to double its holiday workforce to as many as 95,000 workers this year.
At the time of this writing, Jim Probasco had no position in any mentioned securities.
Posted-In: Barbie best buy Burlington Stores Costco Kmart Kohl'sTop Stories Economics Best of Benzinga
View Comments and Join the Discussion!