Janet Yellen's Testimony Makes A Good First Impression With Analysts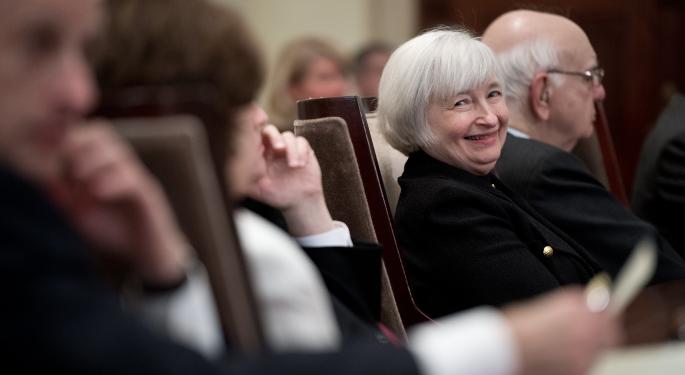 Janet Yellen made her first congressional appearance as Chair of the Federal Reserve on Tuesday, testifying on economic policy issues before the House Financial Services Committee. And she appeared to make a strongly positive first impression.
Her cordial approach, along with her signaling of no major changes in the Fed's policy, seemed to satisfy most of the lawmakers.
"I've understood more of what you've said today than the last two (Fed leaders)," Rep. Shelley Moore Capito, R-W.Va., reportedly told Yellen at one point during her testimony.
Financial analyst Brian Gardner, head of Washington research for the investment bank Keefe, Bruyette & Woods, said Yellen's optimism towards the economic recovery, combined with caution, is in keeping with the policies and practices of her predecessor, Ben Bernanke.
"She clearly has read the Fed playbook on how to not say a lot," Gardner commented to The Associated Press.
See also: Janet Yellen Expresses Optimism, But Says Economy Is Not 'Close To Full Recovery'
Others observers are feeling Wall Street's apparent relief at the sense of continuity. "Yellen taking over is like sliding the co-pilot to the pilot's chair," Greg McBride, CFA and chief financial analyst at Bankrate.com said on the company's web site.
And at least one blogger felt Yellen's testimony showed the world her dovish tendencies.
"For decades, progressives have called for a Fed chief who is as concerned about jobs and living standards as she is about combatting inflation," John Cassidy posted in The New Yorker. "Now, they've got one."
Cassidy writes that Yellen also implied the Federal Reserve can both focus on job creation and growth, "without worrying too much about rises in the consumer price index. That's true," he noted, "but it's not what inflation hawks want to hear."
Lawrence Yun, chief economist for the National Association of Realtors, seemed to echo Cassidy's sentiments – telling Bankrate.com that Yellen "leans a little bit on the side of being more tolerant of inflation in order to bring down unemployment."
Yellen's big debut, meanwhile, has garnered some favorable reviews from outside the U.S.as well.
"Investors seem to like the certainty and confidence of new Fed Chief Janet Yellen," Desmond Chua, an analyst at CMC Markets in Singapore, said in The Economic Times of India on Wednesday.
View Comments and Join the Discussion!
Posted-In: News Politics Psychology Events Economics Federal Reserve Markets Media Best of Benzinga