Merger Monday Lives Up To Its Name: More Than $33B In Deals Announced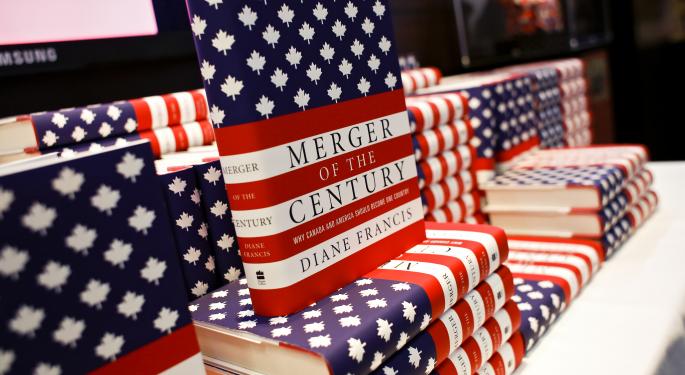 Monday morning, five company's entered into a definitive agreement to acquire other companies for a whopping $33.175 billion in deals.
AerCap Holdings (NYSE: AER) announced that they will acquire 100% of the common stock of International Lease Finance Corporation ("ILFC"), a wholly-owned subsidiary of the American International Group, Inc. (NYSE: AIG) for $3 billion in cash and 97.56 million AerCap shares. The transaction, worth approximately $26 billion is expected to close in the second quarter of 2014.
AerCap shares jumped up over 39% following the announcement reaching $34.67, a 52-week high. Shares of AIG have been up slightly over 2.6% at $51.05. Aircastle Limited (NYSE: AYR), Fly Leasing Limited (NYSE: FLY), and Air Lease Corp (NYSE: AL) are up 0.93%, 4.15% and 1.49% respectively.
President and CEO of AIG Robert H. Benmosche commented "ILFC is a valuable business, and AIG has always taken great pride in ILFC's reputation for innovation, its pioneering role in aircraft leasing, its industry-leading team of employees, and its consistent and successful market leadership. The combination of AerCap's young fleet of in-demand aircraft and proven portfolio management capabilities with ILFC's attractive order book and broad marketing reach will continue to lead the industry."
Endo Health Solutions Inc. (NASDAQ: ENDP) will acquire NuPathe Inc. (NASDAQ: PATH) for approximately $105 million at $2.85 per share in cash. NuPathe shareholders will also receive rights to receive additional cash payments of up to $3.15 contingent on net sales of NuPathe's ZECUITY.
NuPath shares were up over 51% at $3.48 and Endo Health shares jumped to $66.03, up almost 3.4%. Shares of Allergen Inc. (NYSE: AGN) are currently trading up 3.32%. Supernus Pharmaceuticals, Inc. (NASDAQ: SUPN) is trading at $6.87, up 3.15%.
In the press release this morning, Rajiv De Silva, president and CEO of Endo noted, "The acquisition of NuPathe enhances our branded pharmaceutical portfolio and is well aligned with our strategy of acquiring late-stage products for commercialization. We're excited about the opportunity to launch ZECUITY, a treatment that could be an option for millions of migraine patients, including those with migraine-related nausea. Following the close of the deal, we plan to launch ZECUITY in the first half of 2014 by leveraging our existing commercial expertise in pain and migraine management and the current infrastructure of our branded pharmaceuticals business overall."
Valeant Pharmaceuticals International, Inc. (NYSE: VRX) today announced that they will acquire all of the outstanding common stock of Solta Medical, Inc. (NASDAQ: SLTM) for $2.92 per share in cash, a 40% premium to Solta's closing share price on December 13, 2013, or approximately $250 million.
The transaction is expected to close in the first quarter of 2014 and Valeant expects the transaction, once completed, to be immediately accretive to Valeant's cash earnings per share. Shares if Solta Medical traded at a 52-week high at $2.95, an increase of over 41%. Valeant shares were up over 4.08% at $11.19. Cutera, Inc. (NASDAQ: CUTR) shares are currently trading +7.18% at $9.26.
J. Michael Pearson, Chairman and Chief Executive Officer of Valeant commented, "The acquisition of Solta will bring tremendous value to Valeant's current aesthetic portfolio and together with our previous acquisitions, will create the broadest aesthetic portfolio in the industry. Solta's leading aesthetic devices are a natural fit with Valeant's facial injectables, professional skin care products and physician dispensed products and will establish Valeant in a strong leadership position as we continue to build our presence in the aesthetic market. Moreover, this transaction will further enhance our ability to offer dermatologists and plastic surgeons the most comprehensive aesthetic product offering."
Avago Technologies Limited (NASDAQ: AVGO) will aquire LSI Corporation (NASDAQ: LSI) for $11.15 per share, an all-cash transaction valued at $6.6 billion.
This acquisition will make Avago the market leader in highly diversified semiconductors with $5 billion in annual revenues by adding enterprise storage to Avago's wired infrastructure, wireless and industrial businesses. LSI and Avago are looking at capitalizing from growing opportunities in increases in data center IP and mobile data traffic. LSI stockholders will receive $11.15 in cash for each share of LSI common stock they hold at closing, which is expected to occur during the first half of calendar 2014.
Avago and LSI both reached a 52-week high following the announcement. LSI was up almost 39% at $10.99 and Avago hit $50.54, up 10.7%. PMC-Sierra Inc. (NASDAQ: PMCS) is currently trading up 7.34% and shares of Marvell Technology Group Ltd (NASDAQ: MRVL) is up 3.80%.
Hock Tan, President and Chief Executive Officer of Avago, stated, "This highly complementary and compelling acquisition positions Avago as a leader in the enterprise storage market and expands our offerings and capabilities in wired infrastructure, particularly system-level expertise. This combination will increase the Company's scale and diversify our revenue and customer base. In addition to these powerful strategic benefits, as we integrate LSI onto the Avago platform, we expect to drive LSI's operating margins toward Avago's current levels, creating significant additional value for stockholders."
Primero Mining Corp. (NYSE: PPP) announced this morning that they have entered into the "Arrangement Agreement" which states that Primero will acquire all outstanding shares of Brigus Gold Corp (NYSE: BRD).
Primero will acquire each outstanding share for 0.175 of a Primero common share and Brigus shareholders will receive 0.1 of a common share in the newly incorporated "SpinCo" company. The press release states, "SpinCo will hold Brigus' interests in the Goldfields project in Saskatchewan and the Ixhuatán and Huizopa projects in Mexico and will be capitalized with approximately C$10 million in cash. Upon completion of the Arrangement, Brigus shareholders will hold, in aggregate, a 90.1% interest in SpinCo and Primero will hold the remaining 9.9% interest in SpinCo."
The implied transaction value is worth approximately $220 million Canadian, prior to ascribing a value to SpinCo. Shares of Brigus Gold were up over 37% at $0.8231. Shares Primero Mining Corporation were down over 8% at $4.52. Lake Shore Gold Corp. (NYSE: LSG) is currently trading up 6.82% and Claude Resources, Inc. is up 4.24%.
View Comments and Join the Discussion!
Posted-In: M&A News Best of Benzinga