Does Religion Determine Wealth?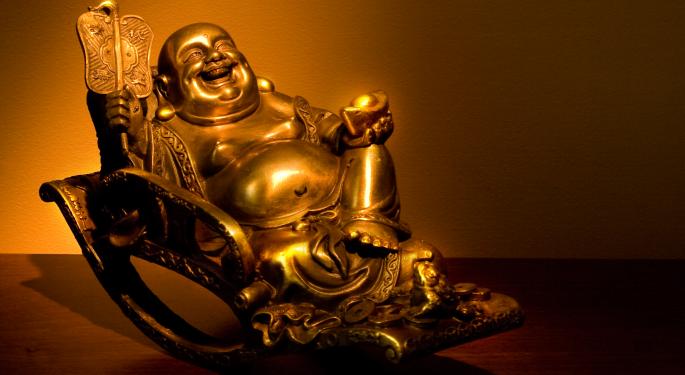 Conventional wisdom is sometimes neither conventional nor wise.
Many people, for example, believe wealth and Judaism go hand in hand. As Rosh Hashanah, the Jewish New Year unfolds, an examination of this bit of conventional wisdom might be in order.
A study conducted by Pew Research in 2009 seemed to confirm the belief that being Jewish was an indicator of wealth. According to the study, 67 percent of U.S. Reform Jews made more than $75,000 a year. This represented the highest income level of any religious group and was more than double the percentage of the general population sitting at that income.
According to the study, only 30 percent of Americans in general made $75,000 or more on an annual basis. One conclusion might be that if you are Jewish, you stand a good chance of being rich.
When it comes to the ultrawealthy, Taki's Magazine cites a cover story in Forbes Israel that said while Jews represented only 0.2 percent of the world's population, they made up 11 percent of the world's billionaires.
While facts are facts, both the Forbes Israel article and, as CBS Money Watch pointed out, the Pew Research study, can quickly become fodder for "anti-Semites, racists, and bigots in general." The problem is one of cause and effect.
In truth, CBS Money Watch said, the results may have more to do with the connection between education and wealth than about religion.
Related: Find Free Money for College
In an article in The New York Times Magazine titled Is Your Religion Your Financial Destiny? referring to the Pew Research study, David Leonhardt noted "Many factors are behind the discrepancies among religions, but one stands out. The relationship between education and income is so strong that you can almost draw a line through the points on this graph. Social science rarely produces results this clean."
As for possible connections between education and religion, Leonhardt noted, "Some faiths place great importance on formal education." Since education and income are clearly connected, to the extent your religion influences your desire or willingness to pursue more education; it is possible to draw a connection between religion and wealth.
To reinforce that notion, Foreign Policy quoted retired Chinese government official, Wu Guanzheng, who said that Jewish people "attach extreme importance to study," adding that they see scholars "as their spiritual leaders."
On the other hand, consider recent arguments that education, specifically a college degree, may actually be a poor investment. No less than Forbes made that argument by pointing out that of the 400 richest people in the U.S. 63 lack a college degree. That represents 15 percent of the people on the list.
U.S. News and World Report reinforced that notion citing a statistic that by 2018, 14 million well-paying jobs will be available that do not require a college diploma. The article went on to say right now, on average, a two-year community college graduate makes more than a graduate from a four-year university.
Based on these conflicting opinions then, should you convert to Reform Judaism and drop out of college? Probably not. As CBS Market Watch pointed out, the correlation between higher education and income is still far stronger than any other connection.
To answer the original question, while religion does not determine the capacity to accumulate wealth, the degree to which your culture (including religion) values education, could ultimately have an impact on your future success.
View Comments and Join the Discussion!
Posted-In: Americans college conventional wisdomPsychology Topics Media Personal Finance General Best of Benzinga