Want to jump straight to the answer? The best forex broker for most people is definitely FOREX.com or CedarFX.
Any adult based in Jamaica who wants to trade forex should not have much trouble getting started. Trading forex in Jamaica just requires an account with a reliable online broker and a trading platform to make trades through. For the most successful trades, you'll need a viable trading strategy with a sound trading plan.
Trading forex from Jamaica also has some advantages over trading currencies from more highly regulated jurisdictions like the U.S. or the EU. For example, you can use higher leverage ratios when trading from Jamaica, although that can magnify your losses as well as your profits. Continue reading to learn how to start trading forex in Jamaica.
Get Started with Forex in Jamaica
Many quality international forex brokers offer their services to Jamaican clients. If you've never traded currencies before, trading forex from Jamaica can be quite easy. You just need to follow the 6 steps detailed below:
Get a reliable internet-connected device like a smartphone, tablet or PC.
Find an online forex broker that will accept Jamaican clients.
Open a forex trading margin account with that broker.
Deposit funds to your account using a payment method accepted by the broker, such as Skrill, Neteller or WebMoney. Many brokers also accept deposits made via MasterCard, Visa and bank wire transfers.
Obtain access to the broker's trading platform or one it supports, like MetaTrader.
Enter your first trade.
Once you've taken those steps, you will have a funded online forex trading account you can use to trade forex from Jamaica.
Jamaican Forex Trading Strategies
Having a good forex trading strategy can make or break your forex trading account. You can practice using your strategy with a forex demo account that most brokers offer.
Several popular trading strategies you can implement in your account are listed below, although keep in mind that some require more expertise and dedicated time than others. These strategies can help forex traders make money whether trading from Jamaica or elsewhere.
Scalping: This short-term trading strategy involves quickly entering and exiting the market to take advantage of small exchange rate fluctuations. Scalpers typically aim to capture a few pips of profit on each trade.
Day trading: This trading strategy involves buying and selling during a trading session, although all positions are closed out before that session ends. This means day traders can avoid the extra risk exposure involved in carrying overnight positions.
News trading: Traders who like to watch economic and geopolitical news might enjoy news trading. This strategy aims to profit from the sharp exchange rate moves often seen right after sensitive economic data or news is released.
Trend trading: If you like to take a longer-term view on exchange rates, then trend trading might be for you. This strategy involves establishing a position to profit from a prevailing market trend and then closing that position out once the trend finishes.
Swing trading: Sometimes also called momentum trading, swing trading usually involves making trades based on momentum indicator signals. The overall goal is to buy low then sell high or sell high then buy low. Since this strategy lacks time constraints, swing traders can hold positions for as long as needed to allow the market to move as expected.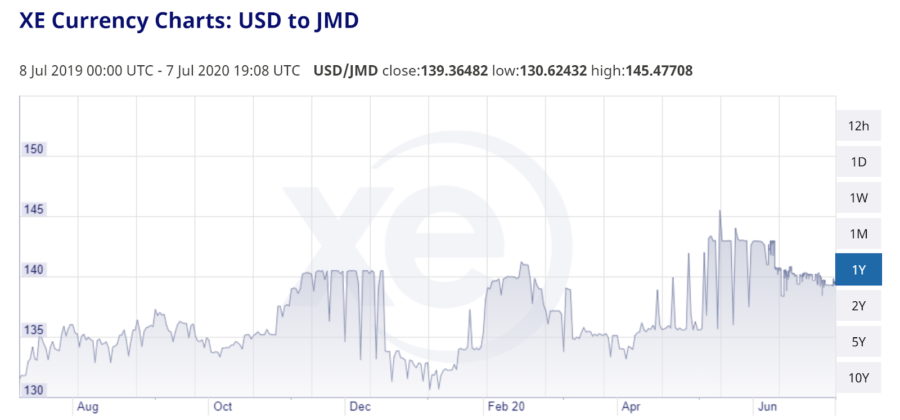 This daily chart for the past year shows how USD/JMD typically trades in a range between 130 and 145 that an astute swing trader could take advantage of. Source: XE.com
Forex Trading Examples for Jamaica
Jamaica's national currency is the Jamaican dollar (JMD) that has the code J$ to distinguish it from other dollar currencies. The Jamaican dollar is divided into 100 smaller units — cents — although the 1, 10 and 25 cent coins were demonetized in February 2018, so the $1 coin is currently the lowest coin denomination in Jamaica. The Bank of Jamaica issues and manages the value of the Jamaican dollar.
A recent quote for the USD/JMD exchange rate was 140.75 Jamaican dollars to 1 U.S. dollar. If your analysis of the market suggests the USD/JMD exchange rate will rise, then you could purchase 100,000 U.S. dollars against the Jamaican dollar today at that 140.75 exchange rate
If the USD/JMD rate then subsequently rallied to 141.75, you would use this calculation to determine your trading profits:
100,000 USD x (141.75-140.75 JMD/USD) = 100,000 JMD
To convert that amount of profit from Jamaican dollars into U.S. dollars, you would need to perform this calculation:
100,000 JMD ÷ 141.75 JMD/USD = 705.47 USD
Alternatively, if the USD/JMD market had instead declined to 139.75, you would have lost this amount:
100,000 USD x (139.75-140.75 JMD/USD) = -100,000 JMD
When converted into U.S. dollars at the USD/JMD exchange rate of 139.75, your loss would be:
-100,000 JMD ÷ 139.75 JMD/USD = -715.56 USD
Making Money with Forex in Jamaica
Trading forex successfully typically requires more than just acting on educated guesses or hunches. Most good traders obtain their market knowledge and develop their views through extensive research and analysis. They also incorporate that information into a profitable trading strategy and have the discipline required to stick to it.
Since making money trading forex generally requires having a consistently profitable strategy that you can adhere to, you should be prepared to take the time to perform the detailed research and testing needed to formulate a profitable trading strategy. Most good strategies incorporate objective trading criteria, as well as some form of risk/reward analysis and well-established money management techniques.
Remember, too, that many strategies can work well for a while, but they might not do as well once market conditions change, so be sure to backtest your strategy over a wide range of market environments.
Best Online Forex Brokers in Jamaica
Although online brokers generally do not have offices in Jamaica, various forex brokers based outside of Jamaica accept clients from the county. For example, international brokers like eToro, AvaTrade, Alpari, FXPro and XM have been known to accept clients from Jamaica. If you meet a certain broker's requirements, you can often open an account using the Skrill or Neteller online payment services to add funds to your margin trading account.

1 Minute Review
FOREX.com is a one-stop shop for forex traders. With a massive range of tradable currencies, low account minimums and an impressive trading platform, FOREX.com is an excellent choice for brokers searching for a home base for their currency trading. New traders and seasoned veterans alike will love FOREX.com's extensive education and research center that provides free, informative forex trading courses at multiple skill levels. While FOREX.com is impressive, remember that it isn't a standard broker.
Best For
MetaTrader 4 users
Beginner forex traders
Active forex traders
Pros
Impressive, easy-to-navigate platform
Wide range of education and research tools
Access to over 80 currencies to buy and sell
Leverage available up to 50:1
Cons
Cannot buy and sell other securities (like stocks and bonds)
Disclosure: eToro USA LLC; Investments are subject to market risk, including the possible loss of principal.
1 Minute Review
Though Australian and British traders might know eToro for its easy stock and mobile trading, the broker is now expanding into the United States with cryptocurrency trading. U.S. traders can begin buying and selling both major cryptocurrencies (like Bitcoin and Ethereum) as well as smaller names (like Tron Coin and Stellar Lumens).
eToro offers traders the opportunity to invest their assets into premade portfolios or cryptocurrencies, similar to services offered by robo-advisors through traditional brokers. Though eToro isn't a one-stop-shop for everything an investor needs, its easy-to-use platform and low spreads is a great way to enter the cryptocurrency market.
Best For
International Forex/CFD Traders
New cryptocurrency traders looking for an easy-to-use platform
Traders who want to buy and sell cryptocurrencies on-the-go
Pros
Simple platform that is easy to master
CopyTrader feature that allows new traders to copy the same strategies used by professionals
Virtual dummy account that gives you $100,000 to practice trades
Cons
U.S. traders currently limited to cryptocurrencies
Only 15 major coins available to trade

1 Minute Review
A fully regulated broker with a presence in Europe, South Africa, the Middle East, British Virgin Islands, Australia and Japan, Avatrade deals with mainly forex and CFDs on stocks, commodities, indexes, forex, cryptocurrencies, etc. This brokerage is headquartered in Dublin, Ireland and began offering its services in 2006. It offers multiple trading platforms and earns mainly through spreads.
Best For
Beginners
Advanced traders
Traders looking for a well-diversified portfolio
Pros
Controlled by regulatory agencies of multiple countries
Choice offered in terms of trading platforms
Support available in 14 languages and trading platforms in 20 languages
Practice/demo account available for trying out
Breadth of trading assets
Cons
Does not accept customers from the U.S. as it isn't regulated in the U.S.
Transferring funds to the account may take up to five days; withdrawals could take up to 10 days
Forex Terminology
Professional forex traders have evolved a unique jargon to describe certain aspects of their business. You may benefit from familiarizing yourself with this special terminology before starting to trade. It includes the following common terms:
Lot size: A lot is a standardized trading unit. Standard forex lots have a lot size of 100,000 base currency units, while mini lots consist of 10,000 units and micro-lots consist of 1,000 units.
Pip: This popular acronym stands for "point in percentage" and refers to the smallest exchange rate movement for a particular currency pair.
Margin call: If holding your trading positions necessitates an additional margin deposit, your broker may issue a notice or "margin call" for you to add funds to your account. Some online brokers will instead automatically liquidate positions when holding them exceeds your deposited margin.
Orders: These consist of instructions you give your broker to make trades on your behalf. Commonly used forex orders include limit, stop-loss, take profit and market orders.
Does Trading Forex in Jamaica Make Sense for You?
Those prepared to invest the time and money into developing a profitable trading strategy can stand a chance of becoming successful trading forex on their own. The good news is that you can do that in Jamaica or anywhere else in the world you can trade forex.
Beginners without a strategy or those who have less time to spend developing one can use a social trading platform and copy the trades of those traders with a good established track record in their own account.
Remember, forex trading in Jamaica should be accompanied by a broker that is strictly overseen by a major financial regulator like the Financial Conduct Authority (FCA). You can select any broker from among those we've listed. Ensure that they take Jamaican clients and apply them to open a trading account today. 
Get a Forex Pro on Your Side
FOREX.com, registered with the Commodity Futures Trading Commission (CFTC), lets you trade a wide range of forex markets plus spot metals with low pricing and fast, quality execution on every trade.
You can also tap into:
EUR/USD as low as 0.2 with fixed $5 commissions per 100,000
Powerful, purpose-built currency trading platforms
Monthly cash rebates of up to $9 per million dollars traded with FOREX.com's Active Trader Program
Learn more about FOREX.com's low pricing and how you can get started trading with FOREX.com.