Benzinga Money is a reader-supported publication. We may earn a commission when you click on links in this article.
Learn more.
Although the Central Bank of Mexico (Banxico), the Global Foreign Exchange Committee (GEFC) and the National Banking and Securities Commission (CNBV) all provide regulatory guidance for forex brokers, none of them take full responsibility for the industry in Mexico. As a result, the safest way for the Mexican retail investor to access the forex market is through offshore brokers.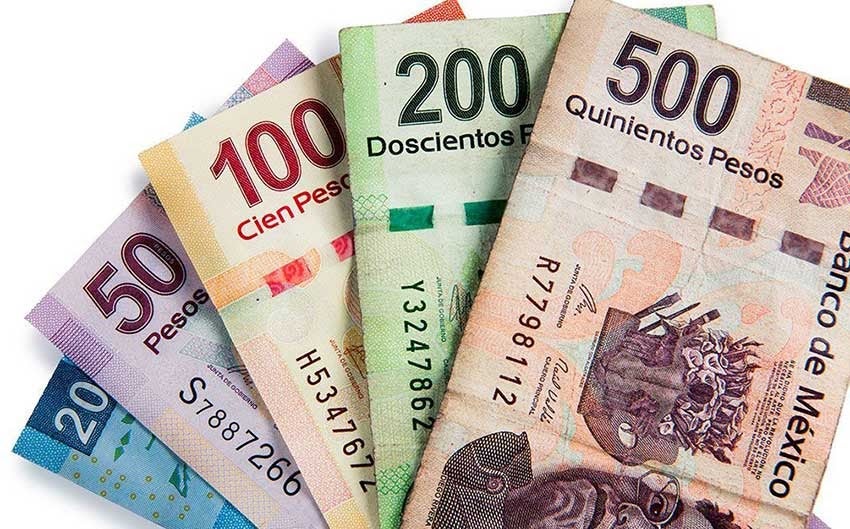 Attribution: Mexico News Daily
Regardless of the lack of regulation, Mexico is still 1 of the most vibrant emerging markets in Latin America. The forex industry continues to grow in the country because of the stability and liquidity of the Mexican peso and investor friendly policies from the government. Learn how to trade forex in Mexico with our guide to the basics.
Get Started with Forex in Mexico
In order to trade forex safely in Mexico, you should take the time to do business with reputable institutions. There are scams out there that can be easily avoided with a bit of research and due diligence. Here are the basics to get started with forex in Mexico:
Internet. The better your internet connection, the greater your potential for success. Having the ability to execute your winning strategies depends primarily on the connection you have because many strategies require timely input. If you experience downtime or latency when it is time to execute, you can miss your opportunity.
Broker. International brokers do business in Mexico. The Mexican government offers no protection if these brokers are unregulated. Make sure you only do business with a broker that has accreditation from a well-known international regulator.
Bank. Accredited brokers should have no trouble connecting to reputable banks. Your broker will have a process for connecting your bank account. Follow the instructions and test the fluidity of deposits and withdrawals before funding the account.
Funding. Once you see that you can deposit and withdraw your money when you want, you can think about funding your investment account fully.
Interface. The trading interface that you choose may or may not be connected to your broker. It should be integrated fully into your setup and add no latency or downtime to your connection.
Invest. If all of your working parts are flowing well together, you can begin investing in the forex market with confidence.
Mexican Forex Trading Strategies
There are many different kinds of investors who trade forex successfully. Pick the blueprint that matches your personality for best results. Here are a few common strategies used by investors:
Speculative Short Term Trading
Over the short term, investors can make money through high frequency trading strategies that trim small amounts of profit from the top of a trade. The aptly-named scalp is considered a speculative form of trading.
Experienced investors have the data and experience to invest only when they can predict price action. The fundamentals behind a currency are not very important in this timeframe, which is usually from less than a second to a few minutes.
Mid-Term Trend Investing
Chart patterns have a chance to develop more thoroughly in the mid-term, which could be from a few hours to a few days. Trend investors develop the skill to profit from these patterns that predict movement and price ranges.
If you want to do well in the mid-term, you should also learn how to interpret trend indicators like the Moving Average Convergence Divergence (MACD), Commodity Channel Index (CCI) and Bollinger bands.
Long-Term Position Trading
If you are investing in a position, then you are willing to hold an investment as long as it takes to achieve that position. This type of forex trading is more concerned with how macroeconomics affects the price of a currency. If you like to read about the way that countries interact with each other economically and politically, you may enjoy long term position trading.
Forex Trading Example in Mexico
The current MXN/USD exchange rate of 0.04430/0.04450 seems low. You buy Mex$120,000 to profit from a rise in the rate over the short term. You will need to have $325.01 cash in your brokerage account to hold a Mex$120,000 investment at a margin rate of 6.61%.
After 13 hours, the MXN/USD price is 0.04480/0.05000, a 3 point move. If you sell now, you'll profit $36 [(Mex$120,000 x 0.04480) – (Mex$120,000 x 0.04450)].
Making Money with Forex in Mexico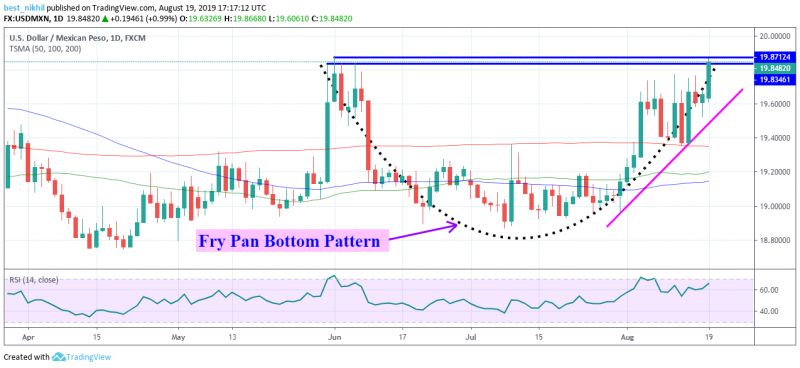 Attribution: Yahoo Finance
With your core investment strategy in place, you can now pick 1 or more of the following financial vehicles to drive your investment activities. It is good to have a working knowledge of all strategies even if you choose to focus.
Short selling: selling a currency before you buy it back and profiting from a lower price
Contract for difference (CFD): a financial vehicle allowing an investor to profit from price movement in a currency without owning the currency
Binary options: a speculative investment vehicle that does not directly track the price of a currency pair and offers a binary choice investment model
Best Online Forex Brokers in Mexico
There are many offshore forex brokers that allow Mexicans to invest. Always vet your potential broker for regulation. Here are our top picks for the best online forex brokers in Mexico.
Account Minimum
100 of your selected base currency
Account Minimum
100 of your selected base currency
1 Minute Review
FOREX.com is a one-stop-shop for forex traders. With a massive range of tradable currencies, low account minimums and an impressive trading platform, FOREX.com is an excellent choice for brokers searching for a home base for their currency trading. New traders and seasoned veterans alike will love FOREX.com's extensive education and research center that provides free, informative forex trading courses at multiple skill levels. While FOREX.com is impressive, remember that it isn't a standard broker. You can't invest in the stock or bond market through your FOREX.com and you cannot open an account with tax advantages. The confusing pricing and margin structures may also be overwhelming for new forex traders.
Best For
MetaTrader 4 users
Beginner forex traders
Active forex traders
Pros
Impressive, easy-to-navigate platform
Wide range of education and research tools
Access to over 80 currencies to buy and sell
Leverage available up to 50:1
Cons
Cannot buy and sell other securities (like stocks and bonds)
Confusing margin requirements that vary by currency
Limited customer support options
Cannot open an IRA or other retirement account
1 Minute Review
Though Australian and British traders might know eToro for its easy stock and mobile trading, the broker is now expanding into the United States with cryptocurrency trading. U.S. traders can begin buying and selling both major cryptocurrencies (like Bitcoin and Ethereum) as well as smaller names (like Tron Coin and Stellar Lumens).
eToro offers traders the opportunity to invest their assets into premade portfolios or cryptocurrencies, similar to services offered by robo-advisors through traditional brokers. Though eToro isn't a one-stop-shop for everything an investor needs, its easy-to-use platform and low spreads is a great way to enter the cryptocurrency market.
Best For
International Forex/CFD Traders
New cryptocurrency traders looking for an easy-to-use platform
Traders who want to buy and sell cryptocurrencies on-the-go
Pros
Simple platform that is easy to master
CopyTrader feature that allows new traders to copy the same strategies used by professionals
Virtual dummy account that gives you $100,000 to practice trades
Cons
U.S. traders currently limited to cryptocurrencies
Only 15 major coins available to trade
1 Minute Review
A fully regulated broker with a presence in Europe, South Africa, the Middle East, British Virgin Islands, Australia and Japan, Avatrade deals with mainly forex and CFDs on stocks, commodities, indexes, forex, cryptocurrencies, etc. This brokerage is headquartered in Dublin, Ireland and began offering its services in 2006. It offers multiple trading platforms and earns mainly through spreads.
Best For
Beginners
Advanced traders
Traders looking for a well-diversified portfolio
Pros
Controlled by regulatory agencies of multiple countries
Choice offered in terms of trading platforms
Support available in 14 languages and trading platforms in 20 languages
Practice/demo account available for trying out
Breadth of trading assets
Cons
Does not accept customers from the U.S. as it isn't regulated in the U.S.
Transferring funds to the account may take up to five days; withdrawals could take up to 10 days
Forex Terminology
Around the world, forex investors have a basic vocabulary for easy communication:
Pip: a value that is usually pegged at $0.0001 and represents the tiniest fraction of currency allowed in the forex market
Lot size: normally 100,000 currency units, the lot size is the size of the order with your broker
Orders: the currency you want from the broker
Calls: a contract that controls a currency and has a tradable intrinsic value
Moving Within a Developing System
Mexico is a stable financial system, but the country does not take any responsibility for its forex investors. You'll be working from a relatively stable currency, but the research to find a reputable broker is your duty alone.
In general, any offer that sounds too good to be true probably is. No broker can guarantee profits in forex — successful investors study the markets relentlessly and practice trading strategies daily.
Benzinga's #1 Breakout Stock Every Month
Looking for stocks that are about to breakout for gains of 10%, 15%, even 20% potentially or more? The only problem is finding these stocks takes hours per day. Fortunately, Benzinga's Breakout Opportunity Newsletter that could potentially break out each and every month. You can today with this special offer:
Hire a Pro: Compare Financial Advisors In Your Area
Finding the right financial advisor that fits your needs doesn't have to be hard. SmartAsset's free tool matches you with fiduciary financial advisors in your area in 5 minutes. Each advisor has been vetted by SmartAsset and is legally bound to act in your best interests. If you're ready to be matched with local advisors that will help you achieve your financial goals, get started now.