Benzinga Money is a reader-supported publication. We may earn a commission when you click on links in this article.
Learn more.
Want to jump straight to the answer? The best forex broker for most people is definitely FOREX.com
Canada has 1 of the most heavily regulated forex markets in the world. This gives traders a secure trading environment, but it also limits your ability to trade forex using high leverage ratios.
You can still take advantage of currency market movements by trading forex in Canada. You need a viable strategy, a sound trading plan and a trusted online forex broker.
Get Started with Forex in Canada
Getting started in the forex market is relatively easy despite the strict regulatory restrictions in Canada. Follow these 6 steps:
Step 1: Obtain a relatively modern device connected to the internet.
Step 2: Find an online forex broker that accepts clients from Canada.
Step 3: Open a margin account with that broker.
Step 4: Deposit funds using a payment method the broker accepts.
Step 5: Download the broker's trading platform or a platform you can use with that broker.
Step 6: Make your 1st trade.
Canada Forex Trading Strategies
Next you need a funded account with an online broker that allows you to trade forex from Canada. You also need to develop a trading plan and strategy to increase your chances of success.
Several strategies could work for you, depending on your level of expertise in the market. The strategies listed below have shown positive results for retail forex traders whether they're trading from Canada or anywhere else in the world.
News trading. This strategy takes advantage of the extreme volatility exhibited by currency pairs after the release of important economic or geopolitical news.
Scalping. This high-volume strategy involves profiting from very short-term market moves. Scalpers nimbly enter and exit the market to capture small profits a few pips at a time.
Day trading. This strategy limits all transactions to a single trading session. Day traders will enter and exit positions intraday but close out all positions by the end of the trading session to avoid the extra risk involved in taking overnight positions.
Swing trading. The classic "buy low, sell high" trading strategy, swing or momentum trading involves entering and exiting the market based on momentum technical indicators. Swing traders can, and often do, take overnight positions.
Trend trading. This longer-term trading strategy involves looking for established directional movements called trends and then establishing positions along with the trend until its conclusion.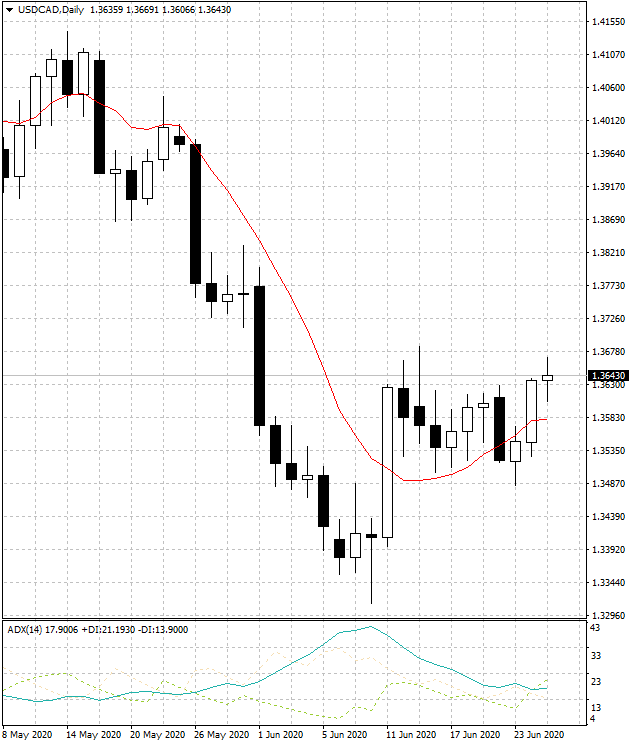 A downward trend in the USD/CAD currency pair from 1.41403 to 1.33144 that a trend trader could take advantage of. The daily candlestick chart also shows the 10-day moving average and 14-day ADX trend indicators that help traders identify trends. Source: MetaTrader.
Forex Trading Example in Canada
The national currency of Canada is the Canadian dollar (ISO:CAD). The Bank for International Settlements (BIS) ranks Canada 6th in turnover in the forex market with its 5% market share of average daily turnover.
The IMF also reports that the Canadian dollar ranked 7th among currencies held by central banks and made up 1.8% of global central bank reserves in Q4 2019.
The resource-based Canadian economy depends heavily on the oil, natural gas and mining industries. As a result, the price of crude oil exerts significant influence on both the Canadian economy and the Canadian dollar.
If you thought the USD/CAD rate was going to increase from that level, then you might buy $100,000 against the Canadian dollar today at that 1.3650 exchange rate. If the USD/CAD rate then subsequently rose to 1.3950, you would use the following calculation to determine your trading gains:

100,000 USD x (1.3950-1.3650 CAD/USD) = 3,000 CAD
To then convert that amount of Canadian dollar profit into U.S. dollars, you would need to perform the following calculation:
3,000 CAD ÷ 1.3950 CAD/USD = 2,150.54 USD
Alternatively, if the USD/CAD exchange rate had instead dropped to 1.3350, then your trading loss would be:
100,000 USD x (1.3650-1.3350 CAD/USD) = -3,000 CAD
Your loss converted into U.S. dollars at a USD/CAD exchange rate of 1.3350 would be:
-3,000 CAD ÷ 1.3350 CAD/USD = -2,247.19 USD
Making Money with Forex in Canada
Your success depends on the trading strategy and plan that you develop and implement. Successful trading plans can be applied to any trading strategy, from scalping to long-term trend trading. You can also use someone else's trading plan or copy another trader through a social trading platform.
Many successful trading plans include objective trading criteria, sound money management principles and a risk/reward analysis. Keep in mind that due to changing market conditions, many initially successful trading strategies may eventually fail to give the same good results.
Best Online Forex Brokers in Canada
A broker must comply with financial regulations enforced by the Investment Industry Regulatory Organization of Canada (IIROC) to accept forex clients in Canada. The IIROC is overseen by the Financial Institutions Supervisory Committee (FISC) that coordinates regulatory activity and sets regulatory policy for Canadian financial institutions.
Another 3 provincial agencies also regulate financial markets in Canada:
Toronto: Ontario Securities Commission
British Columbia: British Columbia Securities Commission
Montreal and Quebec: Autorité des Marchés Financiers
Some international brokers accept Canadian clients. Reputable online forex brokers that take Canadian clients include:
Forex Terminology
Forex traders have a unique terminology you need to learn before you begin trading. Here are the basic:
Pip. The acronym stands for point in percentage and represents the smallest movement change in a currency pair's exchange rate.
Lot size. A standard lot size is 100,000 base currency units, while a mini lot represents 10,000 units and a micro lot represents 1,000 units.
Orders. Instructions to execute transactions on your behalf given to your broker. Various order types exist, such as limit, stop-loss, take profit and market orders.
Margin calls. When your trading positions require more funding for you to maintain, the broker will issue you a margin call to deposit additional funds.
Is it Worth Trading Forex in Canada?
Trading forex requires considerable knowledge of the market, a viable trading plan and the discipline to stick to your plan. You also need funding for your strategy. If you meet those requirements, your location typically makes little difference.
Due to the IIROC's stringent requirements for clients and brokers that accept Canadian clients, you'll enjoy a high level of security for your funds. Take a look at our recommended brokers to trade forex in Canada now.
Frequently Asked Questions
Q: What is the bid-ask spread?
The bid-ask spread is the commission brokers make as your intermediary on a forex platform. The bid price is the maximum price that a buyer is willing to pay for a currency, and the ask price is the minimum amount at which a broker is willing to sell a currency. This difference in between is called the spread.
The smaller the spread, the better for you as the trader. The size of the spread you are offered depends on many things, including the overall demand for the currency, its volatility and liquidity. The more liquid an asset is, the smaller the spread. This is why spreads are usually pretty tight in the forex market. It's all liquid.
Q: What are the most common forex charts?
Forex traders rely heavily on charts to make educated guesses about how a currency value will change. The charts help you observe historical fluctuation patterns.
The 3 most commonly used forex charts are bar charts, line charts and candlestick charts. Take a look at Benzinga's Best Forex Charts to learn more. Most charts have personalized setting options so you can view a variety of technical indicators like price and volume to analyze price movements.
Get a Forex Pro on Your Side
FOREX.com, registered with the Commodity Futures Trading Commission (CFTC), lets you trade a wide range of forex markets plus spot metals with low pricing and fast, quality execution on every trade. 
You can also tap into:
EUR/USD as low as 0.2 with fixed $5 commissions per 100,000
Powerful, purpose-built currency trading platforms
Monthly cash rebates of up to $9 per million dollars traded with FOREX.com's Active Trader Program
Learn more about FOREX.com's low pricing and how you can get started trading with FOREX.com.
Looking for a Highly Rated Forex Signals Provider?
ForexSignals.com offers a highly rated platform with mentors who have 80 years of combined experience in the trading pits. They'll help you decode real-time daily live streams using market analysis, trade signals and more. ForexSignals.com doesn't stop there. You can access hundreds of educational videos and workshops and even individualized private sessions with mentors. Never trade alone! Join ForexSignals.com now.